Hollywoodland (31-Aug-2006)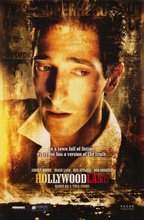 Director: Allen Coulter
Writer: Paul Bernbaum
Music by: Marcelo Zarvos
Producer: Glenn Williamson
Keywords: Drama




A fledgling private eye investigates the death of Adventures of Superman star George Reeves.
ABSTRACT
George Reeves, long-suffering bit-part actor in a variety of films, enjoyed an unlikely rise to stardom with 1951's Superman and the Mole Men and subsequent television series Adventures of Superman. Reeves, who'd supposedly despised being typecast despite the blessings attached to his fame, dies of an apparent self-inflicted gunshot wound on June 16, 1959; mother Helen refuses to believe the official story behind his death, hiring private investigator Louis Simo to research her worst suspicions. Hollywoodland follows Simo, himself a struggling fame-enamored professional, as he uncovers disturbing truths about the studio system pointing to possible foul play in Reeves' death.
CAST
Adrien Brody
... Louis Simo
Diane Lane
... Toni Mannix
Ben Affleck
... George Reeves
Bob Hoskins
... Edgar Mannix
Lois Smith
... Helen Bessolo
Robin Tunney
... Leonore Lemmon
Larry Cedar
... Chester Sinclair
Jeffrey DeMunn
... Art Weissman
Caroline Dhavernas
... Kit Holliday
Brad William Henke
... Russ Taylor
Dash Mihok
... Sgt. Jack Paterson
Molly Parker
... Laurie Simo
Kathleen Robertson
... Carol van Ronkel
Joe Spano
... Howard Strickling
Gareth Williams
... Del
In order of appearance
Ted Atherton
... Det. Doug Johnson
David J. MacNeil
... Officer Daniel Korby
Kevin Hare
... Robert Condon
Phillip MacKenzie
... Bill Bliss
Eric Koldor
... Barbell Man
Zach Mills
... Evan Simo
Neil Crone
... Chuck
Seamus Dever
... Phillip
Jon Vladimir Cubrt
... Morgue Attendant
Diego Fuentes
... Natividad Vacio
Veronica Watt
... Rita Hayworth
Joan Gregson
... Chopard Saleswoman
David Bolt
... Judge Eisler
Todd Grinnell
... Times Reporter
Ayumi Iizuka
... Miss Yoshida
Eric Fink
... Dominick's Waiter
Jeff Teravainen
... Lester Koenig, Auditioning Actor
Brendan Wall
... Harold Chiles, Casting Director
Eric Weinthal
... Barney Sarecky, Producer
Steve Adams
... Bob Maxwell, Producer
Jack Newman
... Izzy Berne, Tailor
Joseph Adam
... Jack Larson / Jimmy Olsen
Lorry Ayers
... Phyllis Coates / Lois Lane
Robert B. Kennedy
... Tommy Carr, Director
Sven Van de Ven
... John Hamilton / Perry White
Gray Powell
... Chad
Michael Rhoades
... James Engelmann
Tim Campbell
... MGM Hunk
Richard Fancy
... Alford "Rip" Van Ronkel
Kerin McCue
... "Superman" Announcer (voice)
Jeff Cowan
... Maxwell Arnow, Casting Director
Peter James Haworth
... Fred Zinnemann
Tim Dorsch
... Docville Bank Teller
Alexander Drogemuller
... Stunned Boy
Jason Spevack
... Kenneth Giles
Dendrie Taylor
... Mrs. Sinclair
Jody Jaress
... Mannix Maid
Murray Oliver
... Funeral Reporter #1
Walter Rinaldi
... Funeral Reporter #2
Terry Barna
... Buddy Adler
Bill Lake
... Cigar Man
Natalie Krill
... Camera Girl
Erin Gooderham
... Jackie, Leonore's Friend
Cameron Mitchell, Jr.
... Earl Wilson
Cotton Mather
... Dark Figure
Steve Brandes
... Thug Detective
Donald Burda
... Rick Harris
Charlie Lea
... 5 Year Old Evan
REVIEWS
Review by anonymous (posted on 10-Sep-2006)
I saw this movie on opening night and it was awesome! I want to rate it four stars, because I am in love with Adrien Brody, but something told me I should rate it 3 1/2. I don't know, intuition. You don't have to be familiar with George Reeves to enjoy this movie. It can be confusing, as some of the story is told through flashbacks, but is an excellent movie all around. All the actors are very good, especially Diane Lane as Reeves' mistress and Brody as private investigator Louis Simo. Simo is hired by Reeves' mom to investigate his "suicide", and Simo is gradually drawn into the case. Hollywoodland has many good characters and an interesting setup. There were even a few comedic moments, like Reeves commenting about his super-tight Superman briefs.
---
Do you know something we don't?
Submit a correction or make a comment about this profile

Copyright ©2019 Soylent Communications