Rocky IV (27-Nov-1985)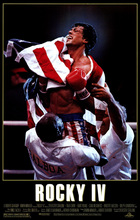 Director: Sylvester Stallone
Writer: Sylvester Stallone
Music Composed by: Vince DiCola
Producers: Irwin Winkler; Robert Chartoff
Keywords: Sports Drama, Boxing




Rocky's friend and former rival Apollo Creed is killed by Russian boxer Ivan Drago in round 2 of an exhibition match. Drago is larger, uses steroids, and has a punch four times that of the average boxer. Despite warnings that he may lose his life as well, Rocky agrees to fight the Russian. Trashy, formulaic and preposterous, yet still entertaining. Third sequel to Rocky (1976).
[watch trailer]
CAST
Sylvester Stallone
... Rocky Balboa
Talia Shire
... Adrian
Burt Young
... Paulie
Carl Weathers
... Apollo Creed
Brigitte Nielsen
... Ludmilla
Tony Burton
... Duke
Michael Pataki
... Nicoli Koloff
Dolph Lundgren
... Drago
R. J. Adams
... Sports Announcer
Al Bandiero
... American Commentator #2
Dominic Barto
... Russian Government Official
Danial Brown
... Rocky Jr.'s Friend
James Brown
... The Godfather of Soul
Rose Mary Campos
... Maid
Jack Carpenter
... KGB Driver
Mark DeAlessandro
... Russian Cornerman
Marty Denkin
... Russian Referee
Lou Filippo
... Las Vegas Referee
James "Cannonball" Green
... Manuel Vega
Dean Hammond
... Interviewer
Rocky Krakoff
... Rocky, Jr.
Sergei Levin
... Russian Ring Announcer
Anthony Maffatone
... KGB Agent
Sylvia Meals
... Mrs. Creed
Dwayne McGee
... Limo Driver
LeRoy Neiman
... Ring Announcer
George Pipasik
... Caretaker
George Rogan
... Igor Rimsky
Barry Tompkins
... American Commentator #1
Warner Wolf
... Commentator #2 in Las Vegas
Robert Doornick
... Sico the Robot (voice)
Richard Blum
... Reporter
Gerald Berns
... Reporter
Ray Glanzmann
... Reporter
Julie Inouye
... Reporter
Patrick Pankhurst
... Reporter
Jean Thoreau
... Reporter
Jim Bullock
... Reporter
Frank D'Annibale
... Reporter
Rose Dursy
... Reporter
Rick Kelley
... Reporter
Craig Schaefer
... Reporter
Jeff Austin
... Reporter
Leslie Morris
... Reporter
Bob Giovane
... Reporter
Julio Herzer
... Reporter
George Spaventa
... Reporter
Rolf Williams
... Reporter
Jim Hodge
... Reporter
REVIEWS
Review by anonymous (posted on 15-Apr-2006)
This was the best of all the Rocky movies, the movie never had a dull moment, and was very poignant for the mid 1980s with regards to our relationship with Russia in those days. The music was very appropriate when it related to specific scenes. Again a very well done Rocky movie which even surpasses the original Rocky. The training scenes in regards to Rocky and Ivan Drago were quite memorable to me because of the contrast between the state of the art training of Ivan Drago versus the old methods displayed by Rocky!
---
Do you know something we don't?
Submit a correction or make a comment about this profile

Copyright ©2019 Soylent Communications