Cate Blanchett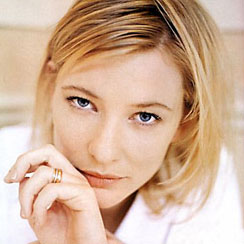 AKA Catherine Elise Blanchett
Born: 14-May-1969
Birthplace: Melbourne, Victoria, Australia

Gender: Female
Race or Ethnicity: White
Sexual orientation: Bisexual
Occupation: Actor
Nationality: Australia
Executive summary: Galadriel in LOTR
Blanchett studied drama at Australia's National Institute of Dramatic Art. She performed on stage for several years with the Sydney Theatre Company, including a 1993 production of David Mamet's Oleanna opposite Geoffrey Rush. She had a supporting role in Police Rescue, a 1994 big screen outing for a long-running Australian TV series about heroic coppers. After two Australian miniseries, she worked on stage with Rush again, in a production of Hamlet. She won positive reviews for the down under dark romantic comedy Thank God He Met Lizzie. Her next film, Oscar and Lucinda with Ralph Fiennes, was well-received in American art houses, as was her performance as the Queen in Elizabeth. She later played the Queen of the elves in the Lord of the Rings movies, Katharine Hepburn in The Aviator, and herself and her cousin in Jim Jarmusch's Coffee & Cigarettes.
While filming a Ron Howard film called The Missing, Blanchett says she "forged an intimate connection to the land." She has since donated to Forest Guardians, a group that supports creation of wild animal preserves.
She is said to be a distant descendant of Louis Blériot, the first aviator to cross the English Channel.
Father: (advertising executive, d. heart attack when she was 10)
Mother: June Blanchett (teacher)
Brother: Robert Blanchett, Jr. (older, computer programmer)
Sister: Genevieve (younger, set designer, Queensland Theatre Company)
Husband: Andrew Upton (playwright, m. 29-Dec-1997, three sons)
Son: Dashiell John Upton (b. 3-Dec-2001)
Son: Roman Robert Upton (b. 23-Apr-2004)
Son: Ignatius Martin Upton (b. 13-Apr-2008)

High School: Methodist Ladies College, Melbourne, Australia
University: Melbourne University (dropped out)
Conservatory: National Institute of Dramatic Art, Australia (1992)

Oscar for Best Actress 2014 for Blue Jasmine
Oscar for Best Supporting Actress 2005 for The Aviator
Golden Globe 1999 for Elizabeth
Risk Factors: Smoking

FILMOGRAPHY AS ACTOR
Truth (12-Sep-2015)
Carol (17-May-2015)
Cinderella (13-Feb-2015)
The Hobbit: The Battle of the Five Armies (1-Dec-2014)
How to Train Your Dragon 2 (16-May-2014) [VOICE]
The Monuments Men (5-Feb-2014)
The Hobbit: The Desolation of Smaug (2-Dec-2013)
The Galapagos Affair: Satan Came to Eden (12-Oct-2013) [VOICE]
Blue Jasmine (26-Jul-2013)
Girl Rising (7-Mar-2013) [VOICE]
The Hobbit: An Unexpected Journey (28-Nov-2012)
Hanna (7-Apr-2011) · Marissa
Robin Hood (12-May-2010) · Marion Loxley
The Curious Case of Benjamin Button (25-Dec-2008) · Daisy
Indiana Jones and the Kingdom of the Crystal Skull (18-May-2008)
Elizabeth: The Golden Age (9-Sep-2007) · Queen Elizabeth I
I'm Not There (3-Sep-2007)
Notes on a Scandal (25-Dec-2006)
The Good German (12-Nov-2006) · Lena Brandt
Babel (23-May-2006) · Susan
Little Fish (20-Jul-2005) · Tracy
Stories of Lost Souls (2005)
The Aviator (17-Dec-2004)
The Life Aquatic with Steve Zissou (20-Nov-2004)
The Lord of the Rings: The Return of the King (1-Dec-2003)
The Missing (26-Nov-2003) · Magdalena Gilkeson
Coffee and Cigarettes (7-Sep-2003) · Cate
Veronica Guerin (8-Jul-2003) · Veronica Guerin
The Lord of the Rings: The Two Towers (5-Dec-2002) · Galadriel
Heaven (6-Feb-2002) · Philippa
The Shipping News (18-Dec-2001) · Petal
Charlotte Gray (17-Dec-2001) · Charlotte Gray
The Lord of the Rings: The Fellowship of the Ring (10-Dec-2001) · Galadriel
Bandits (12-Oct-2001) · Kate Wheeler
The Gift (20-Dec-2000)
The Man Who Cried (2-Sep-2000) · Lola
The Talented Mr. Ripley (12-Dec-1999) · Meredith Logue
Pushing Tin (23-Apr-1999) · Connie Falzone
An Ideal Husband (16-Apr-1999)
Elizabeth (13-Sep-1998) · Elizabeth I
Oscar and Lucinda (31-Dec-1997)
Thank God He Met Lizzie (20-Nov-1997)
Paradise Road (11-Apr-1997) · Susan Macarthy

Do you know something we don't?
Submit a correction or make a comment about this profile

Copyright ©2015 Soylent Communications