David Dreier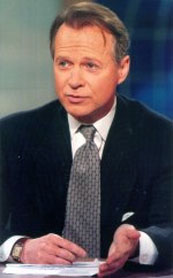 AKA David Timothy Dreier
Born: 5-Jul-1952
Birthplace: Kansas City, MO

Gender: Male
Religion: Christian Science
Race or Ethnicity: White
Sexual orientation: Matter of Dispute
Occupation: Politician
Party Affiliation: Republican
Nationality: United States
Executive summary: Congressman, California 26th
Chairman of the House Rules Committee since 1999. According to Roll Call, Congressman Dreier is worth at least $7.5 million.
When asked if he was heterosexual on a Sirius Radio interview Aug. 31, Rep. Dreier refused to answer. "I'm not going to talk about that issue," Dreier said. "That's really not what I'm here about."
According to Kitty Kelley's book The Family, Doro Bush dated Dreier for a year, during which time they never had sex. Kelley says Barbara Bush complained that he "never laid a hand on her".
According to a February 1995 article in the Daily News Record, the Congressman exhibits a great deal of fashion sense:
Dreier, who shops at Nordstrom, Brooks and Pin Stripes in Kansas City (his hometown), says, "I don't consider myself much of a fashion plate." On the other hand, he says he never takes advice on fashion, noting that it was his own idea to wear a royal-blue crewneck sweater when he appeared recently on David Brinkley's Sunday morning TV show. As for who he considers well dressed in the political arena, he names Prince Charles, and especially the late Anwar Sadat of Egypt. "I always thought of him as extraordinarily dapper and meticulous."
Dreier was awarded the "Roy Cohn Award" by Mike Rogers, formerly an executive of the National Gay and Lesbian Task Force, "in recognition of 24 years of working against gay and lesbian rights while living as a gay man yourself." (LA Weekly, 24 September 2004.)

He supported for the 1996 Defense of Marriage Act, and the Marriage Protection Act of 2004. He has voted against allowing gays and lesbians to adopt children, against legislation that would punish hate crimes against gays and lesbians, against barring discrimination in housing against people with AIDS, against increases in federal funding for expensive anti-AIDS medicine, and against prohibiting job discrimination against gays and lesbians.

Father: H. Edward Dreier Jr. (builder, d. 3-Mar-1997)
Mother: Joyce Yeomans Dreier
Sister: Denise Dreier Despars
Sister: Dana Dreier Lamont
Girlfriend: Doro Bush (dated for a year, according to Kitty Kelley)
Special Friend: Brad Smith (Dreier's chief of staff, and special friend -- cohabited)


High School: Principia Upper Schools, St. Louis, MO
University: BA Political Science, Claremont Men's College, Claremont, CA (1975)
University: MA American Government, Claremont Graduate School (1976)


US Congressman, California 26th (2003-)
US Congressman, California 28th (1993-2003)
US Congressman, California 33rd (1983-93)
US Congressman, California 35th (1981-83)
International Republican Institute Board of Directors
Leadership Institute Bi-Partisan Congressional Advisory Board
National Council for a New America National Panel of Experts
Republican Main Street Partnership
Washington Legal Foundation National Board of Advisors
Phi Sigma Alpha
Funeral: Richard Nixon (1994)


FILMOGRAPHY AS ACTOR
The Last Debate (5-Nov-2000) · Himself


Official Website:
http://dreier.house.gov/




Requires Flash 7+ and Javascript.



Do you know something we don't?
Submit a correction or make a comment about this profile






Copyright ©2019 Soylent Communications