Gene Krupa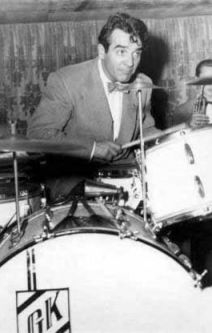 AKA Eugene Bertram Krupa
Born: 15-Jan-1909
Birthplace: Chicago, IL
Died: 16-Oct-1973
Location of death: Yonkers, NY
Cause of death: Heart Failure
Remains: Buried, Holy Cross Cemetery, Calumet City, IL

Gender: Male
Religion: Roman Catholic
Race or Ethnicity: White
Occupation: Drummer
Nationality: United States
Executive summary: Pioneering drummer
Gene Krupa began pursuing the drums while he was in grammar school and remained active on the instrument for the rest of life. This was contrary to his parent's wishes, who wanted him to enter the priesthood. He is widely considered have originated the format of the drum 'solo' -- an accomplishment, for those of us who have had to sit through far too many uninspired examples of this format, which inspires feelings a bit more complex than simple 'appreciation'.
The influence of Gene Krupa upon the drumming profession can hardly be calculated. Through his work with countless other luminaries of the Big Band Era -- Benny Goodman, Tommy Dorsey, and Glenn Miller to name just a few -- he helped to raise the instrument from its role as a simple time-keeping device into far greater prominence. In 1938 he formed his own band, which, despite an arrest for marijuana in 1943 (for which he was later cleared), continued in various forms until 1951.
Throughout the 50s and 60s Krupa worked with smaller groups, participated in the Jazz at the Philharmonic events, and co-founded a drum school. 1959 saw the release of The Gene Krupa story, a film only broadly based on his life in which he was portrayed by Sal Mineo and for which he himself provided the soundtrack. Diminishing health and a heart-attack in 1960 led to greatly diminished activity for Krupa, and in 1967 he announced he was retiring. Occasional returns to performance and a reunion with Benny Goodman followed until his death in 1973.
Father: Bartley Krupa
Mother: Ann Krupa
Brother: Pete

University: St. Joseph's College (one year)

Heart Attack 1960
Drug Possession: Marijuana San Francisco, CA 1943, convicted
Contributing to the Delinquency of a Minor San Francisco, CA 1943, convicted, later cleared
Polish Ancestry
Risk Factors: Marijuana

FILMOGRAPHY AS ACTOR
The Benny Goodman Story (Dec-1955) · Himself
The Glenn Miller Story (10-Dec-1953) · Himself
Beat the Band (19-Feb-1947) · Himself
George White's Scandals (10-Oct-1945) · Himself
Syncopation (22-May-1942) · Himself
Ball of Fire (2-Dec-1941) · himself
Some Like It Hot (19-May-1939)
The Big Broadcast of 1937 (6-Oct-1936) · Himself

Official Website:
http://www.gkrp.net/
Do you know something we don't?
Submit a correction or make a comment about this profile

Copyright ©2019 Soylent Communications