Amelia Earhart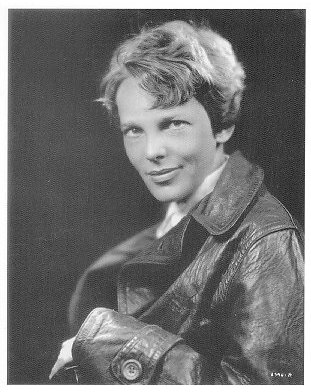 AKA Amelia Mary Earhart
Born: 24-Jul-1897
Birthplace: Atchison, KS
Died: 2-Jul-1937
Location of death: Pacific Ocean
Cause of death: unspecified
Remains: Missing

Gender: Female
Race or Ethnicity: White
Sexual orientation: Matter of Dispute
Occupation: Aviator
Nationality: United States
Executive summary: Misplaced aviatrix
Amelia Earhart was a world famous American aviatrix whose courageous exploits and plucky personality made her an international hero and an American cultural icon in the early half of the 20th Century. Earhart was the first woman to cross the Atlantic ocean by airplane (1928), the second person and first woman to fly solo across the Atlantic (1932), the first person to fly solo across the Pacific between California and Hawaii (1935), and the first woman to compete in the National Air Races in Cleveland, Ohio (1935). She also set a number of speed and altitude records and was awarded numerous high level honors and awards from American and Foreign dignitaries. On July 2, 1937, Earhart and navigator Fred Noonan disappeared over the Pacific Ocean during one of the final legs of their equatorial round the world flight. Had they finished the crossing Earhart would have been only the second person to complete such a journey and the first woman ever to do so. The mystery of Earhart's disappearance continues to intrigue the public and to generate scores of books, articles, and films. Popular theories for her disappearance include navigational error, capture by the Japanese military, and even UFO abduction. Earhart herself authored two books, 20 Hrs. 40 Min (1928) and For the Fun of It (1932). Selections from her journal, mailed to husband George Putnam during her final flight, were posthumously published as a third book, Last Flight, in 1937. Throughout her life Earhart worked tirelessly to promote aviation and opportunities for women.
Amelia Mary Earhart was born July 24, 1897 in Atchison Kansas. Her early years were spent, primarily, with her maternal grandparents who were prominent local citizens. But in 1908 Amelia and her sister Muriel went to live full time with their parents, Edwin and Amy. It was the beginning of a time of hardships and turmoil.Her father's unstable career meant frequent moves. Economic woes fueled marital strife -- and her father's alcoholism -- and her parents separated frequently. Amelia meanwhile resented the stress foisted on her father as the family's sole provider. Already a tomboy, she resolved that she would be a more independent style of woman, one who would be an equal partner.
After her graduation from Chicago's Hyde Park High School in 1915, she entered college near Philadelphia. She proved herself outspoken, athletic, and intelligent. But during a visit to her sister in Toronto she was deeply moved by the sight of injured war veterans, and in 1918 she left school to volunteer as a nurse's aid at the Spadina Military Convalescent Hospital. In this role she gained a keen sense of the gruesome human cost of war. But as many of her patients were pilots, she also developed a potent admiration for aviators, spending much of her free time out at the airfield watching the Royal Flying Corp at practice.
After the war ended Earhart enrolled in pre-med at Columbia University. But her parents, temporarily reunited, called her out to join them in California and she abandoned her studies to be with them. It was out in Long Beach, California that she took her first plane ride. The 10 minute jaunt in the open-cockpit biplane thrilled Earhart and hooked her on flying. Determined to become a pilot herself she took odd jobs to pay for lessons from a local female aviatrix, Neta Snook. Getting to the airfield meant a lengthy bus ride that dumped her out 4 miles from the airfield -- an 8 mile hike for each lesson. But by 1921 she'd bought her first airplane, and in 1922 she set her first record by flying to 14,000 feet, the first woman ever to reach such heights. In 1923 she became only one of 16 women in the world to receive a pilot's license from the Fédération Aéronautique Internationale.
When she at last returned to her medical career at Columbia, in 1924, she impressed at least one instructor with her intelligence. But she found she no longer had the patience to toil away for some uncertain future -- She longed to do something more active and immediate. She tried her hand at various forms of social work, finally teaching English to immigrants at a settlement house in Boston.But flying remained her great passion. She wrote a number of articles promoting aviation, joined the Boston Chapter of the National Aeronautic Association, and worked to develop air plane production and a local airport. Then in 1928, Earhart received an invitation to become the first woman to fly across the Atlantic Ocean. Although she would be merely a glorified passenger, she readily accepted.
She set out on June 3, 1928 from Trepassey Harbor, Newfoundland with pilot Wilmer "Bill" Stultz and mechanic/co-pilot Louis E. "Slim" Gordon aboard a tri-motor Fokker F7 christened the "Friendship". Relying entirely on instrumentation readings to navigate, a skill few pilots then possessed, Gordon and Stultz crossed the Atlantic to touch down 21 hours later at Burry Port, Wales. All three crew members were instant heroes. After being received by British royalty, they returned home to a ticker tape parade in New York, and a White House reception with President Calvin Coolidge. Wherever they went however, it was Amelia everyone clamored for. Embarrassed by the imbalanced attention, she pointed out to the press the accomplishments of Stultz and Gordon, emphasizing she had been no more help than a sack of potatoes. But, she added, perhaps someday she would making the crossing again, as the pilot.
Four years later, on May 20, 1932, she did so. Flying a single engine Lockheed Vega she set out from Harbor Grace, Newfoundland battling icy winds and mechanical difficulties to land a record setting 14 hours and 56 minutes later in Culmore, Ireland, north of Derry. When she taxied up through the pasture a farm hand asked if she had come far, and she calmly replied, "From America." The first woman to pilot a plane across the Atlantic Ocean, Earhart was also the first person to have crossed the Atlantic twice by air, and only the second person in history to have flown solo across the Atlantic Ocean. She'd also set the record for the fastest Atlantic crossing, and the longest distance flown by a woman. She was soon the celebrated guest of kings, queens, and ambassadors, even the Pope. And she was showered with the highest honors, including the U.S. Distinguished Flying Cross, the National Geographic Society's gold medal, and the French Cross of the Legion of Honor.
To the American people meanwhile Earhart was "Lady Lindy", plucky, honorable, and determined, and a true American hero. George P. Putnam, her publisher and a chief organizer of her first Atlantic crossing, helped Earhart to cash in on this fame with paid appearances and her own line of merchandise including clothing, luggage, even smelling salts and cigarettes. Her earnings however barely covered the cost of her various flying expeditions. But Earhart hoped that her high profile success would inspire other young women to live to their full potential. She hoped her example of courage, intelligence, and self-reliance would help topple negative stereotypes about women, opening new doors to women in every field.
Before long the close work relationship, and friendship, between Earhart and Putnam generated mild scandal in aeronautic circles and led Putnam's wife to file for divorce. When Earhart finally married Putnam, in December of 1930, she insisted that their marriage would be a partnership "with dual controls." There was to be no "medieval code of fidelity" and no squelching of her career.
Meanwhile, as her accomplishments broadened to include author, airline executive and the role of much consulted authority on the developing field of aviation, Earhart continued to set new aviation records. These included the women's record for fastest non-stop transcontinental flight (twice, in 1932 and 1933), and the first person to fly solo across the Pacific, from California to Hawaii (1935).
But as ever she hungered for a new challenge. By the mid 1930s this took shape as the ultimate air excursion, an equatorial round the world trip by plane. With herself as pilot she gathered a crew that included navigators Fred Noonan and Captain Harry Manning, as well as technical advisor/assistant navigator Paul Mantz. They set out from Oakland, California on St. Patrick's Day, March 17, 1937, flying for Hawaii on the first leg of their journey. From there they would travel on to tiny Howland Island in the South Pacific, and then on to Australia.
The trip to Hawaii went well, with the crew setting a new transpacific speed record. But as they lifted off the runway from Hawaii's Luke Field, Earhart ground looped the plane and crashed. Although she claimed the plane blew a tire, Mantz argued that pilot error was at fault. Regardless the plane had to be shipped back to California for repairs, and Earhart's round the world trip rescheduled. She set out on her second attempt in June, this time with only Noonan to assist her effort. They set again from Oakland, this time flying east, across the continental United States. Then with a much-ballyhooed departure from Miami, Florida they flew toward Central and South America before finally turning east for Africa. Cruising in their "Flying Laboratory", as the plane was called, they crossed Africa, southern and southeastern Asia before setting down in Lae, New Guinea on June 29, 1937.
In Lae they rested from their 22,000 mile journey and welcomed dignitaries and well wishers. Necessary repairs and adjustments were made and the plane was refueled for the big trek across the Pacific to tiny Howland Island -- the destination Earhart had failed to reach on her first around the world attempt. A mere fly speck in the vast expanse of the Pacific, Howland was only a mile and a half long by one half mile wide. It jutted up just 10 or 20 feet above the water, and from the air it would be hard to pick out in the endless sun flecked glare of the ocean, especially amidst similar looking shapes cast by cloud shadows.
But of course the flyers had a plan. Noonan would utilize celestial navigation to track their position and to keep them on course. In case overcast skies made this impossible they would have a back-up aide, radio communication with the U.S. Coast Guard Cutter Itasca which was stationed near Howland. Finally if all else failed they would use a map, a compass, the position of the rising sun, and educated guess work to find their position relative to Howland. Then, after getting themselves to the right longitude, they would simply run north and south, looking for the island and the smoke plume that was to be sent up by the Itasca. If all this failed and it came to ditching in the open sea the emptied fuel tanks would lend the plane some buoyancy, hopefully giving them sufficient time to struggle out with their small inflatable raft and wait for rescue.
Thus, setting out from Lae on July 2, the experienced team may have thought they had everything well figured out. But error appears to have compounded upon error. For starters some of their radio equipment, specializing in shorter wavelength frequencies, was left behind. Witnesses to the take off also believe their radio antennae may have been damaged during take off. Next, they carried only about 1100 gallons of fuel, about 50 gallons short of full capacity, due to insufficient quantities of high octane fuel. Then too Noonan's celestial navigation during the flight was likely made difficult, or perhaps impossible, by the overcast conditions later reported by Earhart.
If all this weren't enough, the map the flyers were using may have been inaccurate. According to Earhart researcher and former Navy radar expert John P. Riley, Jr., Howland Island was in fact 5.8 nautical miles from its charted position. In addition, says Riley, although this fact was known to Itasca's commander, Warner K. Thompson, there is no record to indicate he ever informed Earhart and Noonan of the discrepancy ("The Earhart Tragedy: Old Mystery, New Hypothesis", Naval History Magazine, 2000). It is but one of many discrepancies related to Thompson's role and the Itasca.
In any event, as Earhart and Noonan closed in on the supposed position of Howland Island the flyers did end up running north and south, unsure as to their exact location. They were scanning for a signal -- visual or auditory -- from the Itasca. But for various reasons radio communication was extremely poor that morning. Reception was spotty, there was a confusion over which frequencies were to be used, and there appears to have been a time zone discrepancy (flyers and ship running on different clock settings) that may have put the agreed check in time out of sync. On top of everything else the Itasca failed to provide its radio signal beacon at the appropriate time, perhaps causing the flyers to miss the signal and therefore the island.
The flyers' last communication was at 8:45 a.m. and their tanks were already out of fuel. They never reached Howland Island, and no trace of them or their craft was ever found – although an extensive coordinated search was carried out by the Navy and Coast Guard. Despite the efforts of 66 aircraft and 9 ships and an expenditure of an estimated 4 million dollars, authorized by President Franklin D. Roosevelt, their fate remained a mystery. When the official search ended on July 18th, George Putnam financed addition search efforts, often working off tips and hunches gleaned from seamen, psychics, and amateur radio enthusiasts. But he was well aware that the flyers could only survive so long without adequate supplies of food and water. After several weeks of searching, in October of 1937, he acknowledged that the window of possibility had closed. He ended the search. On January 5, 1939 Amelia Earhart was declared legally dead, in Superior Court in Los Angeles, California.
But the mysterious fate of the larger than life woman flyer tugged at the public's consciousness. For nearly a decade she had amazed and delighted the world by doing the seemingly impossible, by doing what others could not. She was plucky, resourceful, and smart. Could this extraordinary American hero really have fallen prey to error or the forces of nature? To many it seemed unlikely. Surely she was simply marooned somewhere, waiting to be discovered.
But another hypothesis was already in the making. On October 16, 1937 the Australian newspaper, Smith's Weekly, charged that U.S. planes, allegedly searching for Earhart, were in fact carrying out reconnaissance of Japanese military installations in the Pacific. The expansionist Japanese empire had been very busy of late in certain parts of the South Pacific, shipping in great quantities of building materials, and enough food to support an army. Given that the Japanese had already begun an invasion of China, U.S. officials had to be nervous about Japan's intentions toward American interests in the Pacific. At the same time the search for a world renowned flyer, a beloved public icon, could have provided convenient cover for a massive U.S. presence close to Japanese territory. However, according to official U.S. records, American personnel never entered Japanese held waters. Officially there was no correlation.
But in 1943, well after the Japanese attack on Pearl Harbor, rumors of a connection between the Earhart disappearance and the Japanese menace gained new life. In the film Flight for Freedom, Rosalind Russell portrayed a woman aviator closely modeled on the life and personality of Amelia Earhart. She even sported a version of Earhart's nickname, "Lady Lindbergh." And like Earhart, this lady aviator also lost her life in the Pacific -- but on a secret government spy mission against the Japanese. The message was not lost on the public and in the decades since the movies debut theories linking Earhart's disappearance to the Japanese military have multiplied. Even some U.S. servicemen in the World War II Pacific theater returned home with claims of having found Earhart, her remains, or her affects in Japanese hands.
Earhart researchers favoring the Japanese interception theory later leaped on these accounts as well of those of South Pacific natives who claimed to have seen Earhart in custody. But accounts about Earhart varied wildly -- she was executed immediately, she died of illness, she was liberated from a prison camp, she was secretly repatriated to the United States, she was really Tokyo Rose, etc. But the majority of seemingly credible accounts do seem to place her on the island of Saipan, as Japanese prisoner charged with espionage. Was it truth or film related hysteria? In 1949 Amy Earhart publicly stated that she believed her daughter had been involved in some kind of work for the government. There are even claims that Navy Admiral Chester W. Nimitz shared this view. However thus far no hard evidence has been presented to prove either that Earhart was engaged in reconnaissance or that she was ever in Japanese custody.
The more commonly accepted theory today, in an era when Earhart's accomplishments no longer loom larger than life, is that she simply ran out of gas and crashed into the Pacific. The plane immediately sank, proponents say, and she and Noonan were drowned. Nothing extraordinary about it. But one group of researchers, TIGHAR (The International Group for Historic Aircraft Recovery), validate the old vision of Earhart, and Noonan, as unusually capable and resourceful. They insist that the flyers managed to land their craft on the reef of tiny Gardner Island in the Phoenix Group in the South Pacific. On this island, now Nikumaroro in the Republic of Kirib, they struggled to stay alive, waiting for a rescue that never came.
TIGHAR researchers cite as evidence for this theory human remains and airplane wreckage which were both alleged found on the island in decades past. The group's examination of the site, involving trained experts in forensics and archaeological excavation, has uncovered tantalizing clues that seem to lend credence to the earlier reports. Did the remains, and the possible airplane, belong to Earhart? They aren't sure, yet. Meanwhile the results of TIGHAR's work appear in Finding Amelia: The True Story of the Earhart Disappearance (2006) by TIGHAR Executive Director Ric Gillespie.Tom King's Amelia Earhart's Shoes: Is the Mystery Solved? also incorporates the findings. TIGHAR members hope that future expeditions to Nikumaroro will decisively answer the riddle of Earhart's disappearance. Other Earhart theorists however believe that only a similar expedition to the jungles of Saipan will provide the answers.
Father: Samuel Stanton Earhart ("Edwin", b. 1867, d. 1930 cancer)
Sister: Muriel ("Pidge")
Mother: Amelia Otis ("Amy", b. 1869, d. 1962)
Husband: George Palmer Putnam (m. 7-Feb-1931)

High School: Hyde Park High School, Chicago, IL (1915)
High School: Ogontz School
University: Columbia University (attended 1919-20)

Endorsement of American Tobacco Company Lucky Strike cigarettes (1925, 28)
National Aviation Hall of Fame 1973
National Women's Hall of Fame 1973
Tonsillectomy Apr-1931
Ticker-Tape Parade 6-Jul-1928
Ticker-Tape Parade 20-Jun-1932
Declared Legally Dead Los Angeles, CA (5-Jan-1939)
Famous Missing Persons

Official Website:
http://www.ameliaearhart.com/
Author of books:
The Fun of It (1932)

Do you know something we don't?
Submit a correction or make a comment about this profile

Copyright ©2019 Soylent Communications