Carol Channing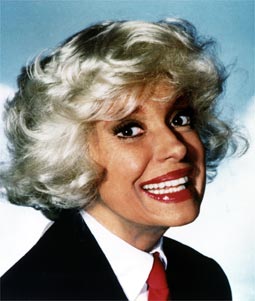 AKA Carol Elaine Channing
Born: 31-Jan-1921
Birthplace: Seattle, WA
Died: 15-Jan-2019
Location of death: Rancho MIrage, CA
Cause of death: unspecified

Gender: Female
Religion: Christian Science
Race or Ethnicity: Multiracial
Sexual orientation: Straight
Occupation: Singer, Actor
Nationality: United States
Executive summary: All-Singing All-Dancing
Carol Channing is a Broadway star with a raspy, often imitated voice and extravagant style who has been described as Ethel Merman, "only more so." She began performing in grade school, with spot-on impressions of her teachers that landed young Channing in the principal's office. In high school she competed on the debating team, and won a statewide speaking contest with her presentation on "What America Means to Me". She studied drama for two years at Bennington College, until a kindly teacher told her she did not need any further training, suggesting instead she should go to New York and try to break through on stage.
Just months later, Channing made her Broadway debut in Let's Face It, a 1941 musical starring Danny Kaye and Eve Arden. The play ran a year and a half, but when it closed Channing was just another struggling actress. She worked as a stand-up comic alongside Zero Mostel in a Greenwich Village club, eventually catching on with the 'Borscht Circuit' of summer resorts in the Catskills. That gig ended when she was abruptly fired, by a producer who coldly announced that she had no talent.
Her first recognition came with Lend An Ear, a musical revue where Channing sang five songs. The play ran for more than a year, but Channing had to leave early when she landed the lead in Gentlemen Prefer Blondes. She received rave reviews as the blonde bombshell belting out "Diamonds Are a Girl's Best Friend", and later had huge success in a cotton-candy wig as Mrs Dolly Levi in Hello Dolly. When those hit plays were made into movies, though, the parts went to Marilyn Monroe and Barbra Streisand, respectively.
Channing did have a sputtering Hollywood career, but seemed to find it difficult to shrink her 50-megawatt stage presence to fit the far more intimate confines of film. She gave Clint Eastwood his first big-screen kiss in The First Traveling Saleslady, played Jackie Gleason's bohemian wife in the LSD comedy Skidoo, and she was Oscar-nominated as a screwball heiress in Thoroughly Modern Millie with Julie Andrews. Beyond the New York stage, she is probably best known for her audacious TV specials of the late 1960s and for occasional appearances on talk shows and sitcoms, where she has always seemed bigger and brassier than a TV set could contain.
Her first husband was writer Theodore Naidish, best known for his boxing novel Watch Out for Willie Carter. Her second husband was Alexander Carson, who played center for the Ottawa Rough Riders of the Canadian Football League and later became a private eye. Their son, Channing Lowe, is now an editorial cartoonist for the South Florida Sun-Sentinel. Her third husband was Broadway producer Charles Lowe, whose biggest hit was a revival of Hello Dolly, again starring Channing. Her fourth and final husband is Harry Kullijian, who was her first boyfriend when they were classmates at San Francisco's Aptos Junior High School in the 1930s. They were reunited six decades later when he read about himself as her "first love" in her autobiography, Just Lucky I Guess. They were married in 2003.
She has recorded ten gold albums and performed, she says, in every major nightclub and concert hall in America. She has been Tony-nominated four times, winning for Hello Dolly, and also received a Special Tony in 1965 and a Tony for Lifetime Achievement in 1995. An outspoken liberal, Channing's name was included in Richard Nixon's now-famous "enemies list", and she has said that was the highest honor in her career.
Channing is one-fourth black. Her grandfather was Nordic-German and her grandmother African-American, and her father was light-skinned enough to pass for white. Channing felt she too had to keep her heritage a secret for fear of repercussions in her early career, but now says she is proud of her genealogy. "This is the changing face of America," she has said. "I'm part of it. Isn't it wonderful?"
Father: George Channing (newspaper editor)
Mother: Carol Glaser ("Peggy")
Husband: Theodore Naidish (novelist, div.)
Husband: Alexander Carson (pro football player, m. 1953, div. 1956, one son)
Son: Channing Lowe ("Chan", newspaper cartoonist, b. 1953)
Husband: Charles F. Lowe (stage producer, m. 1956, separated 1998, d. 2-Aug-1999)
Boyfriend: Roger Denny (home designer, together 2000-02)
Husband: Harry Kullijian (real estate agent, dated 1934-36, 2002-03, m. 10-May-2003, d. 26-Dec-2011)

High School: Lowell High School, San Francisco, CA (1938)
University: Bennington College (dropped out)

Endorsement of American Express
Golden Globe 1968 for Thoroughly Modern Millie
Hollywood Walk of Fame 6233 Hollywood Blvd.
Kentucky Colonel
German Ancestry Paternal
Risk Factors: Diabetes

FILMOGRAPHY AS ACTOR
Carol Channing: Larger Than Life (20-Jan-2012) · Herself
Show Business: The Road to Broadway (19-Apr-2007) · Herself
Broadway: The Golden Age (Apr-2003) · Herself
The Brave Little Toaster Goes to Mars (19-May-1998) [VOICE]
The Line King: The Al Hirschfeld Story (27-Sep-1996) · Herself
Thumbelina (30-Mar-1994) · Ms. Fieldmouse [VOICE]
Happily Ever After (28-May-1993) [VOICE]
Alice in Wonderland (9-Dec-1985)
Sgt. Pepper's Lonely Hearts Club Band (24-Jul-1978)
Shinbone Alley (7-Apr-1971) · Mehitabel [VOICE]
Skidoo (2-Dec-1968)
Thoroughly Modern Millie (21-Mar-1967) · Muzzy
The First Traveling Saleslady (Aug-1956) · Molly Wade

Do you know something we don't?
Submit a correction or make a comment about this profile

Copyright ©2019 Soylent Communications