Michael D. Brown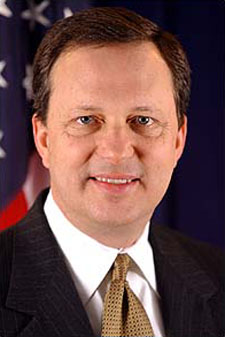 AKA Michael DeWayne Brown
Born: 8-Nov-1954
Birthplace: Guymon, OK

Gender: Male
Race or Ethnicity: White
Sexual orientation: Straight
Occupation: Government
Party Affiliation: Republican
Nationality: United States
Executive summary: FEMA chief operating officer 2003-05
Head of the Federal Emergency Management Agency (FEMA) 2003-05. Official title was Under Secretary of Emergency Preparedness and Response for the Department of Homeland Security. Formerly deputy director of FEMA. His primary qualifications seemed to be that he ran the International Arabian Horse Association (1991-2000, he was asked to resign) and was a former roommate of Joe Allbaugh, former FEMA chief.
On 29 August 2005, after Hurricane Katrina struck New Orleans, Brown reassured the public that FEMA was all set and everything was proceeding according to plan:
As the Category 4 the storm surged ashore just east of New Orleans on Monday, FEMA had medical teams, rescue squads and groups prepared to supply food and water poised in a semicircle around the city, said agency Director Michael Brown.

Brown, in a telephone interview with The Associated Press, said the evacuation of the city and the general emergency response were working as planned in an exercise a year ago. "I was impressed with the evacuation, once it was ordered it was very smooth," he said. [...]

Speaking earlier Monday from Baton Rouge, just upriver from New Orleans, Brown said that his agency had "planned for this kind of disaster for many years because we've always known about New Orleans' situation." Much of the city is below sea level, making it extremely vulnerable to storm flooding.
Three days later on CNN, Brown explained that the emergency crews were purposely held back:
Brown said he had to be careful about getting rescue teams to the site earlier.

"Otherwise, we would have faced an even higher death toll," he said.
Then he proceeded to blame the stranded residents of New Orleans for their sorry fate:
The director of the Federal Emergency Management Agency said Thursday those New Orleans residents who chose not to heed warnings to evacuate before Hurricane Katrina bear some responsibility for their fates.

Michael Brown also agreed with other public officials that the death toll in the city could reach into the thousands.

"Unfortunately, that's going to be attributable a lot to people who did not heed the advance warnings," Brown told CNN.

"I don't make judgments about why people chose not to leave but, you know, there was a mandatory evacuation of New Orleans," he said.
Meanwhile, that same day:
New Orleans descended into anarchy Thursday, as corpses lay abandoned in street medians, fights and fires broke out and storm survivors battled for seats on the buses that would carry them away from the chaos. The tired and hungry seethed, saying they had been forsaken.

"I'm not sure I'm going to get out of here alive," said Canadian tourist Larry Mitzel, who handed a reporter his business card in case he goes missing.

[...]

About 15,000 to 20,000 people who had taken shelter at New Orleans convention center grew increasingly hostile after waiting for buses for days amid the filth and the dead. Police Chief Eddie Compass said there was such a crush around a squad of 88 officers that they retreated when they went in to check out reports of assaults.

"We have individuals who are getting raped, we have individuals who are getting beaten," Compass said. "Tourists are walking in that direction and they are getting preyed upon."

[...]

As he watched a line snaking for blocks through ankle-deep waters, New Orleans' emergency operations chief Terry Ebbert blamed the inadequate response on the Federal Emergency Management Agency.

"This is not a FEMA operation. I haven't seen a single FEMA guy," he said. He added: "We can send massive amounts of aid to tsunami victims, but we can't bail out the city of New Orleans."
In an interview that same night (Thursday, 1 September) with CNN anchor Paula Zahn:
| | |
| --- | --- |
| BROWN: | I will tell you this, though: every person in that convention center -- we just learned about that today and so I have directed that we have all the available resources to get to that convention center to make sure that they have the food and water, the medical care that they need. |
| CNN: | Sir, you're not telling me -- you're not telling me that you just learned that the folks at the convention center didn't have food and water until today, are you? You had no idea that they were completely cut off? |
| BROWN: | Paula, the federal government did not even know about the convention center people until today. |
9 September 2005:
A beleaguered Michael Brown said Friday he doesn't know why he was removed from his onsite command of Hurricane Katrina relief efforts, but he does know the first thing he'll do when he returns to Washington.

"I'm going to go home and walk my dog and hug my wife, and maybe get a good Mexican meal and a stiff margarita and a full night's sleep," Brown told The Associated Press. "And then I'm going to go right back to FEMA and continue to do all I can to help these victims."
But Brown resigned from FEMA on the following Monday, after having spoken with White House chief of staff Andrew Card on Saturday. Brown declared: "I think it's in the best interest of the agency and the best interest of the President to do that and get the media focused on the good things that are going on, instead of me."

Since leaving the Bush administration, Brown found work as a "disaster recovery" strategy expert and a radio talk host in Denver. In 2010, when an oil gusher flooded the Gulf of Mexico with hundreds of thousands of gallons of crude oil, Brown appeared as an expert on Fox News to say, "I would not be surprised if the (Obama) White House said, you know, we might be able to, guess what, do what? Use this crisis to our advantage. Let this crisis get really bad, and then we will step in. We will be able to shut down offshore drilling."

Wife: Tamara
Son: Jared
Daughter: Amy


University: BA Political Science, Central State University, Edmond, OK (1978)
Law School: JD, Oklahoma City University (1981)


Director of FEMA 2003 to 12-Sep-2005 (resigned)
George W. Bush for President
Dubya Nickname Brownie





Requires Flash 7+ and Javascript.



Do you know something we don't?
Submit a correction or make a comment about this profile






Copyright ©2019 Soylent Communications