Gary North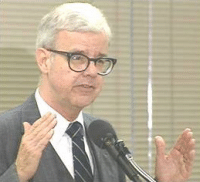 AKA Gary Kilgore North
Born: 1942

Gender: Male
Religion: Born-Again Christian
Race or Ethnicity: White
Sexual orientation: Straight
Occupation: Religion, Historian
Nationality: United States
Executive summary: Reconstructionist Y2K Doomsayer
Gary North is a vocal Reconstructionist writer and economist, son-in-law of Reconstructionist guru R. J. Rushdoony. While lauding the free market, he does his best to blow global problems out of proportion in the hopes that society might crumble and be replaced with a Fundamentalist Christian apparatus. In his wryly-titled 1987 essay The Plague Has Come at Last, North predicted millions of death by AIDS, full hospitals by 1992. Quoting Camus and forecasting a global epidemic, North wrote:
In 1992, we will run out of available hospital beds. This means that when you take a family member to stay in the hospital, you will either be sent away, or be sent to a very expensive private hospital, or they will start stacking AIDS victims up in minimal-care, crowded facilities.

By then, many victims will be heterosexuals.

But after 1991, it starts getting really serious. Unless a cure is found, or for some reason the disease ceases to be lethal, the doubling process gets us. Those infected today now number between three million and four million. The incubation period, says Dr. Koop, is ten years. They don't know how many people presently infected will actually get full-blown AIDS, but it may be as high as half. It may be 100%, if we wait long enough. But the disease is spreading fast. If it continues to double, 64 million Americans will be infected by the end of 1990. If it slows to half the present rate, and does so immediately, then "only" 15 million will be carriers in 1990.
The article begins as a somewhat cogent diatribe, but quickly degenerates into the usual palm-waving and all-caps text of a junior high Robert Mcelwaine:
The only long-term solution is MORAL AND RELIGIOUS. ... THERE IS GOING TO BE A WILD EXODUS FROM THE PUBLIC SCHOOLS. You KNOW I'm right. All talk about "white flight" will end; regardless of race, color, or national origin, THE PUBLIC SCHOOLS ARE GOING TO BE ABANDONED. ... Look, PEOPLE DON'T USE CONDOMS WHEN KISSING. ... WE NEED A PROPHET, NOT A PUBLIC RELATIONS AGENT FOR CONDOMS. ... THE AIDS VIRUS ATTACKS THE BRAIN. DEMENTIA IS THE RESULT. ... THERE IS NO SAFE SEX ANY MORE. ... SENTENCING YOUNG PEOPLE TO DEATH ... STRICT ISOLATION ... INSECTS ... WORLDWIDE PANIC ... LIFETIME CONTAGION ... CRITICAL MASS ...
Once the shock and awe wore off, most people outside the Christian Right rejected North's apocalypse scenario and ignored him. After a few years of relative silence, he was at it again, inveighing in similar fashion on the Y2K problem:
If the computer failures are sufficiently widespread, urban society will collapse. Without banks, water, sewers, communications, and electrical power, cities will become nightmares.

Under such conditions, the Federal government would have to declare martial law.

The question is: Could the Army carry out its assignments? It, too, is noncompliant. Its systems are vulnerable to y2k.

There are indications that the U.S. government is preparing for martial law. Under the cover of the phrases "critical infrastructure protection" and "cyberterrorism," the government is setting up rapid deployment forces designed to provide order in American cities.
Of course, his post-Y2K glitch roundup didn't really live up to the hype. After a month of headlines like, NSA Computer Down for 4 Days. Not Y2K, Says NSA, North grudgingly gave up on eschaton. In an attempt to ascertain what went wrong with his original predictions, he urged his forum users to sound off with some quality feedback:
I started [this site] in January, 1997. Vistors have gone through the summaries, extracts, comments, and links to the original documents. It's a big pile of material.

Assessments, please!
After receiving over 500 emails, "many of them ... positive", North reneged on his promise to post them all, blushing, "I do not want this category to look like a fan letter club."

Other handy quotables by North include "When people curse their parents, it unquestionably is a capital crime."

Much like the pamphleteers of yore, Gary North is a prolific blogger.

Wife: Sharon Rushdoony (dau. of R. J. Rushdoony)


University: PhD History, University of California at Riverside (1972)


Chalcedon Institute
Christian Anti-Communist Crusade
Discovery Institute
Council for National Policy
Philadelphia Society Board of Trustees


Official Website:
http://www.freebooks.com/

Appears in articles:
Wired, 7-Jan-1999, DETAILS: There's Something About Gary, BYLINE: Declan McCullagh
Wired, 5-Jan-2000, DETAILS: Y2K Alarmist: Wha' Happened?, BYLINE: Joanna Glasner


Author of books:
Victim's Rights and Introduction to Christian Economics (1973)
Political Polytheism: The Myth of Pluralism (1989)
Christian Reconstruction: What It Is, What It Isn't (1991, with Gary DeMar)
The War on Mel Gibson: The Media Versus the Passion (2005)





Requires Flash 7+ and Javascript.



Do you know something we don't?
Submit a correction or make a comment about this profile






Copyright ©2019 Soylent Communications