Kristy McNichol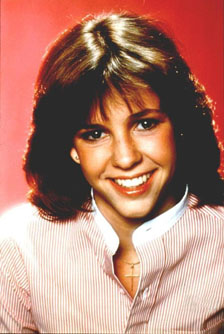 AKA Christina Ann McNichol
Born: 11-Sep-1962
Birthplace: Los Angeles, CA

Gender: Female
Race or Ethnicity: White
Sexual orientation: Lesbian [1]
Occupation: Actor
Nationality: United States
Executive summary: 1970s girl teen idol
Contrary to the rumors, Kristy McNichol is not crazy, and not a drug addict. She has bipolar affective disorder, also known as manic-depression. It's a physical disorder that is exacerbated by stress, and the life of a high-profile movie star presents plenty of stress. That, in a nutshell, is why McNichol is no longer a movie star.
Her parents divorced when McNichol was three. Her mother was a struggling actress, and Kristy and her brother Jimmy were often brought along and left to amuse themselves while her mother rehearsed, auditioned, or performed. Eventually casting directors expressed an interest in the children, and McNichol and her brother began appearing in commercials when she was 8. At 11, she was on Love American Style, and at 12 she was a regular on Ronny Cox's Waltons-wannabe series, Apple's Way. When that show was cancelled, McNichol started popping up in child roles on shows like Starsky & Hutch and The Bionic Woman, and three different After School Specials.
At 14, she was cast as Letitia "Buddy" Lawrence, the pubescent daughter on Family, a critically-beloved drama of angst in an upper-class family. The show ran five seasons, and McNichol was Emmy-nominated four times, winning two statuettes. During her Family run, McNichol was a fixture on the covers of teen magazines. Her fan mail started arriving in huge sacks instead of small postal bins, and her agent had to hire additional staff to answer the mail with form letters and machine-signed photographs. At about the same time, Mattel came out with a Kristy McNichol doll.
At 15, she did an episode of Love Boat where her character had a crush on Fred Grandy's Gopher -- a traumatic experience for anyone. Months later, she returned for another Love Boat cruise, this time with Scott Baio. At 16, she made her film debut in Burt Reynolds' death comedy, The End. Toward the end of her Family run, McNichol was biting her nails more and more often, and described herself as a "compulsive cleaner". As Family finally ended, McNichol became a major film actress with the adolescent hit Little Darlings, in which she and co-star Tatum O'Neal raced to lose their virginity. She also had a low-level hit single when she recorded "He's So Fine" with her brother Jimmy.
When she was 19, her mother remarried a man only nine years older than McNichol. The newlyweds then adopted a girl named Jennifer, whose lineage is unclear, but whose biological father was rumored to have dated McNichol some years earlier. At 20, in 1982, she starred in Samuel Fuller's White Dog, the story of a dog trained to attack black people, and the black man (Paul Winfield) determined to overcome the animal's training. McNichol's character seems bewildered by all this, which is exactly the appropriate response. The film was a decent low-budget think-piece about racism, but word of the film's plotline offended so many people that the studio yanked the film, and it was never released in America.
In 1983, after several flops and the White Dog controversy, McNichol disappeared from the French Alps, where she had been filming Just the Way You Are. There was ample speculation that drugs were involved, but when it comes to illegal drugs, McNichol was always a just-say-no girl. A year later, with her medical condition diagnosed and meds prescribed to modulate her mood swings, McNichol returned and the film was finished and released, to dismal box office.
In 1988, McNichol's big comeback was the sitcom Empty Nest with Richard Mulligan. She stayed with the series for four years, then quit when her depression recurred. In 1995, she returned for the series' last two episodes.
McNichol performed a voice for the 1998 animated series Invasion America, but since then she has rarely appeared before a camera or microphone. At last report, she was a high school drama teacher and charity worker. She came out as a lesbian in 2012, saying she hoped the announcement would help bullied gay, lesbian, and bisexual teens.
---
[1] Publicist's statement to People magazine, 6 January 2012.

Father: James McNichol (carpenter)
Mother: Carollyne McNichol Lucas (actress)
Brother: Jimmy McNichol (actor, b. 2-Jul-1961)
Brother: Thomas McNichol (b. 1965)
Father: Siegfried Lucas (stepfather, b. 1953, m. 31-Jan-1981)
Sister: Jennifer Lucas (stepsister, adopted in 1981)
Boyfriend: Scott Baio (actor, dated circa 1975-76)
Boyfriend: Jeb Adams (actor, dated 1976-77)
Boyfriend: Joey Corsaro (hairdresser, dated circa 1981)
Boyfriend: Christopher Daggett (film student, cohabited circa 1982)
Girlfriend: Ina Liberace (niece of Liberace, cohabited circa 1982, reportedly romantic interest)
Girlfriend: Martie Allen (together since 1991)


Emmy Outstanding Supporting Actress, 1977, for Family
Emmy Outstanding Supporting Actress, 1979, for Family
Nervous Breakdown 1983
Scottish Ancestry Paternal
Palestinian Ancestry Maternal
Risk Factors: Smoking, Bipolar Disorder


TELEVISION
Apple's Way Patricia Apple (1974-75)
Family Letitia "Buddy" Lawrence (1976-80)
Empty Nest Officer Barbara Weston (1988-92)


FILMOGRAPHY AS ACTOR
Baby of the Bride (22-Dec-1991)
Children of the Bride (5-Oct-1990)
The Forgotten One (Oct-1989)
Two Moon Junction (22-Apr-1988)
You Can't Hurry Love (20-Jan-1988) · Rhonda
Women of Valor (23-Nov-1986)
Dream Lover (21-Feb-1986)
Love, Mary (8-Oct-1985)
Just the Way You Are (16-Nov-1984)
The Pirate Movie (6-Aug-1982)
White Dog (7-Jul-1982)
Only When I Laugh (13-Sep-1981)
The Night the Lights Went Out in Georgia (29-May-1981)
Blinded by The Light (16-Dec-1980)
Little Darlings (14-Aug-1980) · Angel
My Old Man (7-Dec-1979)
Summer of My German Soldier (30-Oct-1978)
The End (10-May-1978) · Julie Lawson
The Pinballs (26-Oct-1977)
Me and Dad's New Wife (18-Feb-1976)





Requires Flash 7+ and Javascript.



Do you know something we don't?
Submit a correction or make a comment about this profile






Copyright ©2019 Soylent Communications