Simon Cowell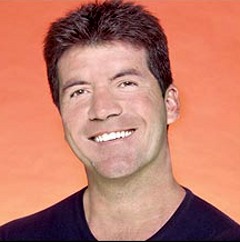 AKA Simon Phillip Cowell
Born: 7-Oct-1959
Birthplace: Brighton, England

Gender: Male
Race or Ethnicity: White
Sexual orientation: Straight [1]
Occupation: TV Personality
Nationality: England
Executive summary: Pop Idol, American Idol judge
Simon Cowell was for years the most acerbic judge on American Idol, famous for variations on the line, "I don't mean to be rude, but ..." followed by his rude assessment of a performer's talent. He performs similar duties on the UK shows Britain's Got Talent and The X-Factor. Americans love and hate Cowell with a ferocity not seen since Howard Cosell's heyday with Monday Night Football -- and who is Cowell to so crushingly dismiss aspiring stars?
A troublesome boy, he was booted from school more than once, and dropped out at 16. He took a few menial jobs, but did not get along well with co-workers and bosses, until his father -- who just happened to be a top-ranking executive at recording giant EMI -- got his boy a job in the mailroom. Young Cowell quickly climbed the ladder, becoming a talent scout with a knack for signing and nurturing up-and-coming acts. Cowell soon bolted from EMI to start his own label, which went bankrupt. He returned to EMI, then quit and started another independent label, which went bankrupt in 1989, leaving Cowell deep in debt and forcing him, at 30, to move back home with his parents. He was later hired at Bertelsmann Music Group (BMG), starting the most successful phase of his career.
He auditioned The Spice Girls but was not interested, and turned down Take That, deciding that songwriter and front man Gary Barlow was too fat to be a star. But Cowell can claim credit for Irish superstars Westlife and the hit album A Teletubbies Christmas. He had the bright idea to pair two TV actors, Robson Green and Jerome Flynn, as a singing duet, leading to three straight UK #1 singles. Performers signed or developed by Cowell delivered seventeen #1 singles in just ten years, and sold about 25 million albums.
He already had success and wealth, but fame for Cowell came when he created and hosted the British show Pop Idol in 2001. He says he got the idea while watching the rather similar Popstars, a talent show that premiered in New Zealand and was then recreated in Australia, the UK, and other nations. Cowell tweaked the format, called it Pop Idol, and had a huge television hit on his hands. The show came across the Atlantic as American Idol, with Cowell, Randy Jackson, and Paula Abdul as its original three judges.
Cowell had a long and unusual relationship with American-born Indian singer-actress Sinitta Renet Malone (usually billed as just plain Sinitta). Her mother, singer Miquel Brown, was under contract to EMI, and Cowell's parents were temporarily guardians of 14-year-old Sinitta, taking her in to their home while her mother toured. Sinitta has said that while she was staying with the Cowells, Simon, then 21, tried to seduce her, but stopped cold when she told him how old she was. They later dated off and on for nearly 20 years, and her first album was released on one of Cowell's early labels. But, she insists, they never consummated their relationship sexually. She now says she thinks of Cowell as a brother, and he is the godfather of her child.
---
[1] Interview in the Daily Mail, 31 January 2009: "I am not gay. In this business if you were gay it wouldn't be a problem, would it? I just don't think marriage would suit me or the person I would marry. I am quite happy single."

Father: Eric Philip Cowell (music industry executive, b. 1918, d. 1999)
Mother: Josie Dalglish ("Julie Brett", dancer, b. 1925)
Brother: John (half-brother)
Brother: Michael (half-brother)
Brother: Anthony (half-brother)
Sister: Lindsay Elizabeth
Brother: Nicholas Cowell (real estate investor)
Girlfriend: Sinitta (singer, together 1981-96, never consummated)
Girlfriend: Terri Seymour (British model/reporter, cohabited 2003-08)
Girlfriend: Mezhgan Hussainy (make-up artist, b. 1973, engaged 2010)
Girlfriend: Lauren Silverman (wife of Cowell's best friend, together since 2013, one son)
Son: Eric


Wedding: Donald Trump and Melania Knauss (2005)
Risk Factors: Smoking


TELEVISION
Britain's Got Talent Judge (2007-)
The X Factor Judge (2004-)
The X Factor Judge (2012-)
American Idol Judge (2002-10)


FILMOGRAPHY AS ACTOR
Popstar: Never Stop Never Stopping (24-May-2016)
Scary Movie 3 (20-Oct-2003) · Himself





Requires Flash 7+ and Javascript.



Do you know something we don't?
Submit a correction or make a comment about this profile






Copyright ©2019 Soylent Communications