Lil' Mo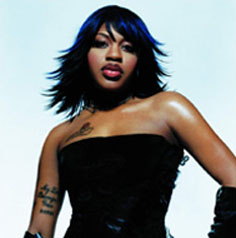 AKA Cynthia Loving
Born: 1978
Birthplace: New York City

Gender: Female
Race or Ethnicity: Black
Sexual orientation: Straight
Occupation: Singer
Nationality: United States
Executive summary: The R&B singer next door
Born into a military family, Lil' Mo (born Cynthia Loving) was raised primarily on Long Island, but moved about regularly as her family followed her father's assignments. Dreams of becoming a famous singer began early and she always remained focused on this goal, performing in talent competitions wherever her family would settle. By 1998 the singer had begun to establish herself through her songwriting and guest appearances on other performers' records, contributing vocals to singles by Jay-Z and Ja Rule; but most significantly being fortunate enough to forge a relationship with frequent mentor to new talent, Missy Elliott, who invited her to sing on the track Hot Boyz and brought her on tour as part of her band.
The following year work began on her first album Based on a True Story, but the process went far from smoothly. Record executives sought to impose their ideas upon the singer's appearance and presentation, and the release of the record was dragged out for nearly two years, prompting Mo to contemplate abandoning her singing career and limiting herself only to songwriting. The record finally did materialize in 2001, with both it and its featured single Superwoman Part II achieving reasonable success. Another unpleasant situation was soon to follow, however: while touring to support her debut, the singer was assaulted outside the Warfield Theater in San Francisco after a performance -- her attacker using a champagne bottle to inflict a head wound that would require several dozen stitches.
In the period following the attack, Lil' Mo withdrew from the spotlight and took time instead to concentrate on her songwriting and raising a family. During this period she also began a career as a radio personality on Baltimore station WXYV, hosting a highly-rated music program until she decided to return to singing in the summer of 2002. Her follow up record, Meet the Girl Next Door with contributions from Missy Elliot, Lil' Kim and Fabolous, was released in 2003.
Daughter: Heaven (b. 2001)

Do you know something we don't?
Submit a correction or make a comment about this profile

Copyright ©2019 Soylent Communications