Gary Busey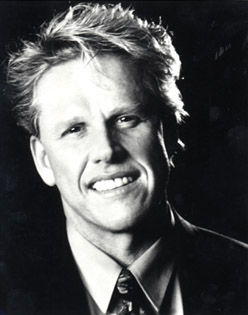 AKA Teddy Jack Eddy
Born: 29-Jun-1944
Birthplace: Goose Creek, TX

Gender: Male
Religion: Born-Again Christian
Race or Ethnicity: White
Sexual orientation: Straight
Occupation: Actor
Nationality: United States
Executive summary: The Buddy Holly Story
Gary Busey made his film debut in Angels Hard As They Come, a low-budget 1971 hippies vs. bikers saga, with Busey as a hippie and Scott Glenn as one of the "big men with throbbing machines". For several years Busey worked in obscure films and low-profile appearances on TV series, including playing the last man killed in the final episode of the long-running western Gunsmoke. He also worked as a musician, playing drums in several struggling bands, and on Leon Russell's 1975 album Will O'the Wisp. He was nominated for an Oscar as the title character in The Buddy Holly Story (1978), but he has since drifted through numerous lesser roles, and is often typecast as a sneering villain.
He played the assassin "Mr. Joshua" in the original Lethal Weapon with Mel Gibson and Danny Glover, and the maniacal Naval officer in Under Siege with Steven Seagal. Busey starred in the surf movie Big Wednesday with Jan-Michael Vincent and William Katt, and years later played an FBI agent in the surf-heist film Point Break with Keanu Reeves and Patrick Swayze. He has also had success in supporting roles in offbeat films, including Terry Gilliam's Fear and Loathing in Las Vegas with Johnny Depp, and David Lynch's Lost Highway with Bill Pullman and Patricia Arquette.
In 1988, Busey suffered severe skull fractures in a motorcycle accident. He had not been wearing a helmet, and at first doctors feared that he had suffered permanent brain damage. When Busey eventually recovered, he vividly described leaving his body after hitting the curb at 45 miles per hour, and being lectured by angels who spoke in thought with androgynous voices. After he was discharged from the hospital, Busey spoke out against rules requiring motorcycle helmets be worn and said he would continue to ride without wearing a helmet. He has since reversed his position on helmets.
In 1995 he suffered a near-deadly double overdose of cocaine and GHB. Busey has said that he came to God while he was hospitalized in the aftermath, and after the felony drug charges were dismissed he joined the Christian men's group Promise Keepers[1]. For the next few years, Busey often appeared on Christian TV shows, talking about how the group's teachings had saved his marriage, and was ordained as a minister. In 1999, Busey was arrested for brawling with his wife Tiani. They divorced in 2001, but soon after, he was again arrested for allegedly beating her, but prosecutors said there was not enough evidence to take the case to court.
In 1997, after recurring nosebleeds, he underwent surgery to remove a golf-ball-sized cancerous tumor from his sinus cavity, and after surgery he underwent radiation therapy. Also in 1997, Busey starred in a CBS pilot for a revival of Hawaii Five-O, produced by Stephen J. Cannell and featuring James MacArthur -- 'Dano' from the original series. The finished project, however, was reportedly so wretched that the network never aired it. In 2003, Busey starred in a faux reality series titled I'm with Busey, wherein he shared time and space with his greatest fan, Adam De La Peņa. Busey was later featured in the celebrity reality show Celebrity Fit Club, wherein the once-famous, Willie Aames and Victoria Jackson among them, sought to lose weight.
In 2004, Busey was briefly jailed when he arrived an hour and a half late for a spousal support hearing. He also made news that year when his refused to pay $6,000/month rent on his Malibu home, claiming that he was having problems breathing, brought on by dust in the air vents. Busey's landlord eventually agreed to clean the vents, and Busey paid his past-due rent.
In 2006, Busey starred in a Turkish movie, Kurtlar vadisi: Irak or Valley of the Wolves: Iraq. An action film that drew large, enthusiastic audiences in Germany and Middle Eastern nations, the movie was widely perceived by Americans (who hadn't seen it) as anti-American and anti-Semitic. Busey was criticized for his role as a Jewish-American doctor harvesting kidneys, corneas, and other human organs from Muslim prisoners at Iraq's infamous Abu Ghraib prison, then selling these organs to patients in America, Israel, and England. Busey's agent was quoted as saying it was "just a paycheck" to the actor.
---
[1] Interview with Busey, Christian Walk: "And then I went to the Promise Keepers after that, after my felony was dismissed, and I rededicated my life to Christ. And Bishop Wellington Boone was there, and I met him after the meeting, and I said, 'I want to do this', and he said, 'You'll reach a lot of people because of what you do.' And my first Promise Keeper meeting I spoke at I had a chance to sit-down with Coach McCartney. This man is filled with love, treasure and intensity. And I'm not usually at a loss for words, but sitting with Coach McCartney, I was all ears and all heart. I was opened up in every way. I felt like a child. And I felt truly like a child of God, which we all are."

Father: Delmer Lloyd Busey (construction manager)
Mother: Virginia (Arnett) Busey (homemaker)
Wife: Judy Lynn Helkenberg (photographer, m. 30-Dec-1968, div. 1987, one son)
Son: Jake Busey (actor, b. 15-Jun-1971)
Girlfriend: Belinda Bauer (actress, b. 1951, together 1988-89)
Wife: Tiani Warden (b. 1967, dated 1989-96, m. 23-Sep-1996, div. 2001)
Girlfriend: Malika Kinison (widow of comedian Sam Kinison, b. 1965, dated mid-1990s)
Girlfriend: Steffanie Sampson (together since 2009, one son)
Son: Luke Sampson Busey (b. 23-Feb-2010)


High School: Nathan Hale High School, Tulsa, OK (1962)
University: Coffeyville Junior College, Coffeyville, KS
University: Pittsburg State University
University: Oklahoma State University (dropped out)


Leon Russell Drummer 1975
Endorsement of Coca-Cola Vitaminwater (2010)
Promise Keepers 1997
Born-Again Christian
Brain Injury 4-Dec-1988
Brain Surgery
Drug Overdose 1995
Bankruptcy 2012
Drug Possession: Cocaine arrested May-1995
Domestic Violence arrested 2-Dec-2001
Domestic Violence arrested 1999
Betty Ford Center 1995
Irish Ancestry Maternal
Risk Factors: Cocaine


TELEVISION
The Apprentice Contestant (2011)
Entourage Himself (2004-07)
The Texas Wheelers Truckie Wheeler (1974-75)


FILMOGRAPHY AS ACTOR
Entourage (27-May-2015)
Behaving Badly (9-Jun-2014)
Lizzie (10-Sep-2013)
Bounty Killer (5-Apr-2013)
Piranha 3DD (11-May-2012)
Hallettsville (5-Mar-2009) · Sheriff David Ketchum
Succubus: Hell-Bent (17-Apr-2007)
Maneater (2007) · Grady Barnes
Homo Erectus (2007)
Dr. Dolittle 3 (11-Apr-2006) [VOICE]
Valley of the Wolves: Iraq (31-Jan-2006)
Crooked (2006) · John Rouse
The Gingerdead Man (8-Nov-2005)
Chasing Ghosts (11-May-2005)
The Hard Easy (2005)
Ghost Rock (8-Jun-2004)
Motocross Kids (31-Jan-2004)
Quigley (3-Feb-2003)
On the Edge (1-Oct-2002)
Slap Shot 2: Breaking the Ice (26-Mar-2002) · Richmond Claremont
Frost: Portrait of a Vampire (2001)
G-Men from Hell (7-Dec-2000)
Two Shades of Blue (6-Jun-2000)
Hot Boyz (30-Mar-2000) · Tully
Tribulation (14-Jan-2000)
Down 'n Dirty (2000)
A Crack in the Floor (2000)
Detour (5-Oct-1999)
No Tomorrow (16-Jun-1999)
The Girl Next Door (1999)
Soldier (23-Oct-1998) · Church
Universal Soldier II: Brothers in Arms (27-Sep-1998) · Otto Mazur
Fear and Loathing in Las Vegas (22-May-1998) · Highway Patrolman
Diary of a Serial Killer (6-Jan-1998)
Rough Riders (20-Jul-1997)
Plato's Run (Jun-1997)
Lethal Tender (14-Mar-1997)
Lost Highway (21-Feb-1997)
The Rage (1997) · Art Dacy
Suspicious Minds (1997) · Vic Mulvey
Carried Away (29-Mar-1996) · Maj. Wheeler
Black Sheep (2-Feb-1996) · Drake Sabitch
Sticks and Stones (1996)
Man with a Gun (9-Oct-1995)
Drop Zone (9-Dec-1994) · Ty Moncrief
Chasers (22-Apr-1994) · Sgt. Vince Banger
Surviving the Game (15-Apr-1994) · Hawkins
Rookie of the Year (7-Jul-1993) · Chet Steadman
The Firm (30-Jun-1993)
South Beach (1993) · Lenny
Breaking Point (1993)
Under Siege (9-Oct-1992)
Chrome Soldiers (6-May-1992)
The Player (3-Apr-1992) · Himself
Wild Texas Wind (23-Sep-1991)
Point Break (12-Jul-1991) · Pappas
My Heroes Have Always Been Cowboys (1-Mar-1991)
Predator 2 (21-Nov-1990) · Keyes
Act of Piracy (26-Sep-1990)
Hider in the House (1989) · Tom Sykes
A Dangerous Life (27-Nov-1988)
Bulletproof (1988)
Lethal Weapon (6-Mar-1987) · Joshua
Eye of the Tiger (28-Nov-1986) · Buck Matthews
Let's Get Harry (31-Oct-1986)
Silver Bullet (11-Oct-1985) · Uncle Red
Insignificance (2-Aug-1985)
The Bear (10-Jul-1984)
D.C. Cab (16-Dec-1983) · Dell
Barbarosa (19-Feb-1982)
Foolin' Around (17-Oct-1980)
Carny (13-Jun-1980)
The Buddy Holly Story (18-May-1978)
Big Wednesday (May-1978) · Leroy
Straight Time (18-Mar-1978) · Willy Darin
A Star Is Born (17-Dec-1976)
The Gumball Rally (8-Oct-1976) · Gibson
Thunderbolt and Lightfoot (23-May-1974) · Curly
The Execution of Private Slovik (13-Mar-1974)
Hex (Oct-1973)
The Last American Hero (27-Jul-1973)
Lolly-Madonna XXX (21-Feb-1973)
Dirty Little Billy (Nov-1972)
The Magnificent Seven Ride (1-Aug-1972) · Hank Allan
Angels Hard as They Come (Sep-1971)
Didn't You Hear... (16-Dec-1970)





Requires Flash 7+ and Javascript.



Do you know something we don't?
Submit a correction or make a comment about this profile






Copyright ©2019 Soylent Communications