Loretta Lynn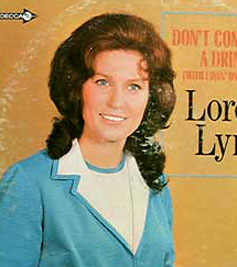 AKA Loretta Webb
Born: 14-Apr-1932 [1]
Birthplace: Butcher Holler, KY

Gender: Female
Race or Ethnicity: White
Sexual orientation: Straight
Occupation: Country Musician
Party Affiliation: Republican
Nationality: United States
Executive summary: Coal Miner's Daughter
The daughter of a coal miner (just like the song), Loretta Webb was born and raised in Butcher Holler, a tiny, impoverished neighborhood in Johnson County. Near the end of her 13th year she married Oliver "Doolittle" Lynn, a man she had met at a pie social and had known for only a month; a year later, Oliver decided to relocate to the state of Washington in order to find better work opportunities. At their new home in Custer he began recognize the potential of his wife's voice, and bought her a guitar so she could practice singing and playing -- that is, when she was not occupied caring for their four (later six) children. Eventually Loretta began performing in local venues and on local radio, but it was her participation in a televised talent competition in Tacoma that finally put her career in motion: the show brought her to the attention of Norm Burley, who was impressed enough with the young singer that he created the Vancouver-based label Zero records as an outlet for her music. Four tracks were recorded in Los Angeles, after which the Lynns dutifully set out across the country to promote her debut release I'm A Honky Tonk Girl. The song managed to climb into the top twenty of the country charts, and the couple ended their trip in Nashville with a performance at the Grand Ole Opry.
It was at this time that Loretta met The Wilburn Brothers, a vocal duo that also ran a publishing company, a touring revue, a television program and several other music-related ventures; the Wilburns soon made her a part of both the touring and television shows, while later arranging her release from Zero in order to set up a new recording deal with Decca. Lynn's initial output on the label -- particularly the song Success (1962), her first top 10 single -- was significantly different from her earlier material, due in large part to the influence of friend and fellow Decca artist Patsy Cline. By 1964 she had become one of the top female performers in Nashville, scoring three top ten country songs (Wine, Women, and Song, Happy Birthday and Blue Kentucky Girl) within that one year. Even further stylistic changes became evident during the latter half of the 60s, as the lyrical content of the songs became more uncompromising, and frequently autobiographical, in songs such as You Ain't Woman Enough (To Take My Man) (1966), Don't Come Home A'Drinkin' (With Lovin' On Your Mind) (1966), Your Squaw Is On The Warpath (1968) and Fist City (1968). Lynn even composed what is essentially an anti-war song, Dear Uncle Sam (1966), in the midst of the "police action" still taking place in Vietnam.
The career-defining moment for Lynn arrived in 1970 with the release of her song Coal Miner's Daughter, a title that would also be used for her best-selling 1976 autobiography, and again for a feature film based on the book released in 1980 (in which she was skillfully portrayed by actress Sissy Spacek). In addition to her solo material, Lynn also established a parallel career working in a duo format -- initially with Ernest Tubb in the 1960s, and then even more successfully with Conway Twitty in the 70s. Still, despite the enduring popularity of her music and the numerous industry awards she received, Lynn's life was far from ideal: the demands of her profession had forced her to spend much of her time on the road away from her children, and her alchoholic, philandering husband provided her with a constant source of difficulty. Struggles of this nature were always given a thorough airing in her songs, and as her output progressed the subject matter became increasingly oriented towards the concerns of working-class women: I Wanna Be Free (1971), for example, explored the positive aspects of divorce; the controversial song The Pill (1974) endorsed birth control (much to the chagrin of the more conservative elements involved the Nashville scene); and When The Tingle Becomes A Chill (1976) addressed sexual dissatisfaction.
With the arrival of the 1980s Lynn's career entered an inevitable slump, her last high-charting single of the period, I Lie, arriving in 1982. The decade was also very difficult for her personally, as she was forced to deal with the accidental death of one of her sons in 1984. While her recorded output became more sporadic (only two albums -- Just a Woman (1985) and Who Was That Stranger (1989) -- were released between 1984 and 1992), she continued to draw large crowds to her public performances, and her lasting impact on the country music industry was formally acknowledged in 1988 with her induction into the Country Music Hall of Fame. A record made in collaboration with Dolly Parton and Tammy Wynette in 1993 (Honky Tonk Angels) was her only release during the 1990s; for the remainder of the decade Lynn kept a very low public profile, spending the majority of her time looking after her husband, who had become seriously ill from complications related to diabetes. She continued her reclusive lifestyle for several years after his death in 1996, but returned once again to the studio in 2000 to record Still Country. This was followed in 2003 by the critically-acclaimed Van Lear Rose, produced in collaboration with The White Stripes frontman Jack White.
---
[1] Lynn's Johnson County, Kentucky birth certificate (as Loretta Webb, certificate #189-91253) gives her date of birth as April 14, 1932, casting doubt on her claims of marrying at age 13 and being a mother of four by 17.

Father: Ted Webb
Mother: Clara
Sister: Crystal Gayle (country music singer, b. 9-Jan-1951)
Husband: Oliver Mooney Lynn, Jr. (m. 1948, d. 1996 diabetes complications)
Son: Ernest Lynn (musician)
Daughter: Betty Sue (d. 29-Jul-2013 emphysema)
Daughter: Patsy Lynn (twin, musician, b. 6-Aug-1964)
Daughter: Peggy Lynn (twin, musician, b. 6-Aug-1964)
Daughter: Cissie
Son: Jack Benny Lynn (7-Dec-1949, d. 24-Jul-1984 drowning)


Loretta Lynn
Ernest Tubb and Loretta Lynn 1964-69
Loretta Lynn and Conway Twitty 1971-75
Loretta Lynn, Dolly Parton, Tammy Wynette 1993
Endorsement of J. M. Smucker Co. Crisco cooking oil
Bush-Cheney 2000
George W. Bush for President
Swing States for a Conservative White House PAC
Kennedy Center Honor 2003
Country Music Hall of Fame 1988
Nashville Songwriters Hall of Fame
Hollywood Walk of Fame 1515 Vine Street
Risk Factors: Aviophobia


FILMOGRAPHY AS ACTOR
Big Dreams & Broken Hearts: The Dottie West Story (22-Jan-1995) · Herself
Nashville Rebel (1-Jan-1966) · Herself


Official Website:
http://www.lorettalynn.com/

Author of books:
Coal Miner's Daughter (1976, memoir, with George Vecsey)
Still Woman Enough (2002, memoir, with Patsi Bale Cox)
You're Cookin' It Country: My Favorite Recipes and Memories (2004, memoir/cookbook)





Requires Flash 7+ and Javascript.



Do you know something we don't?
Submit a correction or make a comment about this profile






Copyright ©2019 Soylent Communications