Roger Stone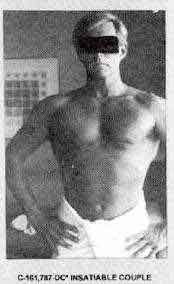 AKA Roger Jason Stone, Jr.
Born: 27-Aug-1952
Birthplace: Norwalk, CT

Gender: Male
Race or Ethnicity: White
Sexual orientation: Straight
Occupation: Government
Party Affiliation: Republican
Nationality: United States
Executive summary: Campaign consultant, GOP dirty trickster
Longtime political operative and no stranger to dirty tricks. Worked for Chuck Colson in 1972 at the Committee to Re-Elect the President (i.e. Nixon). Helped strategize for the Reagan presidential campaign and Arlen Specter's Senate campaign. Worked on Bob Dole and Donald Trump's unsuccessful presidential campaigns. Also appears to have been helping Al Sharpton's 2004 presidential campaign, for some reason.
In 1996, Roger and his wife Nydia purportedly placed an ad in Swing Fever magazine looking for single men and couples to join them in group sex. According to reporting in the National Enquirer and the Star, the copy proclaimed:
C-161,787-DC* INSATIABLE COUPLE

We are hot, athletic and very fit. We are seeking similar couples or exceptional muscular, well hung, single men. She's 40DD-24-36 and bi. She loves to fuck hard and deep. He's 195 lbs., trim, muscular and 8" +. She prefers jocks, miliary men, and body builders. No fat people or smokers need respond. Send photo and phone. No photo, no response! We are interested in DC, VA, MD, NYC, Miami, and LA.

VOICE MAIL 12209
In August 2007, Stone vehemently denied having left the following message on the telephone answering machine of New York Governor Eliot Spitzer's father:
"This is a message for Bernard Spitzer: You will be subpoenaed to testify before the Senate committee on investigations on your shady campaign loans. You will be compelled by the Senate sergeant at arms. If you resist this subpoena, you will be arrested and brought to Albany. And there's not a goddamn thing your phony, psycho, piece-of-shit son can do about it. Bernie, your phony loans are about to catch up with you. You will be forced to tell the truth and the fact that your son's a pathological liar will be known to all."
This despite the fact that according to caller ID logs, the call was placed from a phone number registered to Stone's apartment. Stone added: "Putting together a voice tape that sounds like me wouldn't be hard to do." (And how would he know that?)

Father: Roger J. Stone
Mother: Gloria Rose Corbo
Wife: Ann E.W. Stone (m. 1974, div. 1990)
Wife: Nydia Stone (Cuban)
Son: Scott


High School: Winchester, NY (1970)
University: George Washington University


Office of Economic Opportunity
Bush-Cheney '04
Citizens United Not Timid 2008
College Republicans
Committee to Re-Elect the President
Friends of Giuliani Exploratory Committee
Friends of Senator D'Amato 1998 Committee
George W. Bush for President
GOProud Advisory Council
National Conservative Political Action Committee Board Member, Treasurer (1978)
New Republican Majority Fund
Reagan-Bush '84
Republicans for Lieberman (1982)
Rudy Giuliani Presidential Committee
Young Republicans National Chairman (1977-79)
Youth for Reagan National Director (1976)
Watergate Scandal
Florida 2000 Recount
Hungarian Ancestry
Italian Ancestry
Risk Factors: Gonorrhea


FILMOGRAPHY AS ACTOR
Fahrenheit 11/9 (6-Sep-2018) · Himself


Official Website:
http://www.stonezone.com/




Requires Flash 7+ and Javascript.



Do you know something we don't?
Submit a correction or make a comment about this profile






Copyright ©2019 Soylent Communications