Ricardo Flores Magón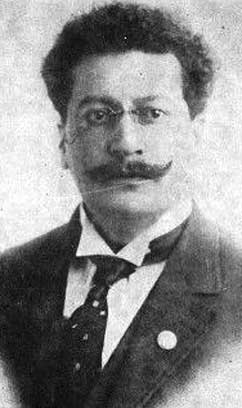 Born: 16-Sep-1873
Birthplace: San Antonio Eloxochitlán, Oaxaca, Mexico
Died: 21-Nov-1922
Location of death: Leavenworth, KS [1]
Cause of death: unspecified
Remains: Buried, Rotunda of Illustrious Persons, Mexico City, Mexico

Gender: Male
Race or Ethnicity: Hispanic
Sexual orientation: Straight
Occupation: Anarchist, Journalist, Author
Nationality: Mexico
Executive summary: Agitator behind Mexican revolution
Ricardo Flores Magón spent most of his life publishing revolutionary newspapers and being arrested for what he wrote. He was a critical anarcho-syndicalist thinker, writing many analyses of Bakunin and Marx.
During the end of the Porfiriato, Magón escaped to Texas where he continued to publish revolutionary newspapers for a Mexican audience. He would spend most of the last two decades of his life in a foreign country, attempting to foment rebellion in his homeland while avoiding the dictator Porfirio Díaz's assassins and kidnappers.
In Texas, Magón was an early spokesman for the expatriate political party PLM (Partido Liberal Mexicano). His newspaper Regeneracion, reborn after his printing presses were confiscated by the Mexican dictatorship, incited Mexicanos living in the US to smuggle arms, troops, and even conduct border raids against Diaz's forces- thus opening another front of the revolution. For his outspokenness, he was charged with violation of the US's neutrality laws.
After the fall of the dictator and the subsequent lackluster presidential rule of Francisco Madero, Magón lead an anarchist revolt in Baja California, resulting in more prison time.
His final prison stint in the US was due to his writings against World War I -- he was charged with sedition and imprisoned under the Espionage Act. He died in Leavenworth Penitentiary four years later of natural causes.
Emiliano Zapata's Plan de Ayala is based on Magón's writings, and indeed Zapata's famous quote "Tierra y Libertad" is the name of one of Magón's books.
"We are free, truly free, when we don't need to rent our arms to anybody in order to be able to lift a piece of bread to our mouths."
---
[1] Leavenworth Penitentiary, Leavenworth, KS.

Mother: Margarita Magón (mestizo)
Father: D. Teodoro Flores (indian, war veteran)
Brother: Enrique (b. 1877, anarchist)
Brother: Jesús (Madero's Secretary of State)
Wife: María Talavera (b. 1867, d. 1946, commonlaw, anarchist)


Law School: Escuela Nacional de Jurisprudencia (1893-1896, dropped out)


Libel 1905
Sedition 1919
Assassination Attempt multiple
Mexican Ancestry
Inmate: Leavenworth Federal Penitentiary Nov-1919 to 21-Nov-1922
Risk Factors: Diabetes


Author of books:
Sembrando ideas (1923)
Semilla libertaria (1923)
Tierra y Libertad, drama revolucionario en cuarto actos (1924)
Verdugos y victemas, drama revolucionario en cuarto actos (1924)
Vida Nueva (1924)
Epistolario revolucionario (1925)






Do you know something we don't?
Submit a correction or make a comment about this profile






Copyright ©2019 Soylent Communications