Herbie Mann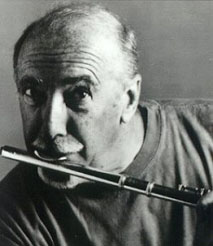 AKA Herbert Jay Solomon
Born: 16-Apr-1930
Birthplace: Brooklyn, NY
Died: 1-Jul-2003
Location of death: Pecos, NM
Cause of death: Cancer - Prostate
Remains: Cremated

Gender: Male
Religion: Jewish
Race or Ethnicity: White
Sexual orientation: Straight
Occupation: Jazz Musician
Nationality: United States
Executive summary: Jazz flautist
Military service: US Army (1948-1952)
Almost single-handedly responsible for establishing the flute as a lead instrument in the field of jazz, Herbie Mann's original instrument was the clarinet, taken up in 1939 after seeing a concert by Benny Goodman and his orchestra. His musical abilities developed quickly, and while still only a teenager he extended his mastery to include both tenor sax and flute. After enlisting in the Army, Mann spent four years stationed in Italy playing with a military band; during this period his focus remained on tenor sax, but by the time of his discharge and return to New York, he began to recognize that the field for that particular instrument was getting overcrowded. An opening for a jazz flautist in 1953 presented a new direction for him to take, and with Mann largely having to invent a new playing style from scratch, the stage was set for his rise to fame.
The remainder of the 1950s saw Mann working with a wide variety of bands, constantly refining his distinctive approach to the flute. In 1958 he formed a sextet that drew heavily on Cuban and African rhythms, with whom he toured across the world for several years and recorded a series of well-received albums for the Verve and (later) Atlantic labels. Desiring to move into areas of greater complexity, Mann joined a tour traveling to Brazil in 1961; the trip would prove to be the most significant experience in his musical development. He returned to Brazil almost immediately after the tour and began recording with many of the leading names in the emerging Bossa Nova scene.
In the years to follow, Mann roamed between different genres of music constantly. His Brazilian period was followed by an exploration of Rhythm and Blues, a series of recordings being made in Tennessee and Alabama with leading R&B session players beginning in 1969. A collaboration with guitarist Duane Allman subsequently materialized in 1971, resulting in the popular song Push Push. In 1972 he created the band The Family of Mann, using it as the foundation for his work in the jazz-fusion territory that was growing in popularity at the time, in addition to making some ventures into reggae. His most commercially successful period arrived next, with a move into disco heralded by the single Hi-Jack. By the end of the decade this success would turn into a straitjacket, with Atlantic pressuring him to cease his genre-hopping and concentrate on churning out the disco hits; by 1980 Mann had had enough, and terminated his 20-year association with the label.
The 1980s saw very little recorded output from Mann, although he did continue to perform with regularity and briefly ran the independent label Herbie Mann Music. In 1991 he formed Kokopelli Music (later expanded into Kokopelli Records) in order to release once again the music that truly interested him, and through this outlet produced more than a dozen albums over the next three years. A diagnosis of prostate cancer in 1997 failed to stall his renewed activity, and until his death in 2003 he remained active with Sona Tera, a group he formed in 1998 to explore the music of his Eastern European roots.
Father: Harry C. Solomon
Mother: Ruth Brecher
Sister: Judy Bernstein
Wife: Ruth Shore (m. 1956, div. 1971)
Son: Paul
Daughter: Claudia Mann-Basler
Wife: Jan Cloonts (m. 1971, div. 1990)
Daughter: Laura Mann
Son: Geoffrey (musician)
Wife: Susan Jameal Arison (actress/writer, m. 1991)

Conservatory: Manhattan School of Music (1952-54)

Official Website:
http://www.herbiemannmusic.com/
Do you know something we don't?
Submit a correction or make a comment about this profile

Copyright ©2019 Soylent Communications