Edmund Hillary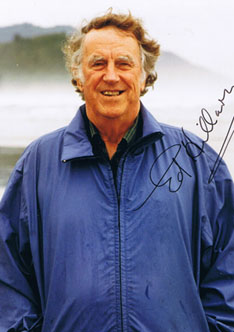 AKA Edmund Percival Hillary
Born: 20-Jul-1919
Birthplace: Auckland, New Zealand
Died: 11-Jan-2008
Location of death: Auckland, New Zealand [1]
Cause of death: Heart Attack
Remains: Cremated (ashes scattered at sea)

Gender: Male
Race or Ethnicity: White
Sexual orientation: Straight
Occupation: Explorer
Nationality: New Zealand
Executive summary: First to summit Mt. Everest
Military service: Royal New Zealand Air Force
As a boy in rural New Zealand, Edmund Hillary walked more than two hours each way to and from school, and came to love taking long walks. As a young man he worked as a beekeeper, but never yielded his passion for rock-climbing. After conquering numerous smaller mountains, the well-bundled Hillary, carrying oxygen and fighting weariness, reached the snowy dome at the peak of the world's tallest mountain, Nepal's Mt. Everest, on 29 May 1953. He was accompanied by a local Sherpa guide, Tenzing Norgay. To the best of history's knowledge, they are believed to have been the first humans to reach the summit -- more than five miles above sea level. On their way down the mountain, Hillary muttered his most famous quote, "Well, we knocked the bastard off."
It was Norgay's sixth try at climbing Everest, but all his previous efforts had failed due to weather or fatigue. Amidst the press conferences after their accomplishment, reporters asked which man had actually set foot on the summit first, and their joint response was simply, "We reached the summit almost together." Years later, when Norgay wrote about the ascent, he revealed that Hillary had been "a few steps ahead."
Hillary was knighted, and became a world-famous celebrity for topping Everest, but he always described himself as "a very mediocre person" who simply tried his best. In grouchy moments, he complained that modern-day climbers of Everest have it too easy -- it is now possible to pay exorbitant sums to be swathed in warm, high-tech gear and led to Everest's summit by experienced guides.
Sir Edmund explored the South Pole, and in 1975 he boated from the mouth of the Ganges River to its shallowest headwaters high in the Himalayas. He said that humanity's greatest challenges are yet to come, with mountains not as tall but more difficult to climb than Everest, and in explorations of the oceans and outer space. He dedicated his later years to raising funds to improve the quality of life for the people of Nepal's mountainous Solu Khumbu region, and spoke often on the growing peril of global climate change. His son, Peter Hillary, has also twice scaled Everest.
---
[1] Auckland City Hospital, Auckland, New Zealand.

Father: Percival Augustus Hillary (local newspaper publisher)
Mother: Gertrude Clark (schoolteacher)
Wife: Louise Mary Rose (m. 3-Sep-1953, d. 31-May-1975 airplane crash, two daughters, one son)
Son: Peter Hillary (alpinist, b. 1954)
Daughter: Sarah (b. 1955)
Daughter: Belinda (b. 1959, d. 31-May-1975 airplane crash)
Wife: June Mulgrew (m. 21-Dec-1989)


High School: Auckland Grammar School


Summited Mount Everest (29-May-1953)
Academy of Achievement (1973)
Explorers Club
Knight of the British Empire 16-Jul-1953
Order of New Zealand 1987
Order of the Garter 1995
Asteroid Namesake 3130 Hillary
Portrait on New Zealand Currency 5 NZD note


FILMOGRAPHY AS ACTOR
Beyond the Edge (6-Sep-2013) · Himself
The Conquest of Everest (1953) · Himself





Requires Flash 7+ and Javascript.



Do you know something we don't?
Submit a correction or make a comment about this profile






Copyright ©2019 Soylent Communications