Dwight Schultz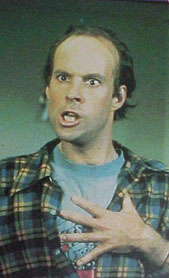 AKA William Dwight Schultz
Born: 24-Nov-1947
Birthplace: Baltimore, MD

Gender: Male
Religion: Roman Catholic
Race or Ethnicity: White
Sexual orientation: Straight
Occupation: Actor
Party Affiliation: Republican
Nationality: United States
Executive summary: Murdoch on The A-Team
Dwight Schultz is an American actor who has worked mostly on stage, but is best known for his TV work. In his most famous roles, he played "Howling Mad" Murdock on The A-Team with Dirk Benedict and Mr. T, and the introverted, unsure Lt. Reginald Barkley on Star Trek: The Next Generation and Star Trek: Voyager. He also played Robert Oppenheimer in the let's-build-a-bomb epic Fat Man and Little Boy with Paul Newman.
His father was a mailman, his mother a telephone operator. At 19, he earned his first paycheck as an actor, with his home town's Baltimore Theatre Ensemble. During his years as a struggling actor in New York, he worked as a pest inspector, waiter, and hi-fi salesmen between acting gigs.
Schultz is also a UFO aficionado, and has hosted the "out there" radio talk shows UFOs Tonight! and Dark Matters. His co-host on both shows was Don Ecker, the Director of Research for UFO Magazine.
"When I realize that I've been lied to and deceived, that journalists have been used by the government, that deception is part of everyday life in this country and around the world -- my interest is piqued as to why. Why is there this deception, this lying?"
Wife: Wendy Fulton (actress, Knots Landing, b. 1959, m. 24-Jun-1983)
Daughter: Ava Schultz


High School: Calvert Hall High School, Baltimore, MD (1965)
University: BA Theater Arts, Towson State University, Towson, MD (1969)


TELEVISION
Star Trek: Voyager Reginald Barclay (1995-2001)
Star Trek: The Next Generation Reginald Barclay (1990-94)
The A Team Howling Mad Murdock (1983-87)


FILMOGRAPHY AS ACTOR
Batman: Under the Red Hood (27-Jul-2010) · Freddie [VOICE]
The A-Team (3-Jun-2010) · German Doctor #1
Ultimate Avengers II (2-Jul-2006) [VOICE]
The Chronicles of Riddick: Dark Fury (15-Jun-2004) [VOICE]
The Animatrix (17-Apr-2003) [VOICE]
Vampire Hunter D: Bloodlust (25-Aug-2000) [VOICE]
Get to the Heart: The Barbara Mandrell Story (28-Sep-1997)
Star Trek: First Contact (22-Nov-1996) · Lt. Barclay
The Temp (12-Feb-1993) · Roger Jasser
Woman with a Past (2-Mar-1992)
The Long Walk Home (11-Sep-1990) · Norman Thompson
Fat Man and Little Boy (20-Oct-1989) · J. Robert Oppenheimer
Alone in the Dark (12-Nov-1982)
The Fan (15-May-1981)
Bitter Harvest (4-May-1981) · Schlatter





Requires Flash 7+ and Javascript.



Do you know something we don't?
Submit a correction or make a comment about this profile






Copyright ©2019 Soylent Communications