Richard Scaife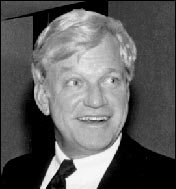 AKA Richard Mellon Scaife
Born: 3-Jul-1932
Birthplace: Pittsburgh, PA
Died: 4-Jul-2014
Location of death: Pittsburgh, PA
Cause of death: unspecified

Gender: Male
Race or Ethnicity: White
Sexual orientation: Straight
Occupation: Activist, Philanthropist
Party Affiliation: Republican
Nationality: United States
Executive summary: The Republican George Soros
Heir to the Mellon fortune, making him one of the world's 400 richest people according to Forbes magazine. Generous contributor to conservative think tanks, bankrolling a large chunk of the Republican Revolution in the 1980s. According to The Washington Post:
In the world of big-time philanthropy, there are many bigger givers. The Ford Foundation gave away $491 million in 1998 alone. But by concentrating his giving on a specific ideological objective for nearly 40 years, and making most of his grants with no strings attached, Scaife's philanthropy has had a disproportionate impact on the rise of the right, perhaps the biggest story in American politics in the last quarter of the 20th century.
According to the 1995 Clinton White House report "Communication Stream of Conspiracy Commerce":
Richard Mellon Scaife is in the vanguard of this aforementioned form of this media age political organizing. Scaife uses the $800 million Mellon fortune which he inherited to fund a virtual empire of right wing newspapers and foundations. These newspapers and foundations use their power to control the Republican Party's agenda and viewpoints. [...] In addition to his financial support of purveyors of Vince Foster conspiracy theories, Scaife also is a Newt Gingrich insider -- backing many of the groups that support and defend Newt Gingrich, including contributing $60,000 to GOPAC and $450,000 to the Landmark Legal Foundation.
Former Wall Street Journal reporter Karen Rothmyer briefly met up with Scaife by ambushing him on the street in 1981:
Richard Scaife rarely speaks to the press. After several unsuccessful efforts to obtain an interview, this reporter decided to make one last attempt in Boston, where Scaife was scheduled to attend the annual meeting of the First Boston Corporation.

Scaife, a company director, did not show up while the meeting was in progress. Reached eventually by telephone as he dined with the other directors at the exclusive Union Club, he hung up the moment he heard the caller's name. A few minutes later he appeared at the top of the Club steps. At the bottom of the stairs, the following exchange occurred:

"Mr. Scaife, could you explain why you give so much money to the New Right?"

"You fucking Communist cunt, get out of here."

Well. The rest of the five-minute interview was conducted at a rapid trot down Park Street, during which Scaife tried to hail a taxi. Scaife volunteered two statements of opinion regarding his questioner's personal appearance - he said she was ugly and that her teeth were "terrible" - and also the comment that she was engaged in "hatchet journalism." His questioner thanked Scaife for his time. "Don't look behind you," Scaife offered by way of a goodbye.

Not quite sure what this remark meant, the reporter suggested that if someone were approaching it was probably her mother, whom she had arranged to meet nearby. "She's ugly, too," Scaife said, and strode off.

K.R.
Father: Alan Scaife (d. 1958)
Mother: Sarah Mellon Scaife (d. 1965)
Sister: Cordelia Scaife May
Wife: Frances L. Gilmore Scaife (div.)
Son: David N. Scaife
Daughter: Jennie K. Scaife
Wife: Margaret Battle Scaife ("Ritchie", b. 15-Feb-1947, m. 1-Jun-1991, sep. 22-Dec-2005)
Son: Turner Westray Battle III (stepson)


High School: Deerfield Academy, Deerfield, MA
University: Yale University (expelled)
University: University of Pittsburgh (1957)
Administrator: Board of Directors, Pepperdine University


NewsMax Media
Betty Ford Center
The American Spectator Gave $2.4M
The Greensburg Tribune-Review Publisher
Whitewater Scandal
Accuracy in Media
Allegheny Foundation
American Enterprise Institute
American Legislative Exchange Council
Americans for Tax Reform
Bush-Cheney '04
Capital Legal Foundation
Carthage Foundation
Cato Institute
Center for Individual Rights
Center for Security Policy
Center for Strategic & International Studies
Center for the Study of Popular Culture
Club for Growth
Committee for a Free World
Committee on the Present Danger
Conservative Victory Committee
Discovery Institute
Empower America
Free and Strong America PAC
Free Congress Foundation
Freedom House
Friends of Giuliani Exploratory Committee
Friends of Joe Lieberman
The Heritage Foundation
Hoover Institution
Independent Women's Forum
John McCain 2008
Judicial Watch
Landmark Legal Foundation
McCain-Palin Victory 2008
McCain Victory Committee
Monday Morning PAC
National Republican Senatorial Committee
Pro-Growth Action Team
Project for the New American Century
Restore Our Future
Reuniting Our Country PAC
Romney Victory Inc.
Spirit of America
Washington Legal Foundation
Clare Boothe Luce Award 2011
Expelled from School
Mellon Family by birth, estranged
Risk Factors: Alcoholism


Official Website:
http://www.scaife.com/




Requires Flash 7+ and Javascript.



Do you know something we don't?
Submit a correction or make a comment about this profile






Copyright ©2019 Soylent Communications