Red Buttons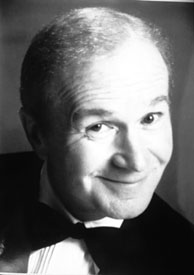 AKA Aaron Chwatt
Born: 5-Feb-1919
Birthplace: New York City [1]
Died: 13-Jul-2006
Location of death: Century City, CA
Cause of death: Heart Failure
Remains: Cremated

Gender: Male
Religion: Jewish
Race or Ethnicity: White
Sexual orientation: Straight
Occupation: Actor
Nationality: United States
Executive summary: They Shoot Horses Don't They?
Military service: US Army
In a tale Buttons often told, he started in show business by singing sad songs on the streets of New York, in front of a hand-lettered sign that said, "I'm an orphan." He was not an orphan, but grew up with his parents in a comfortable Bronx home near Biograph Studios, where silent movies were made. As a teenager he earned his stage name by working as a singing bellhop in a snooty bar, wearing a uniform with shiny red buttons that matched his hair.
His first notice came in the WWII propaganda play and subsequent film Winged Victory. Afterward Buttons spent several years touring and performing comedy on stage. He starred on TV's Red Buttons Show in the early 1950s, playing recurring characters in sketch comedy bits that were sometimes amusing, other times merely annoying. The show's theme song, "Ho-ho, hee-hee, haw-haw, strange things are happening!" became Buttons's catch phrase, and the program drew big ratings at first, but audiences grew weary of his schtick. After two seasons the show was cancelled, then picked up by another network, where it was soon cancelled again.
A few years later Buttons resurfaced -- and won an Oscar -- playing a straight role in Marlon Brando's dramatic Sayonara. Buttons's performance was a revelation, in a tough, tender role as the pal who learned more than he wanted to know about prejudice after marrying a Japanese woman. As a serious actor with a funny streak, he starred with Fabian and a chimpanzee in Five Weeks in A Balloon; played the funny old sailor in the dance competition in They Shoot Horses, Don't They? with Jane Fonda; and starred as the aging bachelor who fell for Carol Lynley in the original upside-down disaster The Poseidon Adventure.
In his last decades he worked primarily on television. He sailed on The Love Boat three times, and three times docked on Fantasy Island, shows that offered sanctuary for washed-up stars. He played Al the abrasive messenger on the last season of Knots Landing, and had a recurring bit as Ruby Rubadoux on ER, an old man whose wife died in Dr Carter's care. As recently as the late 1990s he was performing stand-up.
In 2000, Buttons's wife Alicia Pratt was arrested for possession of marijuana in the company of a woman whom, it was later reported, was her lesbian lover. Pratt died in 2001.
---
[1] 245 E. Third St., between Avenues B and C, New York City.

Father: Michael Chwatt (hatter)
Mother: Sophie Chwatt (homemaker)
Wife: Roxanne Arlen (m. 1947, div., d. 22-Feb-1989)
Wife: Helayne McNorton (m. 8-Dec-1949, div. 1963)
Wife: Alicia Pratt (m. 27-Jan-1964, d. 2001)
Daughter: Amy Buttons
Brother: Joe
Sister: Ida


High School: Evander Childs High School, Bronx, NY


Friars Club
Emmy The Red Buttons Show
Golden Globe 1958 for Sayonara
Hollywood Walk of Fame 1651 Vine St. (television)
Oscar for Best Supporting Actor 1958 for Sayonara


TELEVISION
The Double Life of Henry Phyfe Henry Wadsworth Phyfe (1966)
Knots Landing Al Baker (1987)
Street Time Sam Cahan (2002-03)


FILMOGRAPHY AS ACTOR
The Story of Us (13-Oct-1999) · Arnie
It Could Happen to You (29-Jul-1994) · Walter Zakuto
The Ambulance (30-Aug-1990)
18 Again! (15-Apr-1988) · Charlie
Alice in Wonderland (9-Dec-1985)
Reunion at Fairborough (12-May-1985)
Leave 'em Laughing (29-Apr-1981) · Roland
The Dream Merchants (12-May-1980)
The Day the World Ended (28-Mar-1980)
C.H.O.M.P.S. (21-Dec-1979) · Bracken
Rudolph and Frosty's Christmas in July (1-Jul-1979) [VOICE]
Movie Movie (Nov-1978)
The Users (1-Oct-1978)
Pete's Dragon (3-Nov-1977)
Viva Knievel! (15-Jul-1977)
Gable and Lombard (11-Feb-1976) · Ivan Cooper
The Poseidon Adventure (12-Dec-1972) · Martin
Who Killed Mary What'sername? (12-Nov-1971)
They Shoot Horses, Don't They? (10-Dec-1969)
Stagecoach (22-Apr-1966)
Harlow (23-Jun-1965)
Up from the Beach (1965)
Your Cheatin' Heart (Dec-1964)
A Ticklish Affair (18-Aug-1963) · Simon Shelley
Gay Purr-ee (24-Oct-1962) · Robespierre [VOICE]
The Longest Day (Sep-1962) · Pvt. John Steele
Five Weeks in a Balloon (22-Aug-1962)
Hatari! (24-May-1962) · Pockets
The Big Circus (5-Jul-1959) · Randy Sherman
Imitation General (20-Aug-1958) · Cpl. Chan Derby
Sayonara (5-Dec-1957) · Joe Kelly
Winged Victory (20-Dec-1944)





Requires Flash 7+ and Javascript.



Do you know something we don't?
Submit a correction or make a comment about this profile






Copyright ©2019 Soylent Communications