John Mark Karr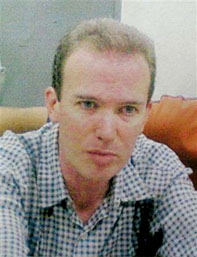 Born: 11-Dec-1964 [1]
Birthplace: Conyers, GA

Gender: Male
Religion: Roman Catholic
Race or Ethnicity: White
Sexual orientation: Straight
Occupation: Criminal
Nationality: United States
Executive summary: JonBenét Ramsey murder suspect
After an arrest in California for possession of child pornography in 2001, Karr went on the lam. He spent 2001-03 in parts of Asia and Western Europe, 2004-05 in Central America (including Honduras and Costa Rica), and from June 2006 in Thailand. He was arrested in Bangkok on August 16, 2006 and held for extradition to the United States for the murder of six-year-old beauty-queen JonBenét Ramsey. While in custody he admitted to reporters his guilt, stating the death to be an accident. Still, there are a number of inconsistencies with his story.
Karr has held an interest in at least two high-profile child murder cases, notably Ramsey's and Polly Klaas, writing a school paper and apparently intending to write a book on the subject. Karr exchanged correspondence with Richard Allen Davis, Klaas's murderer, and also attempted correspondence with Patsy Ramsey. He also exchanged mail with Michael Tracey, a university professor who made the documentary Who Killed JonBenet? Both Tracey and Patsy Ramsey were alarmed enough that each notified police. Regarding this, Tracey stated in an interview, that Karr "talked about being there, about doing this and doing that, and knowing this and knowing that... a whole bunch of things that... wasn't part of what the media was allowed to get at before."
It is not clear whether Karr was even in Boulder at the time of JonBenet's death, and her family does not seem to have knowledge of any contact with Karr. In Thailand he stated that he drugged and had sexual relations with JonBenet, but at the autopsy no such drugs were found. Some of his behavior suggests a possible "groupie" relationship to high-profile murders, indicative of a false confession. Comparison of Karr's DNA with that collected in 1996 at the crime scene revealed none of the samples to match, and charges were dropped by the Boulder County District Attorney on 28th August 2006.
---
[1] Date that Karr gave to the Sonoma County Registrar of Voters.

Father: Wexford Karr
Mother: Patricia Elaine Adcock (committed to a mental hospital, d.)
Brother: Michael
Brother: Nate
Wife: Quientana Shotts (m. 1984 when she was age 13 or 14, div. 1985)
Wife: Lara Marie Knutson (m. 19-May-1989 when she was age 16, div. 2001, three sons)
Son: John Mark Karr II (b. 1990)
Son: Damon Karr (b. 1992)
Son: Seven Exodus Karr (b. 1993)


University: Bevill State Community College, Hamilton, AL
University: University of North Alabama (dropped out)
University: BS, Regents College, Albany, NY (2000, a distance-learning school)


Converted to Catholicism 2000/01, per statement by Wexford Karr
Child Pornography 2001 (arrested in Petaluma, CA; five counts, fugitive)
Murder (arrested in Bangkok, Thailand, 16-Aug-2006; charges dropped 28-Aug-2006)
Kidnapping (arrested in Bangkok, Thailand, 16-Aug-2006; charges dropped 28-Aug-2006)
Sexual Assault (arrested in Bangkok, Thailand, 16-Aug-2006; charges dropped 28-Aug-2006)
Deported from Thailand to the United States
Inmate: Los Angeles County Jail
Battery Sandy Springs, GA (7-Jul-2007)
Obstruction of Justice Sandy Springs, GA (7-Jul-2007)






Do you know something we don't?
Submit a correction or make a comment about this profile






Copyright ©2019 Soylent Communications