Kitty Wells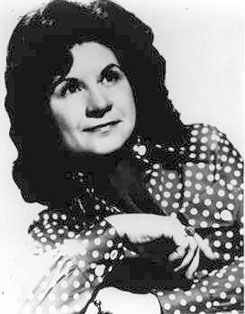 AKA Muriel Ellen Deason
Born: 30-Aug-1919
Birthplace: Nashville, TN
Died: 16-Jul-2012
Location of death: Nashville, TN
Cause of death: Stroke

Gender: Female
Race or Ethnicity: White
Sexual orientation: Straight
Occupation: Country Musician
Nationality: United States
Executive summary: First Queen of Country Music
Muriel Deason's parents were both musicians, her mother in particular an accomplished gospel singer. They taught their daughter to play the guitar at 14. In 1934, at the height of the Depression, she dropped out of school to begin working in a factory making $9 a week ironing shirts. Muriel and her two sisters, with their cousin Bessie Choate, began performing as the Deason sisters, singing live on local radio. After she married Johnnie Wright, they began singing with his sister Louise as Johnnie Wright and the Harmony Sisters. Later, Louise's husband Jack Anglin joined the group, and they performed as a quartet under the names Tennessee Hillbillies and later as the Tennessee Mountain Boys.
In about 1942, she took the name Kitty Wells from an old folk song. Her first hit came when she recorded a response to Hank Thompson's hit single "The Wild Side of Life". The song was "It Wasn't God Who Made Honky-Tonk Angels", and it created a furor in the country music industry -- here was Wells, a proper churchgoing lady, voicing the anguish of a woman led astray by the wiles of a man. Though it sounds like a common theme of modern-day country music, at the time no-one had heard such a thing. The song sold over 800,000 copies in its initial release, and was the first recording by a female artist to top the country charts.
Most of her later songs were in the same vein, including her follow-up single, "Paying for That Backstreet Affair". Her pre-feminist songs, sung in a plaintive whine and backed with a spare steel guitar -- for years, she resisted adding further instrumentation to her shows -- were popular, but music executives thought they were scandalous. The Grand Ol' Opry reluctantly invited her to perform, making her the first solo female to perform there. Wells' last big hits were in the 1970s, but she continued touring with her husband into her 80s. She died in 2012.
Father: Charles Cary Deason
Sister: Mae
Sister: Jewel
Husband: Johnnie Wright (country singer, b. circa 1914, m. 30-Oct-1937, d. 27-Sep-2011)
Daughter: Ruby (b. 27-Oct-1939)
Son: Bobby
Daughter: Carol Sue
Mother: Myrtle

Country Music Hall of Fame 1976
Grammy Lifetime Achievement Award (1991)
Stroke 2012

FILMOGRAPHY AS ACTOR
Road to Nashville (1967) · Herself

Official Website:
http://www.kittywells.com/
Do you know something we don't?
Submit a correction or make a comment about this profile

Copyright ©2019 Soylent Communications