Mischelle Townsend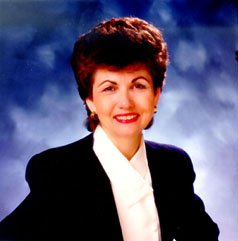 Born: c. 1947

Gender: Female
Religion: Christian
Race or Ethnicity: White
Sexual orientation: Straight
Occupation: Government
Nationality: United States
Executive summary: Inveterate e-voting protagonist
Whenever the touchscreen voting machine industry needed a favorable quote for a news article, Mischelle Townsend was there. The big-haired Registrar of Voters for Riverside County, California was their indefatigable booster, singing the praises of the newfangled paperless machines. Even after they were proven to be insecure, unreliable pieces of shit that were demonstrably worse than paper ballots. A true believer, Townsend even went out of her way to promote the technology to other locales.
"We've been overwhelmed with calls from other jurisdictions," said Mischelle Townsend, Riverside County's registrar of voters. "I've sent packets all over the country to people who are looking to replace their punch-card systems."
By mid-2003, Townsend was beginning to feel the heat from e-voting opponents. Computer scientists from Johns Hopkins University had performed an audit of the source code to one popular voting machine, and the results were astonishing: elementary design mistakes which rendered the device unsafe for its intended use. Nevertheless, Riverside's Registrar of Voters maintained her unalloyed faith in the machinery.
"The scientists are undermining people's confidence in democracy," Townsend said. "None of the critics is giving any credence to the extensive system of checks and balances that we employ internally -- thousands of poll workers, reconciliation to the rosters, all the administrative procedures, the League of Women Voters."
A year later, Townsend was still so confident in the technology that she accepted a $1,080 trip from Sequoia Voting Systems. They flew her to Florida, where she appeared in a Sequoia company infomercial. But then the League of Women voters rescinded their endorsement of purely-electronic voting machines, and in fact joined the movement for a voter-verified paper trail. Maybe she saw the writing on the wall, because in June 2004 Townsend announced her sudden, mid-term resignation. And according to the Riverside Press-Enterprise, Sequoia had nothing but nice things to say about her:
Sequoia Voting Systems first introduced touch-screen voting units in Riverside County during the 2000 presidential election. Officials at the Oakland-based firm applauded Townsend's support of electronic voting machines but said an employment agreement with her is not in the works.

"It's not like we wouldn't want to have her, but there's been no talk about bringing her to Sequoia," said spokesman Alfie Charles.

As for whether she would consider a job with Sequoia in the future, Townsend said, "Absolutely not."
Only time will tell, of course. As for himself, Alfie Charles had also been a California election official -- Assistant Secretary of State -- until he quit in August 2000 to join Sequoia. At the time, the company's president enthused: "Alfie not only has unparalleled expertise in California election law, but in supervising successful voter education and outreach programs. His insights and expertise will prove quite valuable to Sequoia's current and future clients across California."
Husband: Lawrence Townsend

University: BA, University of Redlands
University: MPA, California State University San Bernardino

Do you know something we don't?
Submit a correction or make a comment about this profile

Copyright ©2019 Soylent Communications