Mordechai Vanunu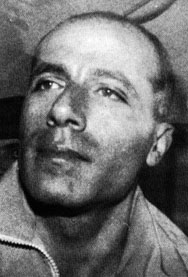 Born: 13-Oct-1954
Birthplace: Marrakech, Morocco

Gender: Male
Religion: Anglican/Episcopalian
Race or Ethnicity: Middle Eastern
Sexual orientation: Straight
Occupation: Activist
Nationality: Israel
Executive summary: Blew whistle on Israel's nukes
Military service: Israeli Defense Force (1971-74 mandatory service)
After a layoff in November 1985, Vanunu told the London Sunday Times about Israel's nuclear capability at the Dimona reactor. Among his revelations were that Israel had a stockpile of 100 and perhaps as many as 200 nuclear weapons, far greater than the 40 that had been estimated.
Israel tricked Vanunu into visiting Rome, where the Mossad kidnapped him and brought him back to Israel. He was put on trial in August of 1987, and sentenced to 18 years imprisonment -- much of which was spent in solitary confinement.
Vanunu was freed from Schickma Prison on 20 April 2004, but Israel has imposed restrictions on his movement, and he is forbidden from leaving the country, speaking with non-Israelis, or approaching foreign embassies. He has converted to Christianity, which has not made him more popular with Israeli officials. In 2009 he was arrested and briefly jailed after a surveillance team caught him meeting with a Norwegian woman. He was released on 29 December 2009 after convincing an Israeli court that the woman is his girlfriend, and that she has no interest in Israel's nuclear weapons program.
Father: (Rabbi)
Brother: Meir

University: Ben Gurion University

Kidnapped
Treason Jailed 1986-2004
House Arrest (Nov-2004)
House Arrest (Dec-2004)
Converted to Anglicanism (1985)
Adopted (1997)
Jewish Ancestry

Do you know something we don't?
Submit a correction or make a comment about this profile

Copyright ©2019 Soylent Communications