Jackie Mason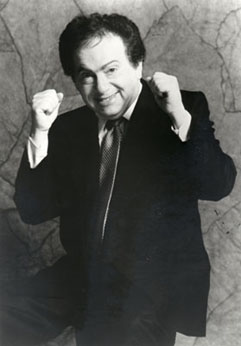 AKA Yacov Moshe Moaza
Born: 9-Jun-1934
Birthplace: Sheboygan, WI

Gender: Male
Religion: Jewish [1]
Race or Ethnicity: White
Occupation: Comic
Party Affiliation: Republican
Nationality: United States
Executive summary: The World According to Me!
Jackie Mason was born Yakov Moshe Moaza into a family of rabbis, his father, grandfather, and brothers all choosing that profession. After receiving a BA from the City College of New York, Mason himself briefly became a rabbi in Latrobe, Pennsylvania. Deciding that his true love was comedy, after some appearances on radio and television he cut two albums, I'm the Greatest Comedian in the World, Only Nobody Knows It Yet and I Want to Leave You With the Words of a Great Comedian.
Mason's career was unexpectedly derailed in 1964 after a furious Ed Sullivan blackballed him after Mason allegedly gave the finger when the show tried to cut him off prematurely. The truth of the matter is, the show ran long because of a Lyndon B. Johnson speech, and someone backstage used gestures to try to get Mason to finish quickly. Mason told the audience "getting a lot of fingers tonight" and started making randomish gestures himself. Nothing obscene, but Sullivan didn't see it that way.
In its history, the Oxford University Debating Society has bestowed an honorary degree upon only four people: Mahatma Gandhi, former U.S. Presidents John F. Kennedy, Jimmy Carter, and inexplicably Jackie Mason.
In July 2004, Mason allegedly called Islam a "murderous religion":
"This is amazing information that almost nobody is aware of... everyone thinks that it's a legitimate religion that preaches love and brotherhood. The truth of the matter is [that terrorists] are reflecting the religion and following the religion they are following the orders of the religion directly from the Quran... in plain English, the whole Muslim religion is preaching and teaching hate, terrorism and murder, and nobody knows it, and its about time they found out about it. The Quran... is 50 versions of hate, venom, hostility, and murder... dedicated to terrorism... I don't know how we can call it a religion in the traditional sense. It should be called a murderous organization that's out to kill people."
The Council on American-Islamic Relations (CAIR) put a lot of spin on this.
---
[1] "I am as Jewish as a matzo ball or kosher salami." (from papers filed at New York State Supreme Court, Manhattan, Jackie Mason vs. Jews For Jesus, 25 August 2006).

Father: (rabbi)
Girlfriend: Ginger Reiter (playwright, one daughter)
Daughter: Sheba Mason (comedian)


University: BA, City College of New York


WorldNetDaily Columnist
Tony 1987 (special)
Emmy 1992 for The Simpsons "Like Father, Like Clown"


FILMOGRAPHY AS ACTOR
When Jews Were Funny (10-Sep-2013) · Himself
Caddyshack II (22-Jul-1988) · Jack Hartounian
History of the World: Part I (12-Jun-1981)
The Jerk (14-Dec-1979) · Harry Hartounian
The Stoolie (Nov-1972)





Requires Flash 7+ and Javascript.



Do you know something we don't?
Submit a correction or make a comment about this profile






Copyright ©2019 Soylent Communications