Anthony Braxton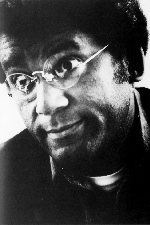 Born: 4-Jun-1945
Birthplace: Chicago, IL

Gender: Male
Race or Ethnicity: Black
Occupation: Jazz Musician
Nationality: United States
Executive summary: Inventive jazz multi-instrumentalist
Military service: US Army (1964-1966)
Anthony Braxton began his pursuit of music in his teen years, studying clarinet in high school before moving on to music courses at Wilson Junior College. He continued his education first at the Chicago School of Music and then at Roosevelt University before enlisting in the army in 1964, where he spent the next two years performing on alto saxophone in military bands. After his discharge he returned to Chicago and became involved with the recently-founded Association for the Advancement of Creative Musicians, one of several organizations formed during that period to support composers and performers working in a non-commercial vein. In 1967 he established the free-jazz trio that was eventually called The Creative Construction Company -- a group that had considerable impact on the improvisational music to come, despite its minimal recorded output.
Braxton would further shape the course of jazz music with the release of For Alto in 1968 -- a first-of-its-kind double album of unaccompanied saxophone solos. After a year spent in Paris the CCC disbanded, leaving Braxton to support himself for a time as a professional chess player back in the States. His musical activity was resumed in 1970 when he joined with keyboardist Chick Corea to create the band Circle; the project would prove short-lived, however, as Braxton found himself at odds with the Scientology leanings of his bandmates. He returned to Paris and remained active in Europe until the mid 1970s, performing with free outfits such as The Globe Unity Orchestra, Musica Elettronica Viva and Derek Bailey's Company.
After receiving an offer for a record contract from Arista Records in 1974, Braxton again returned to the U.S. and formed his own quartet, with whom he would record and perform for the remainder of the decade. An interest in 20th century classical composition developed during this time period, and some of his releases (such as 1978's For Four Orchestras) integrated this approach into the context of a jazz ensemble. At the same time he began to re-explore traditional jazz forms, releasing two volumes in this vein under the title of In The Tradition. During the early 80s his record deal came to a close, but his output remained undiminished: in addition to prolific recording with his own quartet and in numerous collaborative contexts, he began work on Trillium, a series of 12 operas based in various traditions of mysticism, published several volumes of both philosophical and musical-theory treatises, and took teaching positions at Mills College in California and Wesleyan College in Connecticut. Aided by a MacArthur Fellowship grant awarded to him in 1994, he continues to pursue his varied interests under the auspices of his non-profit organization, the Tri-Centric Foundation.
University: Wilson Junior College
University: Roosevelt University
Teacher: Mills College
Professor: Music, Wesleyan University, Middletown, CT

MacArthur Fellowship 1994

Official Website:
http://www.wesleyan.edu/music/braxton/
Do you know something we don't?
Submit a correction or make a comment about this profile

Copyright ©2019 Soylent Communications