Phil Rizzuto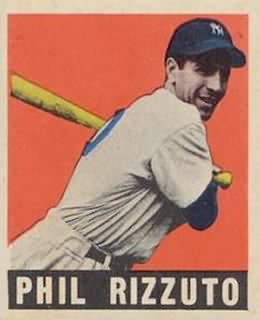 AKA Fiero Francis Rizzuto
Born: 25-Sep-1916 [1]
Birthplace: Brooklyn, NY
Died: 14-Aug-2007
Location of death: West Orange, NJ
Cause of death: unspecified
Remains: Cremated

Gender: Male
Race or Ethnicity: White
Sexual orientation: Straight
Occupation: Baseball
Nationality: United States
Executive summary: American League MVP, 1950
Military service: US Navy (1943-45)
Rizzuto grew up a Dodgers fan, because, he said, "it was easier to sneak into Ebbets Field than Yankee Stadium." He tried out for the Dodgers in 1937, but was brusquely rejected by the manager, who told Rizzuto he would earn a better living as a shoe-shine boy than as a ballplayer. He also tried out with the New York Giants, Boston Red Sox, and St. Louis Cardinals, but the consensus was that Rizzuto, at 5'6", was too small to play major-league ball.
He was eventually signed by the Yankees, the only major league team he ever played for. Rizzuto broke in with the Yanks in 1941, and he was primarily a singles hitter, with a career batting average of .273, which dropped 27 points in his 52 World Series games. He was an excellent bunter, a superb defensive shortstop, and played in nine World Series, with the Yankees winning seven. He was the League's Most Valuable Player of 1950, and a four-time All-Star, but his accomplishments are even more remarkable considering that he lost three years of his career serving in the Navy during World War II.
Rizzuto and Yankees centerfielder Joe DiMaggio had a special friendship, and roomed together on the road. Rizzuto often said he could take extra chances chasing a grounder at short, knowing DiMaggio was backing him up in center field.
He became eligible for the Baseball Hall of Fame in 1961, and was inducted in 1994. His Yankees jersey, #10, was retired in 1985. When his playing career ended, Rizzuto stepped into the broadcasters' booth, where he covered the Yankees for 40 years, from 1957 to 1996. He was often incapable of constructing a proper sentence, but fans came to love his stream-of-consciousness commentary. The Village Voice reprinted Rizzuto verbatim, setting his words as verse: "Absolutely! / If you don't get a little / a few butterflies / no matter what you do / on the first day of anything / you're not human."
Like Harry Caray, Rizzuto's catch phrase as a broadcaster was "Holy cow!" Rizzuto often beat the traffic by leaving the ball park in the game's late innings, announcing on-air for his wife, "I'll be home soon, Cora" as he left the booth. He stirred a minor controversy in 1995, chiding the Yankees' then-manager Buck Showalter for not giving rookie shortstop Derek Jeter more playing time. In 2003, when the New York Daily News named him the Yankees' all-time best shortstop, Rizzuto complained that Jeter was better, or at least deserved a tie.
His play-by-play of a make-out session was featured in Meat Loaf's "Paradise By The Dashboard Light".
---
[1] Rizzuto long listed his birthdate as 1917, but admitted in retirement that he had subtracted a year from his age to make his talents seem more impressive to scouts.

Wife: Cora Anne Esselborn (m. 1943, three daughters, one son)
Daughter: Penny Rizzuto Yetto
Daughter: Patricia Rizzuto
Son: Phil Rizzuto, Jr.
Daughter: Cindy Rizzuto


High School: Richmond Hill High School, Queens, NY


American League MVP 1950
Hickok Belt 1950
Sports Hall of Fame of New Jersey 1993
Baseball Hall of Fame 1994
Draft Deferment: World War II 3-A (Apr-1941)


SPORTS FRANCHISE HISTORY
New York Yankees (1941-56)


FILMOGRAPHY AS ACTOR
Summer of Sam (20-May-1999) [VOICE]


Author of books:
The October Twelve: Five Years of New York Yankee Glory, 1949-1953 (1994, sports)





Requires Flash 7+ and Javascript.



Do you know something we don't?
Submit a correction or make a comment about this profile






Copyright ©2019 Soylent Communications