Edward B. Lewis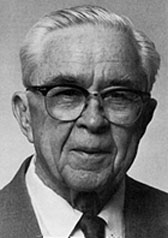 AKA Edward B. Lewis, Jr.
Born: 20-May-1918
Birthplace: Wilkes-Barre, PA
Died: 21-Jul-2004
Location of death: Pasadena, CA [1]
Cause of death: Cancer - unspecified

Gender: Male
Race or Ethnicity: White
Sexual orientation: Straight
Occupation: Scientist
Party Affiliation: Democratic
Nationality: United States
Executive summary: Drosophila researcher, Nobel laureate
Military service: US Army Air Corps (meteorologist, 1943-46)
American geneticist Edward B. Lewis began experimenting with Drosophila melanogaster (fruit flies) as a hobby while still in his teens, when he responded to an ad in the back pages of the journal Science and ordered Drosophila cultures by mail. Alongside his high school classmate and friend Edward Novitski (1918-2006), who also became a prominent geneticist, Lewis devoted his spare time to observing fruit flies under his microscope. He spent the next seventy years of his life examining, manipulating, breeding, and experimenting with these small insects.
In 1942, while still an undergraduate, he developed the cis-trans test, a means for determining whether two recessive genes are on the same gene or on two different genes. In a 1957 study with Drosophila, he calculated the increased risk of leukemia brought about by exposure to radiation. In numerous later studies, Lewis crossbred countless fruit flies, and in 1964 he discovered the correlation between the arrangement of genes on the chromosome to specific body segments, a genetic layout later shown to be widespread across animal species. In 1982 he identified the "master control" gene clusters that are crucial to early embryonic development, and in subsequent work he identified the corresponding genes in humans. Lewis won the Nobel Prize for Physiology or Medicine in 1995, shared with Christiane Nüsslein-Volhard and Eric F. Wieschaus, who conducted related work independently.
He was a modest man, who referred to his research as "our work" even though he conducted most of his studies alone. He delighted in costume parties, loved attending opera, and kept tarantulas, toads, turtles, and octopuses as pets. Lewis continued working with Drosophila until his death, submitting his last published article on the topic a month before succumbing to cancer in 2004.
---
[1] Huntington Memorial Hospital, Pasadena, CA.

Father: Edward B. Lewis (watchmaker)
Mother: Laura Histed Lewis
Wife: Pamela Harrah Lewis (artist, three sons)
Son: Keith Lewis (attorney)
Son: Hugh Lewis (geneticist)
Son: Glenn Lewis (d. 1965 mountaineering accident)


High School: Elmer L. Meyers Junior/Senior High School, Wilkes-Barre, PA (1935)
University: Bucknell University (attended, 1935-36)
University: BA Biostatistics, University of Minnesota (1939)
University: PhD Genetics, California Institute of Technology (1942)
University: MS Meteorology, California Institute of Technology (1943)
Teacher: Genetics, California Institute of Technology (1946-56)
Professor: Genetics, California Institute of Technology (1956-66)
Professor: Thomas Hunt Morgan Professor of Biology, Cal Tech (1966-88)


Wilkes-Barre Symphony Flute (1934-36)
GSA Thomas Hunt Morgan Medal 1983
Gairdner Foundation International Award 1987
Wolf Prize in Medicine 1989
National Medal of Science 1990
Lewis S. Rosenstiel Award for Distinguished Work in Basic Medical Science 1990
Lasker Award 1991
Louisa Gross Horwitz Prize 1992
Nobel Prize for Medicine 1995 (with Christiane Nüsslein-Volhard and Eric F. Wieschaus)
American Academy of Arts and Sciences
American Philosophical Society
Friends for Harry Reid
Genetics Society of America Past President
National Academy of Sciences 1968
National Youth Administration (1936-39)
Rockefeller Foundation Fellowship (1947-48)
Royal Society Foreign Member (1989)
Council for a Livable World
Democratic Congressional Campaign Committee
Democratic National Committee
Gore 2000





Requires Flash 7+ and Javascript.



Do you know something we don't?
Submit a correction or make a comment about this profile






Copyright ©2019 Soylent Communications