Jet Li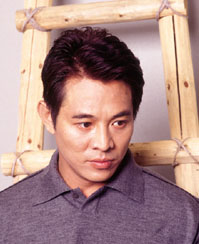 AKA Lian Jie Jie Li
Born: 26-Apr-1963
Birthplace: Beijing, China

Gender: Male
Religion: Buddhist
Race or Ethnicity: Asian
Sexual orientation: Straight
Occupation: Actor
Nationality: China
Executive summary: Kung fu action movie star
Most Americans first saw Jet Li as the bad guy in Lethal Weapon 4. After that, ads and reviews for his American films, like Romeo Must Die and Cradle 2 the Grave, touted him as "Lethal Weapon 4's Jet Li." But with his compact athleticism and a restrained, intelligent screen persona, Li offers a lot more than he was allowed to show Mel Gibson and Danny Glover. His best films include the historical think piece Hero (made in 2002 and released in America in 2004), and such high-kicking chop socky classics as Legend of the Swordsman (1991) and Fist of Legend (1994).
As a young boy, Li was a prodigy in the "wu shu" martial arts discipline. He was one of a group of Chinese children who performed martial arts at the White House for President Richard M. Nixon in 1974.
At one point, Nixon turned towards me and said, "Young man, your kung fu is very impressive! How about being my bodyguard when you grow up?" "No," I blurted out. "I don't want to protect any individual. When I grow up, I want to defend my one billion Chinese countrymen!" People were stunned. There was an uncomfortable silence. Nobody had expected me to give that kind of an answer -- least of all myself.
Li won the Chinese Wu Shu Youth Championship in 1974, 75, 77, 78, and 1979. If his official biography can be believed, he would have been only 16 when he was featured as a fighting priest in the 1979 kung fu classic The Shaolin Temple. That film made him a movie star in the far east, allowing Li to migrate to San Francisco in the late 1980s, and to Hong Kong in the early 1990s, where he signed with the legendary Asian action studio Golden Harvest, appearing in Once Upon A Time in China (1991) and its sequels.

Wife: Qiuyan Huang (actress; m. 1987, div. 1990, two daughters)
Wife: Nina Li Chi (actress, Inspector Pink Dragon; m. 19-Sep-1999, one daughter)
Daughter: Jane (b. 19-Apr-2000, to Nina)


High School: Beijing Athletic School, Beijing, China


FILMOGRAPHY AS DIRECTOR
Born to Defense (1986)


FILMOGRAPHY AS ACTOR
The Expendables 3 (4-Aug-2014)
Badges of Fury (21-Jun-2013)
The Expendables 2 (8-Aug-2012)
The Flying Swords of Dragon Gate (15-Dec-2011)
The Expendables (3-Aug-2010) · Yin Yang
The Founding of a Republic (17-Sep-2009)
The Mummy: Tomb of the Dragon Emperor (31-Jul-2008)
The Forbidden Kingdom (4-Apr-2008)
Warlords (12-Dec-2007)
War (24-Aug-2007)
Fearless (26-Jan-2006)
Unleashed (2-Feb-2005)
Cradle 2 the Grave (28-Feb-2003) · Su
Hero (24-Oct-2002)
The One (2-Nov-2001) · Gabe
Kiss of the Dragon (25-Jun-2001) · Liu Jian
Romeo Must Die (20-Mar-2000) · Han Sing
Lethal Weapon 4 (10-Jul-1998)
Hitman (3-Apr-1998)
Once Upon a Time in China and America (22-Feb-1997)
Dr. Wai in the Scriptures with No Words (10-Feb-1996)
Black Mask (1996)
Meltdown (1-Jul-1995)
The Enforcer (18-Feb-1995)
Fist of Legend (22-Dec-1994)
The Defender (28-Jul-1994)
Twin Warriors (20-Nov-1993)
The Legend II (25-Sep-1993)
The Legend (4-Mar-1993)
Once Upon a Time in China III (1993)
Once Upon a Time in China II (16-Apr-1992)
Once Upon a Time in China (15-Aug-1991)
Swordsman II (1991)
Born to Defense (1986)


Official Website:
http://www.jetli.com/





Do you know something we don't?
Submit a correction or make a comment about this profile






Copyright ©2019 Soylent Communications