Juana de Asbaje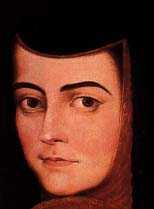 AKA Sor Juana Inés de la Cruz de Asbaje y Ramírez
Born: 12-Nov-1651
Birthplace: San Miguel de Nepantla, New Spain
Died: 17-Apr-1695
Location of death: Convent of San Jerónimo, Mexico City, Mexico
Cause of death: Bubonic Plague
Remains: Buried

Gender: Female
Religion: Roman Catholic
Race or Ethnicity: Hispanic
Sexual orientation: Matter of Dispute
Occupation: Poet, Religion, Playwright
Nationality: New Spain
Executive summary: America's first feminist poet
Born to poverty as a woman in 17th century Mexico, she learned Latin at 10 years of age and became a voracious reader. She had no formal schooling, growing up in the royal court of the Spanish Viceroy. At the age of 19 she joined a convent so that she could dedicate her life to writing and scientific scholarship.
She composed plays and poems in the baroque style that questioned the role of women in society, the heartbreaks of love, and the hypocrisy of men. Near the end of her life she was pressured by the Catholic Church to cease writing about non-theological concerns. Her subsequent essays on a woman's right to education and critical examinations on the Jesuit take on divinity earned further ire from the Church.
After repenting to a Jesuit inquisitor, she stopped writing for the last two years of her life. The Church forced her to sell her comprehensive library and donate the money to the poor. She died of the plague while caring for the other nuns in her convent, leaving a corpus of 26 plays, 13 essays, and 100 poems. Contemporary of the Jesuit Athanasius Kircher.
Father: Pedro Manuel de Asbaje (Spanish Captain, illegitimate father)
Mother: Isabel Ramirez (d. 1688)
Sister: Josefa Maria

Mexican Ancestry
Spanish Ancestry
Portrait on Mexican currency 200 Peso Note

Is the subject of books:
Sor Juana InÚs de La Cruz, o, Las trampas de la fe by Octavio Paz, 1982

Do you know something we don't?
Submit a correction or make a comment about this profile

Copyright ©2019 Soylent Communications