Philip Danforth Armour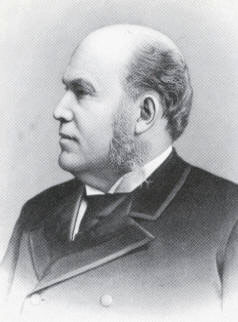 Born: 16-May-1832
Birthplace: Stockbridge, NY
Died: 6-Jan-1901
Location of death: Chicago, IL
Cause of death: Pneumonia
Remains: Buried, Graceland Cemetery, Chicago, IL

Gender: Male
Religion: Methodist
Race or Ethnicity: White
Sexual orientation: Straight
Occupation: Business
Nationality: United States
Executive summary: Founder of Armour & Co.
Philip Danforth Armour, founder of Armour & Company, studied at the Methodist seminary in Cazenovia, New York, then came to California to pursue riches in the gold rush. After making a modest fortune there, he came to Milwaukee, where he operated a grain business, and later moved to New York, where he owned House of Armour and Company, a regional grain distributor. In 1867 House of Armour established a meatpacking subsidiary, Armour and Company, which soon added operations in Chicago, Milwaukee, and Kansas City.
Armour's meatpacking factories were the first to mass-produce canned meats, and the subsidiary Armour Refrigerator Line, a railroad car company, helped ship Armour products to distant markets, bringing the company to national prominence. The company's infamously filthy Chicago slaughterhouse was involved in scandals in 1889 and '99 involving the sale of tainted meats, and the same facility was a key inspiration for Upton Sinclair's classic novel and exposť, The Jungle, published five years after Armour's 1901 death.
Armour founded the Armour Institute of Technology (now the Illinois Institute of Technology) in 1890, and he is the namesake of the town of Armour, South Dakota. His son, J. Ogden Armour, took over the meatpacking business at his father's death, hired thousands of African-American workers to break a union strike in 1904, and by 1923, as Armour Refrigerator Line was broken up for anti-trust violations, the business was at the brink of bankruptcy. After the younger Armour was fired, the company recovered and remained a major meatpacker for decades. Armour's chemists developed Dial Soap in 1948, and the present-day Dial Corporation is a direct descendant of Armour and Company. Smithfield Foods owns the Armour brand name for meat marketing, and sells hot dogs and other meats under the Armour and Armour Star label.
Father: Danforth Armour (farmer, b. 1-Mar-1799, d. 9-Jan-1873)
Mother: Juliana Ann Brooks (b. 1797, six sons, three daughters)
Brother: Simeon Armour (b. 1-Feb-1828)
Brother: Andrew Watson Armour (Armour executive, b. 27-Jan-1829, d. 1892)
Brother: Herman Ossian Armour (grain merchant, b. 2-Mar-1837)
Brother: Joseph Armour (grain merchant, d. 1881)
Wife: Malvina Belle Armour (b. 7-May-1842, d. 1927)
Son: Jonathan Ogden Armour (Armour executive, b. 11-Nov-1863, d. 16-Aug-1927)
Son: Philip D. Armour, Jr. (Armour executive, d. 1900)

Theological: Cazenovia Seminary, Cazenovia, NY (dropped out)
Administrator: Illinois Institute of Technology (Principle Benefactor, 1890)

House of Armour and Company Founder and President (1865-70)
Armour & Company Founder and President (1867-1901)
Armour Refrigerator Line Founder and President (1883-1901)
English Ancestry
Scottish Ancestry

Do you know something we don't?
Submit a correction or make a comment about this profile

Copyright ©2019 Soylent Communications