Ashton Kutcher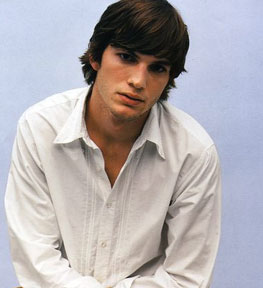 AKA Christopher Ashton Kutcher
Born: 7-Feb-1978 [1]
Birthplace: Cedar Rapids, IA

Gender: Male
Race or Ethnicity: White
Sexual orientation: Straight
Occupation: Actor, Model
Nationality: United States
Executive summary: Kelso on That '70s Show
Ashton Kutcher majored in biochemical engineering in college, which seems bizarre to audiences accustomed to seeing him play the dopey Kelso on That '70s Show. But very Kelso-like, he was reportedly spotted by an agent at a burger joint, who suggested that Kutcher compete in the 1997 Fresh Faces of Iowa modeling contest. He won, and dropped out of college to pursue a career as a male model. He moved to New York, signed with a major agency, and within months he was walking the runway in Milan and Paris, for Versace, Calvin Klein, and Tommy Hilfiger. Less than a year after winning the modeling contest, Kutcher decided to try acting.
He began auditioning for TV roles, and unlike the stereotyped tale of so many struggling actors, he was almost immediately offered a regular role in not one but two TV series. He turned down the role of a Hawaiian surfer cowboy in NBC's Wind on Water with Bo Derek, and instead signed with That '70s Show, which ran seven years, and of course, made Kutcher a star. He also created and hosted MTV's Punk'd, a show about pulling pranks on celebrities, and in 2011 he replaced the drug-addled Charlie Sheen on the hit sit-com Two and a Half Men.
Kutcher almost played Daddy Warbucks in his high school's production of Annie, but lost the part when he was caught drinking and suspended. More recently, Kutcher reportedly lost a part in a Cameron Crowe movie because Crowe doubted his acting abilities, and he was rejected by Steven Soderbergh for fears that Kutcher's party-boy image would make it impossible to take him seriously in a dramatic role.
In 2003, Kutcher told Rolling Stone that Jenna and Barbara Bush attended one of his famous parties. "The Bushes were underage-drinking at my house. When I checked outside, one of the Secret Service guys asked me if they'd be spending the night. I said no. And then I go upstairs to see another friend, and I can smell the green wafting out under his door. I open the door, and there he is, smoking out the Bush twins on his hookah".
---
[1] Kutcher's exact birthdate is a matter of some dispute. In February 2004, The National Enquirer reported it had found a Los Angeles County voter registration for a Christopher Ashton Kutcher, born in Iowa on 7 February 1974. Matters became more complicated when Kutcher's former high school principal went on record that Kutcher had graduated in 1996, and his school records gave his birthdate as 7 February 1978.

Father: Larry Kutcher (employed by General Mills)
Mother: Dianne Portwood (employed by Proctor and Gamble)
Sister: Tausha Kutcher (b. 1975)
Brother: Michael Kutcher (twin, fraternal, has cardiomyopathy)
Girlfriend: January Jones (actress, b. 1978, together 1998-2001)
Girlfriend: Ashley Scott (actress, b. 1977, together 2001-02)
Girlfriend: Monet Mazur (actress, together 2002)
Girlfriend: Brittany Murphy (actress, together 2002-03)
Girlfriend: Amy Smart (actress, reportedly together 2003)
Wife: Demi Moore (dated 2003-05, m. 24-Sep-2005, sep. 17-Nov-2011, div. 27-Nov-2013)
Wife: Mila Kunis (actress, together since 2012, m. 4-Jul-2015, one daughter)
Daughter: Wyatt Isabelle Kutcher (b. 30-Sep-2014)


High School: Clear Creek Amana High School (1996)
University: University of Iowa, Iowa City, IA


Airbnb Major investor (2011)
Delta Chi Fraternity
Endorsement of Gap 2002
Endorsement of Pizza Hut
Endorsement of Nikon Coolpix (2008)
Burglary Cedar Rapids, IA
Risk Factors: Former Smoker, Marijuana


TELEVISION
Two and a Half Men Walden Schmidt (2011-)
Punk'd Himself (2003-07)
That '70s Show Michael Kelso (1998-2006)


FILMOGRAPHY AS ACTOR
Annie (7-Dec-2014)
Jobs (25-Jan-2013)
New Year's Eve (5-Dec-2011) · Randy
No Strings Attached (21-Jan-2011) · Adam
Killers (1-Jun-2010) · Spencer
Valentine's Day (10-Feb-2010) · Reed Bennett
Personal Effects (5-Mar-2009)
Spread (17-Jan-2009) · Nikki
What Happens in Vegas... (22-Apr-2008)
Open Season (29-Sep-2006) [VOICE]
The Guardian (28-Sep-2006)
Bobby (5-Sep-2006)
A Lot Like Love (22-Apr-2005)
Guess Who (25-Mar-2005)
The Butterfly Effect (23-Jan-2004) · Evan
My Boss's Daughter (22-Aug-2003) · Tom Stansfield
Just Married (10-Jan-2003) · Tom
Texas Rangers (Apr-2001) · George Durham
Dude, Where's My Car? (10-Dec-2000) · Jesse
Reindeer Games (24-Feb-2000) · College Kid
Down to You (21-Jan-2000)
Coming Soon (17-Apr-1999)





Requires Flash 7+ and Javascript.



Do you know something we don't?
Submit a correction or make a comment about this profile






Copyright ©2019 Soylent Communications