Chely Wright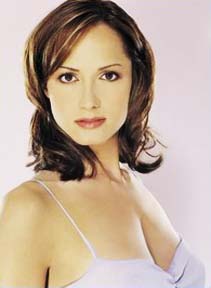 AKA Richelle Renee Wright
Born: 25-Oct-1970
Birthplace: Kansas City, MO

Gender: Female
Race or Ethnicity: White
Sexual orientation: Lesbian
Occupation: Country Musician
Party Affiliation: See Note [1]
Nationality: United States
Executive summary: Shut Up And Drive
Born in Kansas City and raised in the rural Kansas town of Wellsville, Chely Wright emerged from a family that had little in the way of economic means, but maintained a long tradition of music-making. At the age of four she began singing in church, and had moved on to working in country groups while still an adolescent; by her early teens she was performing in honky-tonks with her own group Country Line, supported by an ensemble that included her father on acoustic bass. Just prior to her senior year in high school, Wright landed a job with the Missouri-based Ozark Jubilee, which was followed by a low-paying stint impersonating other female country stars at the Opryland theme park in Nashville. By this time she had relocated to the country music capital and struggled to continue her career while living in a trailer and augmenting her income with a variety of day jobs. A three-year internship at Opryland eventually led to a meeting with producer Harold Shedd, who signed her to the Mercury/Polydor label; her debut album Woman In The Moon was finally released by the label in 1994.
Despite strong critical notices (and an award for Top New Female Vocalist from The Academy of Country Music), Woman In The Moon did not fare particularly well on a commercial level, and the associated singles did not make much of an impact on the all-too-important music charts. A second effort released two years later, Right In The Middle Of It, was given a similar reception, prompting Wright to begin seeking a different outlet for her next attempt; thus it was that her third album Let Me In came to be released by MCA, its lead single Shut Up And Drive finally giving her the commercial breakthrough she had been seeking. This success was surpassed in 1999 with the release of Single White Female, whose title track reached #1 on the country singles charts, broke into the mainstream top 40, and propelled the album up to #15. The next singles, She Went Out For Cigarettes, also found its way into the charts, confirming Wright's new popularity amongst the Nashville crowd.
In 2001 Wright released her fourth effort, Never Love You Enough, and -- although it was her first entry into the album top 10 -- she was unable to repeat the impact of her previous singles. Repeating the strategy utilized in the wake of Right In The Middle Of It's meagre results, she subsequently ended her relationship with MCA and spent the next few years searching for a new label. In the interim, a self-released collection of demos (coupled with a DVD) was made available in 2004 as Everything. This was followed by the single The Bumper of My S.U.V., an unfortunate ride on the nationalistic bandwagon that many country performers have been exploiting since September of 2001. The subject matter successfully pushed the song into the charts (an unheard-of feat for a non-major label release), but also resulted in some negative press when it was made public that her fan club had encouraged its members to claim some kind of military affiliation while requesting the song on radio stations across the country. The singer's pro-military stance was clearly not feigned, however: since the start of U.S. military action post-2001, she staged numerous appearances at military bases around the world, including performances in Iraq in both 2003 and 2004. By the end of 2004 Wright had made a deal with the independent Nashville label, Dualtone, and her 6th full-length The Metropolitan Hotel materialized early in 2005.
In addition to her musical activities, Chely Wright founded Reading, Writing & Rhythm, a charitable organization that raises funds for music education in public schools. In 2000 she was involved in promoting (and modelling for) Claudia Schiffer's "fashionwindow" Internet service, and in 2001 she made her big-screen debut with a role in the children's film Max Keeble's Big Move. Further ventures into the motion picture industry have yet to be made.
---
[1] "I'm not a Democrat or a Republican." (2004)

Wife: Lauren Blitzer (civil rights activist, b. circa 1980, m. 20-Aug-2011, two sons)
Son: George Samuel Wright (twin, b. 18-May-2013)
Son: Everett Joseph Wright (twin, b. 18-May-2013)


FILMOGRAPHY AS ACTOR
Max Keeble's Big Move (5-Oct-2001)


Official Website:
http://www.chely.com/




Requires Flash 7+ and Javascript.



Do you know something we don't?
Submit a correction or make a comment about this profile






Copyright ©2019 Soylent Communications