Nikolai Timofeev-Ressovsky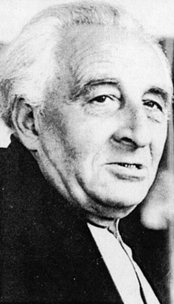 AKA Nikolai Vladimirovich Timofeev-Ressovsky
Born: 20-Sep-1900
Birthplace: Moscow, Russian Empire
Died: 28-Mar-1981
Location of death: Moscow, USSR
Cause of death: unspecified

Gender: Male
Race or Ethnicity: White
Sexual orientation: Straight
Occupation: Biologist
Nationality: Russia
Executive summary: Russian geneticist
Military service: Green Army (1916-17); 12th Red Army (1917-18)
Russian biologist Nikolai Timofeev-Ressovsky was a founder of the Russian scientific school of genetics, and at the forefront of Soviet studies of radiation genetics, evolution and biosphere theory. He studied three branches of genetics — phenogenetics (the genetic basis of ontogenesis), mutagenesis (events capable of causing mutations), and theoretical or molecular genetics. An internationally respected geneticist and evolutionist, his work was influential in related fields of science, inside and outside of Russia, and his rather dramatic life story was retold in Daniil Granin's 1987 novel The Bison.
In 1926, Timofeev and his wife, geneticist Helena Alexandrovna Fidler, were assigned to work in Germany as part of a Soviet-German scientific exchange program. They remained in Germany for decades, as Timofeev's research on the physico-chemical nature of radiation damage grew widely respected, and even after the Nazis came to power in 1933 (decades after their deaths, Timofeev and Fidler have occasionally been accused of sympathizing with Nazi theories of racial superiority and supporting eugenics, though the evidence of this is less than conclusive). In 1937 they were ordered by Soviet officials to return to the USSR, but they refused to abandon their work, their laboratory, and their students.
Another motivation for staying in Germany was that the "politicized science" of Trofim Lysenko had led to the arrest and imprisonment of numerous leading scientists in the Soviet Union. Timofeev's two younger brothers had been arrested and sent to separate Gulags (one was executed, the other survived), and several relatives of Timofeev's wife had also been arrested and imprisoned.
Working in Germany, though, presented its own difficulties. When war broke out, Timofeev and his family were forbidden by German authorities to leave, but he was allowed to continue his scientific work, under increasingly authoritarian oversight. Their son joined an anti-fascist group, which led to his arrest, imprisonment, and execution.
When the Soviet Army took East Berlin in 1945, Timofeev was arrested by the People's Commissariat for Internal Affairs (NKVD, or in common parlance, the Soviet Union's secret police). He was charged with treason for his extended time in Germany, and sentenced to ten years in prison. For the first two years of his sentence, he was held at a notoriously cruel Gulag in North Kazakhstan, where his eyesight was permanently damaged by near-starvation conditions.
By 1947, imprisoning increasing numbers of USSR's top scientists had left Soviet scientific research at a distinct disadvantage, so Timofeev was transferred to a secret scientific installation in the Ural mountains near Sverdlovsk. There, along with numerous other imprisoned Soviet scientists, he was allowed to resume his research into radiobiology (the biological effects of exposure to radiation). He could see well enough to work, but not well enough to easily read, so his wife was brought to the facility to read for him and, effectively, to act as his eyes. When his prison term ended in 1955, Timofeev and Fidler decided to continue their work, and remained at the facility.
As a result of his work in Germany and subsequent imprisonment in Russia, Timofeev was never again allowed to leave the Soviet Union. In the early 1960s he was appointed to head the Genetics department at the Institute of Medical Radiology in Obninsk, on condition that he obtain the required doctorate, so at the age of 63 he prepared and defended a dissertation on radiation ecology, receiving his DSc from the USSR Academy of Science.
His family name was Timofeev; he added Ressovsky as an affectation, alluding to the area of Russia where he was raised.
Father: Vladimir Viktorovich Timofeev (transport engineer, b. 1850, d. 1913)
Mother: Nadezhda Nikolaevna (b. 1868, d. 1928)
Brother: (two brothers, both arrested by the NKVD, one d. Gulag)
Wife: Helena Alexandrovna Fidler (geneticist, b. 1898, d. 29-Apr-1973)
Son: Dmitrij (d. 1-May-1945 execution)
Son: Andrei

High School: First Imperial Alexander High School, Kiev (transferred out, 1913)
High School: Moscow Flerov High School, Moscow (1917)
University: BS Genetics, Moscow University, Moscow (1922)
Teacher: Zoology, Practical Institute in Moscow (1922-1925)
Scholar: Genetics Department, Brain Research Institute, Berlin, Germany (1925-45)
Scholar: Institute of Ecology of the Academy of Science, Sverdlovsk (1947-64)
University: DSc Biological Sciences, Ural Div. of the USSR Academy of Sciences (1964)
Administrator: Director of Genetics Dept., Institute of Medical Radiology, Obninsk (1964-70)
Scholar: Institute of Medical Biological Problems, Moscow (1970-81)

Treason arrested by the NKVD, convicted; received ten year sentence (Sep-1945)
German Academy of Sciences Leopoldina Foreign Member
GAS Darwin Medal (1959)
NAS Kimber Genetics Award (1966)
Russian Ancestry
Asteroid Namesake 3238 Timresovia

Author of books:
Experimental Mutation Research (1937)
Biophysics (1947)

Do you know something we don't?
Submit a correction or make a comment about this profile

Copyright ©2019 Soylent Communications