Gordon R. Dickson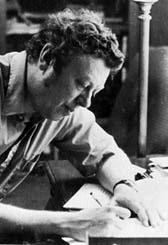 AKA Gordon Rupert Dickson
Born: 1-Nov-1923
Birthplace: Edmonton, Alberta, Canada
Died: 31-Jan-2001
Location of death: Minneapolis, MN
Cause of death: Asthma complications

Gender: Male
Race or Ethnicity: White
Occupation: Novelist
Nationality: United States
Executive summary: Dorsai
Military service: US Army (WWII, 1943-46)
Prolific science fiction and fantasy author Gordon R. Dickson published over 100 short stories and 55 novels including "Soldier, Ask Not" (Hugo winner, 1965); "Call Him Lord" (Nebula Award winner, 1966); The Dragon and the George (August Derleth Award 1976); "Time Storm" (Jupiter Award, 1977); and "The Cloak and the Staff" (Hugo, 1981). The Lost Dorsai, winner of the 1981 Hugo, was part of his Dorsai series (aka Childe Cycle), which has been deemed as key to the evolution of the military space opera sub-genre as Robert A. Heinlein's Starship Troopers.
Dickson was born in 1923 in Edmonton, Alberta, but moved to the United States with his mother in 1936 following the death of his father. As a young man he served in the army during World War II. He later obtained a B.A. in Creative Writing from the University of Minnesota, returning for two more years of graduate study. Dickson studied with Sinclair Lewis, Robert Penn Warren, and Poul Anderson.
Dickson's first story, a collaboration with Poul Anderson entitled "Trespass!", was published in Fantastic Story Quarterly in 1950 and his first novel, Alien from Arcturus saw publication in 1956. Dickson later teamed up with Anderson again to create Hoka Pocus. He shared with Anderson (and another collaborator, Clifford D. Simak) an affection for rural settings and characters, and his work often posed important questions about human nature -- a tendency certainly evident in his Dorsai series, which attempted to present an evolutionary blueprint for humanity's future expansion through the galaxy.
A strong supporter of the space program (and a frequent attendee of the Apollo launches), Dickson spent most of his life in his adopted home of Minneapolis, Minnesota. He served as President of the Science Fiction Writers of America in 1969-71, and was the recipient of the E. E. Smith Memorial Award for imaginative fiction in 1975. A long time asthma sufferer (a condition that often kept him housebound in the last decade of his life), he is remembered by his friends and fellow writers as a kind and generous man with a zest for life in all its novelty and silliness. Dickson passed away in 2001.
University: BA Creative Writing, University of Minnesota (1948)
University: University of Minnesota (two years graduate study, 1948-50)

Hugo 1965
Nebula 1966
Hugo 1981
Risk Factors: Asthma

Author of books:
Dorsai! (1959, aka The Genetic General)
Necromancer (1962)
Soldier, Ask Not (1967)
The Tactics of Mistake (1971)
The Spirit of Dorsai (1979)
Lost Dorsai (1980)
The Final Encyclopedia (1984)
The Chantry Guild (1988)
Young Bleys (1991)
Other (1994)
Secret Under the Sea (1960)
Secret Under Antarctica (1963)
Secret Under the Caribbean (1964)
Spacial Delivery (1961)
Spacepaw (1969)
The Space Swimmers (1967)
Home from the Shore (1978)
The Dragon and the George (1976)
The Dragon Knight (1990)
The Dragon on the Border (1992)
The Dragon at War (1992)
The Dragon, the Earl, and the Troll (1994)
The Dragon and the Djinn (1995)
The Dragon and the Gnarly King (1997)
The Dragon in Lyonesse (1998)
The Dragon and the Fair Maid of Kent (2000)
Dorsai's Command (1989, with Troy Denning)
The Dorsai Companion (1986)
The Forever Man (1986)
The Man the Worlds Rejected (1986)
Way of the Pilgrim (1987)
The Earth Lords (1988)
Guided Tour (1988)
Wolf and Iron (1990)
Bootcamp 3000 (1992)
Space Dogfights (1992)
The Magnificent Wilf (1995)
Hokas Pokas (2000, with Poul Anderson)
The Right to Arm Bears (2000)
Dorsai Spirit (2002)
The Man from Earth (1983)
Jamie the Red (1984, with Roland Green Eckert)
The Last Master (1984)
Survival! (1984)
Invaders! (1985)
Secrets of the Deep (1985)
Steel Brother (1985)

Do you know something we don't?
Submit a correction or make a comment about this profile

Copyright ©2019 Soylent Communications