John Brown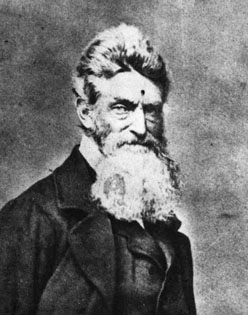 Born: 9-May-1800
Birthplace: Torrington, CT
Died: 2-Dec-1859
Location of death: Charles Town, WV
Cause of death: Execution
Remains: Buried, John Brown Farm, North Elba, NY

Gender: Male
Religion: Congregationalist
Race or Ethnicity: White
Sexual orientation: Straight
Occupation: Activist, Terrorist
Nationality: United States
Executive summary: Led the raid on Harpers Ferry
John Brown was adamantly opposed to slavery, and unlike most abolitionists of his time, he was not content to protest through pamphleteering and speechmaking. He purchased land for escaped slaves, raised a black orphan as his own son, and was active in the Underground Railroad. In 1849, he moved with his family to North Elba, New York, a previously all-black settlement for ex-slaves, living amongst them and teaching them all he knew about farming. After the Fugitive Slave Act of 1850 became law, putting free blacks in the north in peril of forced repatriation to their former owners in the South -- or any whites who claimed to be their owners -- he co-founded the League of Gileadites, a group intent on protecting escaped slaves through, as a later radical said, "whatever means necessary". Already in his 50s, Brown abandoned his wife and followed several of his adult sons to Kansas territory, then widely called "bleeding Kansas" for its violent clashes between pro- and anti-slavery factions.
On 21 May 1856, the anti-slavery town of Lawrence, Kansas was attacked by pro-slavery rioters, and Brown was among the town's few outmanned defenders in a battle that left at least 150 locals dead. The following year, after another attack left several anti-slavery settlers dead, Brown took retaliation by riding into a pro-slavery enclave, dragging five men and boys from their home on Pottawatomie Creek and killing them, then dismembering their bodies. In 1858 he led raids into the slave state of Missouri that left another man dead, and freed eleven slaves. Then, hoping to strike closer to the heart of American slavery, he took his fight to Virginia. He rented a farm across the Potomac River from Harpers Ferry, and there he assembled his strike force.
On 16 October 1859, Brown and a 21-man abolitionist army (five black, 16 white) attacked the federal arsenal at Harpers Ferry, Virginia. It was, as Frederick Douglass had told Brown in trying to dissuade him, "a perfect steel-trap" -- a strike against the U.S. government that could only lead to an unhappy ending. Colonel Robert E. Lee was ordered to put down the insurrection, and eight of Brown's men were killed in the gun battle that followed. Brown was charged with treason, murder, and insurrection, and his trial was quick and efficient. An eyewitness at his hanging wrote that Brown behaved with "unflinching firmness" as the sheriff put the noose around his neck.
"Had I interceded in the manner which I admit, and which I admit has been fairly proved, had I so interfered in behalf of the rich, the powerful, the intelligent, the so-called great, or in behalf of any of their friends, either father, mother, sister, wife or children, or any of that class, and suffered and sacrificed what I have in this interference, it would have been right. Every man in the court would have deemed it an act worthy of reward rather than punishment."

John Brown, in court after conviction
Father: Owen Brown (tanner)
Mother: Ruth Mills Brown (m. circa 1792, fifteen children, d. 1806)
Mother: Sally Root Brown (stepmother, m. 1807, eight children)
Wife: Dianthe Lusk (m. 21-Jun-1820, six children, d. Aug-1832 childbirth)
Son: John Brown, Jr. (b. 25-Jul-1821)
Son: Jason Brown (b. 19-Jan-1823)
Son: Frederick Brown (b. 9-Jan-1827, d. 31-Mar-1830)
Daughter: Ruth Brown Thompson (b. 18-Feb-1829)
Son: Frederick Brown (b. 21-Dec-1830, d. 30-Aug-1856)
Son: un-named (b. 7-Aug-1832, d. same day)
Wife: Mary Ann Little Day (b. 15-Apr-1817, m. 14-Jun-1833, thirteen children, d. 1-May-1884)
Daughter: Sarah Brown (b. 11-May-1834, d. 23-Sep-1843)
Son: Watson Brown (b. 7-Oct-1835, d. 19-Oct-1859 Harpers Ferry)
Son: Salmon Brown (b. 2-Oct-1836)
Son: Charles Brown (b. 3-Nov-1837, d. 11-Sep-1843)
Son: Oliver Brown (b. 9-Mar-1839, d. 17-Oct-1859 Harpers Ferry)
Son: Peter Brown (b. 7-Dec-1840, d. 22-Sep-1843)
Son: Austin Brown (b. 14-Sep-1842, d. 1843)
Daughter: Anne Brown (b. 23-Dec-1843)
Daughter: Amelia Brown (b. 22-Jun-1845, d. 1846)
Daughter: Sarah Brown (b. 11-Sep-1846)
Daughter: Ellen Brown (b. 20-May-1848, d. 1849)
Son: un-named (b. 17-May-1852, d. 3-Jun-1852)
Daughter: Ellen Brown (b. 25-Sep-1854)


Bankruptcy (1842)
Murder guilty (2-Nov-1859)
Treason guilty (2-Nov-1859)
Insurrection guilty (2-Nov-1859)
Underground Railroad





Requires Flash 7+ and Javascript.



Do you know something we don't?
Submit a correction or make a comment about this profile






Copyright ©2019 Soylent Communications