Greg Bear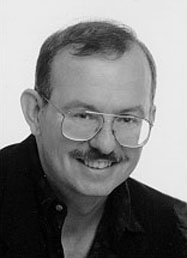 Born: 20-Aug-1951
Birthplace: San Diego, CA

Gender: Male
Race or Ethnicity: White
Sexual orientation: Straight
Occupation: Author
Nationality: United States
Executive summary: Eon
Author Greg Bear is famed for his hard science fiction novels, including Blood Music, Moving Mars, Darwin's Radio, and Darwin's Children. The recipient of four Nebula Awards and two Hugo Awards, Bear is considered one of the leading figures in contemporary science fiction. He has been ranked alongside Orson Scott Card and called the "natural heir" to Arthur C. Clarke. Although he has produced more than two-dozen books, he is also known for his prodigious and prolific short fiction offerings. Also a talented illustrator, Bear's artwork has graced the covers of a number of magazine and book covers, including the cover of his 1979 novel Psychlone.
Bear's father was in the U.S. Navy, and as such the family travelled extensively during his youth, to various parts of the U.S., including Alaska, as well as to Japan and the Philippines. It was during his time in Alaska, when he was only ten, that Bear wrote his first short story. A few years more and he was trying to submit stories to magazines. By age sixteen he bagged his first success: "Destroyers", published in Famous Science Fiction in 1967. By age 23 he was selling regularly and his first novel, Hegira, appeared in 1979. Major success came in 1985 with the publication of Blood Music, based on the Hugo and Nebula winning novelette of the same name. With Blood Music, Bear transitioned from his initial space opera phase into the craft he is now well known for: smart, gripping sci-fi novels drenched in the cutting edge developments of the hard sciences, especially cellular biology.
Bear is also known for his work with Gregory Benford and David Brin on the Second Foundation Trilogy, adding to the legacy of Foundation author Isaac Asimov. He has also branched out by contributing to both the Star Trek (Corona, 1984) and Star Wars (Rogue Planet, 2000) series of novels. His short story "Dead Run" was adapted by Alan Brennert for the second Twilight Zone television show. Bear's 1979 short story "The White Horse Child" was adapted into a multimedia storybook by EBook and released on CD-ROM in 1993. His novels Darwin's Radio and Darwin's Children are in development by the Sci-Fi Channel as an original 8-hour TV series.
In various phases of his life Bear has also served as a roving lecturer for San Diego city schools, contributed numerous journalistic pieces on film and science, and worked as a bookseller. He served as President of the SFWA from 1988 to 1990. Bear currently serves on the advisory board of Seattle's Science Fiction Museum and Hall of Fame. He has also in advisory capacity on a number of political and scientific committees, working also with Microsoft, Sandia National Laboratories, the U.S. Army, the CIA and other organizations.
Father: Dale F. Bear
Mother: Wilma M. Bear
Wife: Christina M. Nielson (m. 1975, div. 1981)
Wife: Astrid Anderson (daughter of Poul Anderson, m. 1983, one son, one daughter)
Son: Erik (b. Sep-1986)
Daughter: Alexandra (b. Jan-1990)

University: BA, San Diego State University (1973)

Microsoft Adviser
Hugo 1984 Best Novelette, for Blood Music
Hugo 1987 Best Short Story, for Tangents
Nebula 1984 Best Novelette, for Blood Music
Nebula 1984 Best Novela, for Hardfought
Nebula 1987 Best Short Story, for Tangents
Nebula 1995 Best Novel, for Moving Mars
Nebula 2001 Best Novel, for Darwin's Radio

Official Website:
http://www.gregbear.com/
Author of books:
Hegira (1979, novel)
Psyclone (1979, novel)
Beyond Heaven's River (1980, novel)
The Wind from a Burning Woman (1983, collection)
Tangents (1989, collection)
Eon (1985, novel)
Blood Music (1985, novel)
The Forge of God (1987, novel)
Eternity (1988, novel)
Queen of Angels (1990, novel)
Anvil of Stars (1992, novel)
Moving Mars (1993, novel)
Foundation and Chaos: The Second Foundation Trilogy (1998, novel)
Dinosaur Summer (1998)
Darwin's Radio (1999, novel)
Vitals (2002, novel)
Dead Lines (2004, novel)
Darwin's Children (2003, novel)

Do you know something we don't?
Submit a correction or make a comment about this profile

Copyright ©2019 Soylent Communications