William Gibson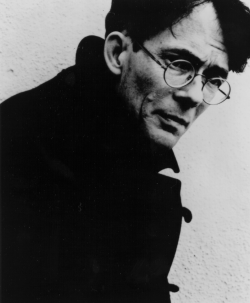 AKA William Ford Gibson
Born: 17-Mar-1948
Birthplace: Conway, SC

Gender: Male
Race or Ethnicity: White
Sexual orientation: Straight
Occupation: Author
Nationality: United States
Executive summary: Pioneer of Cyberpunk science fiction
Originator of the term "cyberspace", author William Gibson is also credited with introducing the science fiction subgenre known as cyberpunk. Gibson's best known work includes the short fiction "Johnny Mnemonic" (1981; made into a feature film starring Keanu Reeves in 1995), and "Burning Chrome" (1982, in which "cyberspace first appeared"), plus his Neuromancer trilogy and more recent novels such as Virtual Light (1993), Idoru (1996), All Tomorrow's Parties (1999), and his best-selling Pattern Recognition (2003).
Born William Ford Gibson on 17 March 1948, in Conway, South Carolina, Gibson's early childhood was bathed in the legacy of his father's previous job -- a civilian contractor involved in construction of the Oak Ridge facility that manufactured the first atomic bomb. He grew up with TV (when few could afford it), science fiction inspired toys, a new car -- and the residual mythology of Oakridge security issues. When Gibson was 6, his father choked to death during a business trip, and his mother hauled the boy off to her backwards hometown in southwestern Virginia. Here his mother became chronically anxious and depressed, and young Gibson also languished, withdrawing into a private world of science fiction stories. At 15 he was sent to a boarding school in Arizona, where he was forced to emerge and confront the outer world. Just as he was finally making some progress adjusting to the changes in his life, his mother died suddenly, "the other shoe" dropping, as he called it.
Gibson drifted for a time, passing as just another post-beat hippie kid "on the road", and at age 19, he headed to Canada to avoid the military draft. After earning a bachelor's degree in English from the University of British Columbia, he met a girl and toured Europe ("concentrating on countries with fascist regimes and highly favorable rates of exchange"). He eventually settled down in Vancouver, where in 1977 he finally began his life as a science fiction writer. Although he'd dabbled in writing in college, and fantasized about writing his own science fiction since boyhood, it was financial necessity (in the form of financial support of his fledgling family) that brought the potential to fruition.
In 1984 Gibson's work soundly hit its mark with publication of Neuromancer, which won him the triple crown of science fiction -- the Hugo, the Nebula and the Philip K. Dick award -- as well as the Seiun and Ditmar awards. Viewed as one of the most influential books of the 1980s, Neuromancer described a noir near-future world with super hackers "jacking" into the virtual reality of cyberspace to duel with rival hackers and corporate security -- first for selfish gain, but then to free a hyper-evolved artificial intelligence. Published long before virtual reality and the Internet were household names, Neuromancer especially appealed to sci-fi literate hackers who found in it a satisfying fantasy escalation of the world in which they already lived. But it also opened the doors of cybernetic fantasy to many neophytes, especially as cyberpunk's influence spread into film and other artistic mediums.
Although many claim Gibson's cyberpunk tales borrowed their gritty future dystopia from Blade Runner (the film adaptation of Philip K. Dick's Do Android's Dream of Electric Sheep), Gibson himself recalls how he was already in process with Neuromancer when Blade Runner debuted and how he felt depressed, discovering there now already existed another representation so similar to the one he'd worked hard to invent. Whatever similarities Gibson may have to early works (his style has been likened both to Dick and to hardboiled detective novelist Raymond Chandler), his invention of cyberspace was wholly new and has, itself, sowed its influence in the literature of science fiction, as well as in film and in Internet culture, where Neuromancer references abound -- the term "cyberspace" has become a common euphemism for the Internet, and the term "hacker" grew out of its pencilneck and gained a hard-edged hipness. Gibson himself jokes that some fans seemed to expect him to show up to readings and conferences as "this leather clothed guy with a mohawk and pins through my cheeks, who used some sort of computer that looked like a stealth bomber with the serial number numbers filed off."
In real life Gibson is a far cry from his protagonists. He has himself only recently taken to cyberspace, and he considers himself fairly lacking in computer skills. Meanwhile the caliber of his imaginative skills are such that his work has spawned not only an impressive body of literature, but also TV and film scripts (X-Files episodes "Kill Switch" and "First Person Shooter", created with friend Tom Maddox, and an unused script for Alien 3), song lyrics for Debbie Harry's "Dog Star Girl", and even some poetry. His poem Agrippa: A Book of The Dead, which dealt with his father and their relationship, originally debuted as a limited edition encrypted diskette that erased itself page by page as you read -- and it was accompanied by print artwork, by Dennis Ashbrough, that disappeared after prolonged exposure to light.
Among Gibson's many other mediographic contributions include a cameo appearance on "First Person Shooter" and in the cyberpunk influenced miniseries Wild Palms. In 2001 the Gibson feature film No Maps For These Territories debuted at the Slamdance Film Festival. It featured a multi-microcamera view inside Gibson's limo as he chatted with a changing array of passengers, including authors Jack Womack and Bruce Sterling (with whom Gibson co-authored The Difference Engine) and inexplicably U2's Bono. Film adaptations of his work include Johnny Mnemonic, New Rose Hotel, and a production of Neuromancer (currenly suspended).
University: University of British Columbia

FILMOGRAPHY AS ACTOR
No Maps for These Territories (4-Oct-2000) · Himself

Official Website:
http://www.williamgibsonbooks.com/
Author of books:
Neuromancer (1984)
Count Zero (1986)
Mona Lisa Overdrive (1988)
The Difference Engine (1991, with Bruce Sterling)
Virtual Light (1993)
Idoru (1996)
All Tomorrow's Parties (1999)
Pattern Recognition (2003)

Do you know something we don't?
Submit a correction or make a comment about this profile

Copyright ©2019 Soylent Communications