Piers Anthony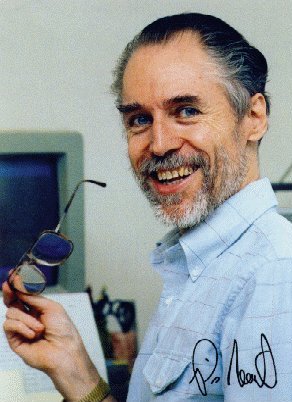 AKA Piers Anthony Dillingham Jacob
Born: 6-Aug-1934
Birthplace: Oxford, England

Gender: Male
Religion: Agnostic
Race or Ethnicity: White
Sexual orientation: Straight
Occupation: Novelist
Nationality: United States
Executive summary: Xanth, Incarnations of Immortality
Military service: US Army (1955-59)
Best known for his Xanth series, author Piers Anthony has had more than twenty-one novels hit the best-seller list. And he is the author of well over 100 books in such varied categories as science fiction and fantasy, horror, historical fiction, and pornography. Individualist and outspoken, he is a strict vegetarian, an agnostic, an environmentalist, and a conscientious objector.
Piers Anthony was born Piers Anthony Dillingham Jacob in Oxford, England on 6 August 1934. While he was still quite small, his parents, both Oxford graduates, became concerned with the plight of children left orphaned and starving by the Spanish Civil War. Leaving their son and daughter with relatives, and a nanny, they packed off to Spain to do relief work. Four-year-old Piers and his sister later joined them. But Spain's paranoia toward foreigners outweighed her gratitude, so Mr. Jacob was eventually thrown in prison, and then temporarily disappeared. Later when a note was smuggled out, attesting to his continued existence and imprisonment, the government agreed to let him out provided he leave the country immediately. Meanwhile, World War II was underway on the continent, so rather than return to England the Jacobs and their children (Piers was now six) moved to America. But here stress continued to foment, and the Jacobs' marriage became strained and finally ended. Young Piers began to have an assortment of stress related symptoms: nervous tics, bedwetting, learning difficulties. All of this hampered his education considerably. As he explains, "It took me three years and five schools to get me through first grade." He eventually caught up, but his physical development was also delayed, causing him to be unusually short into his college years.
He found more stability when he left home for boarding school. In 1952 he entered Goddard College in Montpelier, Vermont, where he majored in Creative Writing. It was during this period that he submitted his first sci-fi story ("Evening") to Galaxy magazine. Although he was turned down, he did not give up, though it would be some years yet before he was successful. Meanwhile his college thesis requirement was a novel; Anthony submitted The Unstilled World. The work never saw commerical publication, but it was later the source of other novels, which did sell.
Anthony graduated in 1956, and that same year married Caroline Ann Marble. Two years later he enlisted in the Army, and made a U.S. citizen. Although he sold his first story while in the Army ("The Demise", If magazine), it would be a long time before he would find financial success as a writer. Yet his inability to find any other kind of work that pleased him (and he tried everything from technical writer to aide in a mental hospital), always seemed to bring him back for another crack at creative writing as a career. In 1962 he made a deal with his wife: one year at home for him to try to make it as a writer while she supported them. Though he worked hard and managed to make some praiseworthy sales, Anthony earned less than two hundred dollars.
Anthony went back to work again, this time as an English teacher. But a few years down the road, he was again itching to abandon the workaday routine in favor of writing. He decided to try a new tactic -- focusing on novel writing rather than short stories. He sold the results, Chthon (1967) for $1500, which still wasn't enough to pay the bills. Fortunately for Anthony, his wife had a job in the tech industry, so they were able to tough it out over the next decade -- when he would at last hit his stride.
He continued in the meantime to produce several more novels, and then in 1977 he struck gold with A Spell For Chameleon, his first Xanth novel. The light-spirited and pun-heavy Xanth books would prove to be a huge success; making Piers Anthony a well-known name and increasing his pay scale dramatically. His books began to hit the bestseller lists with regularity and as a result, Anthony now has the freedom to write whatever amuses him. After some twenty-five years peddling his Xanth series (as well as a great deal of other, more serious, fiction), Anthony began to push the envelope further with works like Pornucopia (1989) and The Magic Fart (2003).
The darkly comedic Pornucopia must surely satisfy every hormonal fantasy fan that longed for the action to go a little bit farther (hence the birth of fan fiction). As its name promises, Pornucopia delivers debauchery in plentiful abundance with rampant nudity, wild sex, anal action, magic smegma, and a removable penis with various attachments. The book's sequel takes things farther still, with even more bodily processes described with riddling abandon. While these particular works are unlikely to win any serious literary awards, they certainly make Anthony that much more memorable as an author. And they seem to indicate he has achieved a different sort of mastery, arriving at a state where the author need no longer worry about pleasing the publisher and is just out to have a good time.
Though his literary awards are few (he earned the 1977 British August Derleth Fantasy Award for A Spell for Chameleon), Anthony holds the distinction of having had more than 21 fantasy novels on the bestseller list, including 3 during one year alone. In addition, translations of his work have appeared in more than 10 different languages. Piers Anthony currently lives on a tree farm in Florida's Inverness forest. His autobiography is entitled Bio of An Ogre. As of 2005 Anthony has published some 28 Xanth novels.
Wife: Carol Ann Marble (m. 1956)
Daughter: Penny
Daughter: Cheryl

University: BA Writing, Goddard College, VT (1956)

Naturalized US Citizen 1958
Tonsillectomy
Risk Factors: Vegetarian, Diabetes

Official Website:
http://www.hipiers.com/
Author of books:
Chthon (1967, novel)
Sos the Rope (1968, novel)
Omnivore (1968, novel)
The Ring (1968, :(novel, with Robert E. Margroff)
Macroscope (1969, novel)
Orn (1971, novel)
Var the Stick (1972, novel)
Kiai! (1974, novel, with Robert Fuentes)
Neq the Sword (1975, novel)
Phthor (1975, novel)
Ox (1976, novel)
A Spell For Chameleon (1977, novel)
Chaining the Lady (1978, novel)
Kirlian Quest (1978, novel)
The Source of Magic (1979, novel)
Castle Roogna (1979, novel)
God of Tarot (1979, novel)
Pretender (1979, novel, with Frances Hall)
Split Infinity (1980, novel)
Thousandstar (1980, novel)
Vision of Tarot (1980, novel)
Faith of Tarot (1980, novel)
Ogre Ogre (1982, novel)
Nightmare (1983, novel)
Dragon on a Pedestal (1983, novel)
On a Pale Horse (1983, novel)
Bearing an Hourglass (1984, novel)
With a Tangled Skein (1985, novel)
Wielding a Red Sword (1986, novel)
Being a Green Mother (1987, novel)
Dragon's Gold (1987, novel, with Robert E. Margroff)
For Love of Evil (1988, novel)
Total Recall (1989, novel, novelization of film, Total Recall)
Pornucopia (1989, novel)
And Eternity (1990, novel)
Isle of View (1990, novel)
Question Quest (1991, novel)
Virtual Mode (1991, novel)
Fractal Mode (1991, novel)
Spider Legs (1998, novel; with Clifford A. Pickover)
Muse of Art (1999, novel)
Dooon Mode (2001, novel)
Jason Striker Martial Arts (2001, novel, with Robert Fuentes)
The Magic Fart (2003, novel)
Key to Havoc (2003, novel)
Key to Chroma (2003, novel)
Cube Route (2003, novel)
Currant Events (2004, novel)
Key to Destiny (2004, novel)

Do you know something we don't?
Submit a correction or make a comment about this profile

Copyright ©2019 Soylent Communications