Danny Bonaduce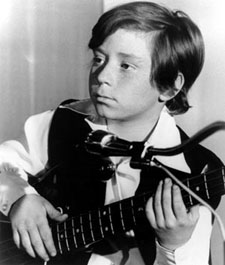 AKA Dante Daniel Bonaduce
Born: 13-Aug-1959
Birthplace: Broomall, PA

Gender: Male
Race or Ethnicity: White
Sexual orientation: Straight
Occupation: Actor, Radio Personality
Nationality: United States
Executive summary: The Partridge Family
Danny Bonaduce joined the Screen Actors Guild at four. His earliest roles were in TV commercials and ancient sitcoms like Mayberry RFD and Bewitched. His father, Joe Bonaduce, had a long career as a TV writer, working on shows from Bonanza to The Waltons, The Ghost & Mrs. Muir to Nanny and the Professor. According to Danny Bonaduce, his father had nothing but animosity for him from the day he was born, but the situation grew worse with Danny's pre-pubescent success on The Partridge Family.
When His TV mom Shirley Jones noticed that Bonaduce was coming in bruised on Monday mornings, she surmised that he was being abused, and decided to do something about it. At Jones' suggestion, she and the show's other adult cast members began inviting him to their homes for the weekend. "It's funny," says Bonaduce now. "Looking back, I just thought, 'what a charming kid I must have been for everyone to be fighting to take me home on the weekend.' But in watching those VH-1 and E! specials, apparently they were tired of waiting for me to have my injuries covered up by make-up, and they thought, 'OK, we have to do something to protect this kid.'"
When The Partridge Family was cancelled, Bonaduce briefly worked as a stable boy for Kenny Rogers, and grew up to become a strange young man who developed a weakness for cocaine. In 1985, he was arrested with 50 grams of cocaine in his car. In 1990, he was arrested at a Daytona Beach crack house. He went through rehab in 1991, 2001, and 2005.
"I was living in the Hollywood Hills motel and somehow my Mom found out where I was. I had a really bad drug habit at this point. I was so addicted to smoking crack that I could no longer wait for the pipe to cool down. So I had giant burns on my fingers and lips because I would pick up a red-hot pipe and stick it in my mouth. And I would literally hear the searing of flesh burning. It was awful. My mouth looked like a pumpkin at Halloween. So my Mom knocks on the door, and I know what I look like, and I'm so bummed that she's there. It was an uncomfortable visit because we're both trying to act like nothing is wrong. So she finally left, and I went back to my drugs and there's this knock on the door and it's her again. And she said 'I just wanted you to know that I love you.' And I made some comment and went to shut the door and she stuck her foot in the door. I said, 'What?!' And she said, 'No, it's important that you know that I love you, because you're going to die really soon. And as your mother, I want to know that the last thing I told you before you died, was I Love You.' So she leaves and I went back to get my drugs that I hid behind the medicine chest. And I looked in the mirror and there I am, 110-115 pounds, all these burns all over me, my hair is ratty, and I thought, 'Oh my God, she's right. I'm dying.' So I moved in with her. And now I'm fat and sassy!"
In 1991, he was arrested for beating up Darius Barney, a transvestite hooker. "When I picked him up," Bonaduce later explained, "I thought he was a girl. I picked him up, he got in my car. As soon as he got in and the dome light hit him, it was obvious. He wasn't a good transvestite. If he was a good transvestite, I might never had known. I was wasted. He gets in the car and I said, 'Oh, sorry, wrong car.' And he says, 'Well you took me off my corner, give me $40.00.' I said 'Dude, wrong car, hop out!' This went on for 6 or 7 minutes and he still wouldn't get out. So I get out of the car, opened his door and pulled him out of the car. But when I did, I see he's this huge guy, about 220 pounds. I weighed 150 pounds! I attacked him first, not because I wanted to, I just thought I was going to have to and I'm too small to take the punishment from a 220-pound man. If he had hit first, I would have gone down and stayed down. So I attacked him and it turned into a fight".

Bonaduce's legal punishment was probation, but his professional punishment was that KKFR fired him. Bonaduce quickly moved on to stations in progressively bigger markets, and is now working out of Los Angeles, where his radio show is syndicated to several other stations around the country.

In 1994, in his first celebrity boxing bout, Bonaduce eeked out a split decision over a muscled-up Donny Osmond. In 2002, he beat the stuffing out of a pudgy Barry Williams in a match broadcast on Fox TV.

Father: Joe Bonaduce (TV writer, d. 3-Aug-2004)
Mother: Betty Bonaduce (then a writer, now a night club singer)
Sister: Cecelia Bonaduce (TV writer)
Wife: Setsuko Hattori (real estate agent, m. 1985, div. 1988)
Wife: Gretchen R. Hillmer (singer, The Mudflaps, m. 1990, sep. 9-Apr-2007)
Daughter: Countess Isabella Michaela Bonaduce (child actress, b. 23-Nov-1994)
Son: Count Dante Jean Michel Bonaduce (b. 14-Feb-2001)
Wife: Amy Railsback (teacher, b. 8-Jul-1982, m. 22-Nov-2010)


High School: California Prep High School


Narcotics Anonymous
unknown detox facility
Promises
Drug Possession: Cocaine 4 grams West Hollywood, CA (1985), charge dismissed
Drug Possession: Cocaine Daytona, FL (9-Mar-1990)
Assault punched reported transvestite streetwalker Darius Barney in Phoenix, AZ (31-Mar-1991)
Battery punched reported transvestite streetwalker Darius Barney in Phoenix, AZ (31-Mar-1991)
Suicide Attempt
Psychiatric Observation
Visited Disneyland Pirates of the Caribbean: The Curse of the Black Pearl premiere (28-Jun-2003)
Italian Ancestry
Risk Factors: Smoking, Alcoholism, Cocaine, Performance-Enhancing Drugs


TELEVISION
The Partridge Family Danny Partridge (1970-74)


FILMOGRAPHY AS ACTOR
The Jerk Theory (2009)
Dr. Dolittle 3 (11-Apr-2006) [VOICE]
Lil' Pimp (11-Jan-2005) [VOICE]
Dickie Roberts: Former Child Star (3-Sep-2003) · Himself
Come On, Get Happy: The Partridge Family Story (13-Nov-1999) · Narrator
H.O.T.S. (20-Jul-1979)
Born Again (Oct-1978)
Corvette Summer (2-Jun-1978) · Kootz
Baker's Hawk (1976)
Murder on Flight 502 (21-Nov-1975)
Charlotte's Web (22-Feb-1973) [VOICE]


Author of books:
Random Acts of Badness: My Story (2001)





Requires Flash 7+ and Javascript.



Do you know something we don't?
Submit a correction or make a comment about this profile






Copyright ©2019 Soylent Communications