Frank Herbert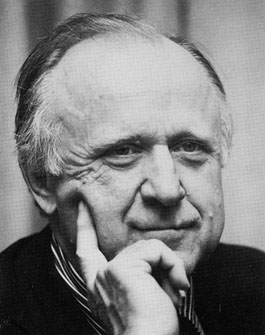 AKA Frank Patrick Herbert
Born: 8-Oct-1920
Birthplace: Tacoma, WA
Died: 11-Feb-1986
Location of death: Madison, WI
Cause of death: Cancer - Pancreatic

Gender: Male
Race or Ethnicity: White
Sexual orientation: Straight
Occupation: Author
Nationality: United States
Executive summary: Dune
Military service: US Navy
Science fiction author Frank Herbert is famed for his seminal science fiction masterpiece Dune as well as for the sequels and films which it spawned. Dune is frequently acknowledged as one of the great works of science fiction, comparable only to J. R. R. Tolkien's fantasy masterpiece The Lord of the Rings. Other notable works by Herbert include Whipping Star (1970), The Dosadi Experiment (1977), as well as his classic Destination Void (1966). In concert with Bill Ransom, he created three immensely popular follow-ups to Destination Void: The Jesus Incident, The Lazarus Effect, and Ascension Factor. Herbert is often credited with introducing ecology into science fiction, in the sense of complex and believable systems of flora, fauna, and climate, but his books are also noted for their interweaving of politics, religion, and psychology.
Herbert was born in 1920 in Tacoma, Washington, and grew up in the Olympic and Kitsap peninsulas, rural settings that taught him the value of self-reliance and ingenuity. His father, Frank Herbert, Sr., was a bus driver and later an officer of the state highway patrol. As a boy Herbert had a legendary curiosity that often led him into misadventures and fed into his love for books. Herbert developed an early interest in writing. On his eighth birthday he is said to have stood on the family breakfast table and announced, "I wanna be an author." In high school he worked on the school newspaper under the tutelage of a local reporter who taught all the young people under his command the basics of journalism. Soon Herbert was taking summer jobs filling in for local news reporters.
In 1939 he moved to Southern California where a lie about his age got him a job on the Glendale Star. He met and, in 1940, married teenager Flora Parkinson, but the marriage soon foundered, ending formally in 1945. The U.S. had meanwhile become embroiled in World War II and Herbert joined the Navy, serving until 1944. He would later credit the military with teaching him a great deal about bureaucracy and bureaucratic incompetence.
With his Navy service and his marriage both finished, Herbert returned to the Pacific Northwest where he resumed work as a journalist. He also began publishing what he later called "hack" fiction -- short stories sold to various magazines under an assortment of pen names. The first story to bear his real name was The Survival of the Cunning, published in Esquire magazine in March of 1945. With its indigenous Inuit hero prevailing over a wily professional soldier with technologically more advanced weapons, it would foreshadow his later Dune which pitted desert Fremen against Imperial Sardaukar. Meanwhile Herbert had also enrolled in the University of Washington in Seattle. He dropped out after a year, but it was there that, in a short story class, that he met fellow student Beverly Stuart, who, like Herbert, was already a published author. Their relationship quickly deepened and the two were married in June of 1946.
Herbert continued his journalism career, also juggling his fiction writing, family life, and a variety of other interests. He became briefly involved in politics, working for a time as a speechwriter in Washington, D.C., and he even applied, with near success, to the position of governor of American Samoa. After each of the newspapers he had worked for in Washington state folded, he moved to California to work for the Santa Rosa Press-Democrat. In Santa Rosa he became friends with psychologists Ralph and Irene Slattery, whose influence led him to try experiment with being a lay practitioner of psychology. Ultimately he left the Press-Democrat for the San Francisco Examiner, where he would remain for some ten years, working also as a writer and editor for their California Living magazine.
Herbert's arrival as a novelist, and as a major voice in science fiction, came in 1956 with the publication of Dragon in the Sea (also titled Under Pressure). The book showcased his interest in human psychology, especially as applied to power and leadership, and it also predicted, by two decades, the political ramifications of oil dependency and production. Three years later Herbert was researching an article in Florence, Oregon, on the United States Department of Agriculture's efforts to subdue shifting sand dunes that were obliterating towns, coastal agricultural land, and other ecological biomes. Always careful and methodical in his research, Herbert soon amassed far more information that he could use for his magazine article.
He wrote the article, "They Stopped the Moving Sands", but California Living never published it. Nonetheless he hung on to all his notes and ecological data, and eventually he began to play with the idea of an entire planet of sand dunes, postulating a scientist who had to deal with a problem many times the scale of the situation in Florence. The end result, six years later, was a magnum opus that combined elements of religion, philosophy, politics, environmentalism, drug addiction, and evolutionary extrapolation -- all into a groundbreaking work that far surpassed anything produced in science fiction before. Dune was acknowledged as being at once a work of great literature, richly detailed, convincingly unfolded, and a work of fascinating ideas and predictions. Most significant within the latter category: his representation of the politics of trade cartels (a stunning parallel of OPEC's later significance in the late 70s), his allegorical message on the consequences of environmental shortsightedness, and his examination of the psychology of messianic movements.
Yet although Dune was an unqualified critical success, earning both the Nebula and Hugo Awards, it would be several more years before Herbert could devote himself full-time to writing. He continued on in journalism, serving as education writer for the Seattle Post-Intelligencer (1969-72), and he lectured in general and interdisciplinary studies at the University of Washington (1970-72). He also traveled to Vietnam and Pakistan in 1972 as a social and ecological consultant.
Meanwhile his body of work, as a novelist, continued to grow, with such works as The Green Brain (1966), The Eyes of Heisenberg (1966), Destination Void (1966), The Santaroga Barrier (1968), and The Heaven Makers (1968); all were of varying quality, but none came close to his achievement with Dune. In 1969 he returned to the universe of the Dune saga with Dune Messiah. Editor John Campbell initially rejected the book, saying that it did what no book must do -- tearing down and casting aside the beloved hero from the first book. Yet Herbert felt such an act was necessary, to illustrate the principle that people are generally more eager to follow a strong leader than to think for themselves, and, since leaders are generally not omniscient, the choices they make may lead us to destruction.
In the years that followed the publication of Dune Messiah Herbert's reputation grew as the awareness of the Dune saga slowly spread and as his list of publications grew lengthier, especially with still more Dune novels. His influence was felt by his peers and even by other artists working within the sci-fi genre. Filmmaker George Lucas credited Dune as a major influence on Star Wars -- the desert world of Tatooine, the dynastic houses, and the intergalactic power struggles, all were inspired by Herbert's Dune.
In 1984, Herbert's fame soared as Dune came to the big screen under the direction of David Lynch. The movie was panned by critics in the U.S. but embraced abroad. More importantly it introduced the series to vast numbers of people, drastically increasing sales and providing a big boost to his newly released Heretics of Dune. That same year, Herbert's wife and editor Beverly died from cancer. Still it was not an entirely unexpected event and he rallied around later in the year to remarry, to Theresa Shackelford.
In 1986 Herbert published the sixth novel in the Dune saga, Chapterhouse: Dune, and promised to deliver book seven, but in February of that year he passed away from cancer. Notes which would have allowed for the posthumous completion of "Dune 7" were thought to be lost, but years later, Herbert's son Brian discovered a trove of Herbert's papers, which later formed the basis for a series of prequels set in the Dune universe. Although criticized as non-canonical or not entirely up to the standards set by Frank Herbert himself, the novels have proved popular with fans, who have delighted at churning out endless scholium on the Duneiverse. Fourteen years after his death, a second film adaptation of Dune was released, and sales of Herbert's books skyrocketed again, introducing his work to a new generation of readers.
Father: Frank Herbert, Sr.
Wife: Flora Parkinson (m. 1941 div. 1945)
Wife: Beverly Stuart (m. 1946, d. 7-Feb-1984)
Daughter: Penny
Son: Brian Herbert (b. 1947)
Son: Bruce Herbert (b. 1951)
Wife: Theresa Shackelford (m. 1984)

High School: Salem High School, Salem, OR (1939)
University: University of Washington (1946-47)

Author of books:
Dragon In the Sea (1956, novel)
Dune (1965, novel)
The Green Brain (1966, novel)
The Eyes of Heisenberg (1966, novel)
Destination Void (1966, novel)
The Santaroga Barrier (1968, novel)
The Heaven Makers (1968, novel)
Dune Messiah (1969, novel)
Whipping Star (1970, novel)
The God Makers (1972, novel)
Soul Catcher (1972, novel)
Hellstrom's Hive (1973, novel)
Children of Dune (1976, novel)
The Dosadi Experiment (1977, novel)
The Jesus Incident (1979, novel, with Bill Ransom)
God-Emperor of Dune (1981, novel)
The White Plague (1982, novel)
The Lazarus Effect (1983, novel, with Bill Ransom)
The Heretics of Dune (1984, novel)
Chapter House:Dune (1985, novel)
The Ascension Factor (1988, novel, with Bill Ransom)

Do you know something we don't?
Submit a correction or make a comment about this profile

Copyright ©2019 Soylent Communications