Donald James Leslie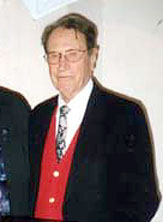 Born: 13-Apr-1911
Birthplace: Danville, IL
Died: 2-Sep-2004
Location of death: Altadena, CA
Cause of death: unspecified
Remains: Cremated

Gender: Male
Race or Ethnicity: White
Sexual orientation: Straight
Occupation: Inventor
Nationality: United States
Executive summary: Invented the Leslie Speaker
Donald Leslie was very impressed with the sound of a Hammond organ in a concert hall but less taken with it in a confined space -- the sound had no resonance, and the pure electronic oscillators sounded "dull, shrill, and still" to Leslie's ear. To remedy this problem, in 1937 he invented a special speaker which rotates inside its cabinet, producing a Doppler effect which modulates the sound, to a certain extent imitating the resonance of the organ in a large, hall space by projecting it in 360 degrees. This device was eventually one of over 50 patents he owned.
When Laurens Hammond refused to buy his invention, he started a company, Electro Music, to produce the speakers. Wanting to keep control of their organ's sound, Hammond went to great lengths to defeat Leslie's invention: changing connectors on newer models, and forbidding Hammond organ merchants to sell Leslie speakers. In 1965 his company was acquired by CBS; Leslie remained as a consultant long enough to see Hammond's death in 1973, at which point Hammond's company warmed to the invention, officially honoring it in 1978. Leslie retired in 1980.
The Leslie speaker was used to great effect by The Beatles on the song "Tomorrow Never Knows", Led Zeppelin on "You Shook Me", and many others.
Father: Benjamin Franklin Leslie
Mother: Lucy Keller Leslie
Sister: Dorothy (d.)
Sister: Helen (d.)
Sister: Eva (d.)
Sister: Mary Elizabeth Grime
Brother: Robert Joseph (d.)
Wife: Carolyn (m. for 48 years)
Daughter: Jeanine
Son: Scott
Son: James

High School: Glendale Union High School (1929)

Electro Music Co. (acquired by CBS in 1965)

Do you know something we don't?
Submit a correction or make a comment about this profile

Copyright ©2019 Soylent Communications