Lance Armstrong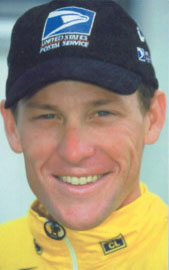 Born: 18-Sep-1971
Birthplace: Plano, TX

Gender: Male
Religion: Atheist
Race or Ethnicity: White
Sexual orientation: Straight
Occupation: Cyclist
Nationality: United States
Executive summary: 7-time Tour De France winner, disqualified
Lance Armstrong's mother was 17 when she gave birth. His father abandoned them when he was two, and Armstrong has never seen him since. When reporters ask, he refers to his natural father as "the DNA donor". Lance started as a triathlete, the sport where competitors swim, cycle and run. He was good in the water and fast on his feet, but cycling was Armstrong's strength, and he soon decided to concentrate on cycling competitions. He won the US amateur cycling championship in 1991, and turned professional the following year.
In 1996 Lance Armstrong was diagnosed with testicular cancer, which had already spread to his brain and lungs, and doctors told him he had a 50/50 chance of surviving. Armstrong underwent surgery, received high-dose chemotherapy, and eventually recovered. His doctors then told him the 50/50 line had been a little white lie -- his actual odds of survival had been much worse, but they did not want to get his spirits down. In 1997, Armstrong began cycling again, and established the Lance Armstrong Foundation. The Foundation provides education and advocacy for cancer patients, and funds cancer research.
In 1999, he qualified for cycling's most prestigious race, the Tour de France -- a huge one-lap race around all of France, broken into 20 stages plus a short prologue. The race's flat stages eventually give way to steep mountains, which separate the winner from the also-rans. The total distance is more than 2,000 miles, and it is incredibly grueling. Armstrong won the Tour de France seven times consecutively, from 1999 through 2005, before having his victories stripped away by the International Cycling Union in 2012.
In August 2005, Jean-Marie Leblanc, director of the Tour de France, said that Armstrong owes the world an explanation after French newspaper L'Equipe reported that erythropoietin ("EPO"), a performance-enhancing drug, had been found in Armstrong's stored blood sample from 1999. But Armstrong emphatically denied taking performance-enhancing drugs,[1], even as ex-teammates spoke of "secret code words, clandestine phone lines and furtive conversations" regarding human growth hormone.
On 24 August 2012, US Anti-Doping Agency determined that Armstrong had used banned substances and erased his cycling titles, and further banned him for life from the sport. In a 2013 interview with Oprah Winfrey, Armstrong finally admitted using performance-enhancing drugs during his years of cycling victories.
---
[1] See "Lance Denies 'Credible' Report He Used Steroids", Associated Press, 23 August 2005, and Dale Robertson, "Lance Responds Angrily to Tour Director's Reaction", Houston Chronicle, 25 August 2005, a physician comments on the reliability of testing such old samples: "We are extremely surprised that urine samples could have been tested in 2004 and revealed the presence of EPO, Dr. Christiane Ayotte of the Institut National de la Recherché Scientifique told VeloNews. In its natural state or the synthesized version it's not stable in urine, even if stored at minus 20 degrees."

Father: Edward Gunderson
Mother: Linda Armstrong Kelly (nee Mooneyham)
Father: Terry Armstrong (stepfather)
Wife: Kristin Richard (m. 8-May-1998, div. 2003, one son, two daughters)
Son: Luke David Armstrong (12-Oct-1999)
Daughter: Isabelle Armstrong (twin, b. 2001)
Daughter: Grace Armstrong (twin, b. 2001)
Girlfriend: Sheryl Crow (singer/songwriter, together 2004)
Girlfriend: Ashley Olsen (Olsen twin, together 2007)
Girlfriend: Anna Hansen (together since 2008, one son, one daughter)
Son: Max Armstrong (b. 7-Jun-2009)
Daughter: Olivia Marie Armstrong (b. 18-Oct-2010)


High School: Plano East Senior High, Plano, TX
High School: Dallas, TX (1989)


Tour de France Winner 1999 (stripped)
Tour de France Winner 2000 (stripped)
Tour de France Winner 2001 (stripped)
Tour de France Winner 2002 (stripped)
Tour de France Winner 2003 (stripped)
Tour de France Winner 2004 (stripped)
Tour de France Winner 2005 (stripped)
Sports Illustrated Sportsman of the Year 2002
Associated Press Athlete of the Year (male) 2002
Associated Press Athlete of the Year (male) 2003
Associated Press Athlete of the Year (male) 2004
Associated Press Athlete of the Year (male) 2005
Endorsement of Comcast 2003
Endorsement of Nike
Brain Surgery Indiana University Hospital, Indianapolis, IN (Oct-1996)
New York City Marathon 2:59:36
Hit and Run Aspen, CO (charged, 3-Feb-2015)
Making False Statements to police Aspen, CO (charged, 3-Feb-2015)
Asteroid Namesake 12373 Lancearmstrong
Risk Factors: Performance-Enhancing Drugs, Testicular Cancer, Lung Cancer, Brain Cancer


FILMOGRAPHY AS ACTOR
The Armstrong Lie (2-Sep-2013) · Himself
You, Me and Dupree (13-Jul-2006) · Himself
Dodgeball: A True Underdog Story (18-Jun-2004) · Himself


Official Website:
http://www.lancearmstrong.com/

Author of books:
It's Not About the Bike: My Journey Back to Life (2000, memoir, with Sally Jenkins)
Every Second Counts (2004)





Requires Flash 7+ and Javascript.



Do you know something we don't?
Submit a correction or make a comment about this profile






Copyright ©2019 Soylent Communications