Thomas Kinkade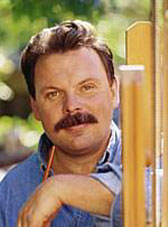 Born: 19-Jan-1958
Birthplace: Sacramento, CA
Died: 6-Apr-2012
Location of death: Los Gatos, CA
Cause of death: Accident - Overdose

Gender: Male
Religion: Born-Again Christian
Race or Ethnicity: White
Sexual orientation: Straight
Occupation: Painter
Nationality: United States
Executive summary: Self-proclaimed "Painter of Light"
Got stinking rich off his mass-marketed art replicas.
Stole Hirschfeld's gimmick and began hiding the initials of his wife and daughters' names throughout his paintings.
An article in the Los Angeles Times on 5 March 2006 reported on allegations of Kinkade's drunken antics, such as pissing on a statue of Winnie the Pooh at Disneyland in the late 1990s, as well as groping a fan in August 2002 during a print-signing event in South Bend, Indiana:
"This one's for you, Walt," the artist quipped late one night as he urinated on a Winnie the Pooh figure, said Terry Sheppard, a former vice president for Kinkade's company...

"He approached [her] and he palmed her breasts and he said, 'These are great tits!'" Ernie Dodson, another Cote employee, told The Times, adding that he drank no alcohol that night. "I was just standing in the corner in amazement. It was like, holy cow!"...

Kinkade testified in a deposition that excessive drinking and "some normal rowdy talk" had taken place, but when confronted with the groping allegation, he denied touching the woman.

"But you've got to remember," he said, "I'm the idol to these women who are there. They sell my work every day, you know. They're enamored with any attention I would give them. I don't know what kind of flirting they were trying to do with me. I don't recall what was going on that night." [1]
---
[1] Kim Christensen, Dark Portrait of a "Painter of Light", Los Angeles Times, 5 March 2006.

Father: William Thomas Kinkade II
Mother: Maryanne
Sister: Laura (half sister)
Sister: Roberta (half sister)
Sister: Kate
Brother: Patrick
Wife: Nanette Kinkade (m. 2-May-1982, sep. 2010)
Daughter: Merritt Christian Kinkade (b. 1988)
Daughter: Chandler Christian Kinkade (b. 1991)
Daughter: Winsor Christian Kinkade (b. 1995)
Daughter: Everett Christian Kinkade (b. 18-Jun-1997)
Girlfriend: Amy Pinto-Walsh (b. circa 1964, cohabited 2010 until his death)


High School: Placerville, CA (1976)
University: University of California at Berkeley
University: Art Center College of Design, Pasadena, CA


The Sacramento Bee paperboy
Bakshi Studios Background painter, Fire and Ice (1982)
Make a Wish Foundation
Salvation Army
World Vision International
Driving While Intoxicated Carmel, CA (13-Jun-2010) no contest; sentenced to 10 days in jail
Drug Overdose alcohol and Valium (6-Apr-2012)
Irish Ancestry
Scottish Ancestry
Risk Factors: Alcoholism


FILMOGRAPHY AS ACTOR
Christmas Cottage (11-Nov-2008)


Official Website:
http://www.thomaskinkade.com/

Author of books:
The Artist's Guide to Sketching (1982, art instruction, with James Gurney)





Requires Flash 7+ and Javascript.



Do you know something we don't?
Submit a correction or make a comment about this profile






Copyright ©2019 Soylent Communications