Alison Lohman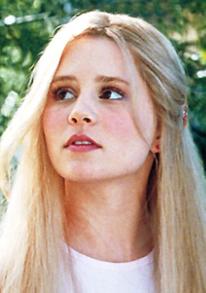 AKA Alison Marion Lohman
Born: 18-Sep-1979
Birthplace: Palm Springs, CA

Gender: Female
Race or Ethnicity: White
Occupation: Actor
Nationality: United States
Executive summary: Matchstick Men
Lohman's first significant role came at the age of nine, when she played the youngest von Trapp daughter in a College of the Desert production of The Sound of Music. At 12, she starred in stage productions of Annie, and through her teens she appeared in a dozen more plays. On TV, she has been in three series, all very quickly cancelled. She was a semi-regular on Safe Harbor, a full-fledged cast member on Tucker, and she was the only memorable thing about Pasadena.
In her first film, 1988's Kraa! The Sea Monster, she played a psychic soldier in spandex. With her baby-faced looks, she played teenagers well into her 20s, in White Oleander and Matchstick Men. In Tim Burton's Big Fish she played the young Jessica Lange. She shaved her head to play a chemotherapy patient in Dragonfly, but her scenes were cut from the film.
In 2005, she voiced the title character on a reissue of the classic Japanese cartoon Nausicaa, saying she took the role because she wanted to endorse the film's strong message of environmental protection.
Father: Gary Lohman (architect)
Mother: Diane Lohman (baker)

FILMOGRAPHY AS ACTOR
The Vatican Tapes (23-Jul-2015)
Gamer (3-Sep-2009) · Trace
Drag Me to Hell (15-Mar-2009)
Beowulf (14-Nov-2007)
Things We Lost in the Fire (26-Sep-2007)
Flicka (20-Oct-2006)
Delirious (26-Sep-2006)
Where the Truth Lies (13-May-2005)
The Big White (13-May-2005) · Tiffany
Big Fish (10-Dec-2003) · Sandra Bloom
Matchstick Men (2-Sep-2003)
White Oleander (6-Sep-2002)
Menace (10-Mar-2002)
Sex and a Girl (9-Mar-2001) · Camelia
Delivering Milo (4-Jan-2001)
The Million Dollar Kid (18-Jan-2000)
Sharing the Secret (2000)
The Auteur Theory (3-Nov-1999)
The Thirteenth Floor (16-Apr-1999) · Honey Bear Girl

Do you know something we don't?
Submit a correction or make a comment about this profile

Copyright ©2019 Soylent Communications