Jonathan Swift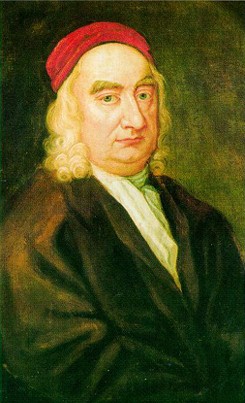 Born: 30-Nov-1667
Birthplace: Dublin, Ireland
Died: 19-Oct-1745
Location of death: Dublin, Ireland
Cause of death: Stroke
Remains: Buried, St. Patrick's Cathedral, Dublin, Ireland

Gender: Male
Race or Ethnicity: White
Sexual orientation: Straight
Occupation: Author
Nationality: Ireland
Executive summary: Gulliver's Travels
The greatest of English satirists, born in Dublin on November 30, 1667. He was of Yorkshire origin. His father had been attracted to Ireland by the prospect of political preferment, but died before Jonathan's birth. When he was six years old, his uncle Godwin sent him to Kilkenny School, the Eton of Ireland, where William Congreve and George Berkeley were his contemporaries. At 15 he was sent to Trinity College, Dublin. At Trinity the lad read much history and poetry, but was disdainful of his courses and of regulations, and received his degree only by special grace. The disturbances of the Revolution of 1688 drove him to England, and in 1689 he obtained employment as secretary to Sir William Temple at Moor Park in Surrey. Swift found the position trying, though he calls Temple "a man of sense and virtue." In 1694 he quarreled with his employer and returned to Ireland to seek ordination, obtaining the small living of Kilroot, near Belfast. But he wearied of rural isolation and in 1696 went back to Moor Park. Perhaps the impelling motive was the presence there of Esther Johnson, subsequently immortalized as "Stella", the daughter of a merchant who died, and whose widow became the companion of Temple's sister, Lady Gifford, who lived with Temple at Moor Park. Swift had a hand in her education; she was now, at 15, growing into a very beautiful woman. Swift remained at Moor Park until Temple's death in 1699. His sojourn, though some incidents of it may have hurt his pride, was of inestimable value to him. Besides the daily association with a statesman and a man of culture, he had time for an enormous amount of reading and for practice in writing. His only relics, however, of this period are some Pindaric odes, a species of composition for which he was little qualified, and which John Dryden characterized frankly with the judgment, "Cousin Swift, you will never be a poet."
His first prose composition betrayed his resentment. This was The Battle of the Books (written 1697, but not published until 1704), a burlesque of the controversy then raging over the relative merits of the ancients and the moderns, in which Swift champions the ancients, and, with the most potent and mordant satire, attacks modern pedantry in particular and modern shams in general. In 1699 he returned once more to Ireland, as secretary and chaplain to Lord Berkeley, but lost the secretaryship and did not get the expected deanery of Derry. He was, however, appointed to the rectory of Agher, with the vicarages of Laracor and Rathbeggan. Swift realized that he was a poor preacher, calling his sermons pamphlets. He soon began his career as a political pamphleteer, which was to be so epoch making, with A Discourse on the Dissensions in Athens and Rome (1701), really a defense of Somers and the other Whig lords threatened with impeachment. In 1704 he published the Tale of a Tub, the most amusing of his satirical works, the most strikingly original, and the one in which the full compass of his powers was most perfectly displayed. With matchless irony he ridiculed many forms of pretentious pedantry, mainly in literature and religion. The book led to many doubts of his orthodoxy and injured his chances of ecclesiastical preferment.
Though nominally a Whig, Swift differed from his party on important questions. He hated its war policy and its alliance with dissent. These differences, along with the failure to gain anything from the connection, made it easy for him to break from his former allies. In 1710 the Tories came into power with Harley and St. John at their head and Swift was easily won over. He turned upon the Whigs with a series of brilliant squibs, assumed the editorship of the Examiner, the Tory organ, November 2, 1710 to June 14, 1711, and produced several independent pamphlets, in all of which he ably defended the policy of the Tories. Of these particular papers the most powerful was the Conduct of the Allies (November, 1711), in which the position was maintained that the Whigs had prolonged the Continental War out of self-interest. Swift certainly led the way to the dismissal of Marlborough and the Peace of Utrecht (1713). For three years Swift was among the most conspicuous men in politics and society. His advent marks a new era in English politics, with the accession of public opinion, fostered by him more than by any other man, to supreme power.
The Journal to Stella begins in 1710. Swift had invited her in 1701 to Ireland, with her friend Mrs. Dingley. They lived in his house at Laracor and Dublin when he was absent, and in lodgings when he was present. The diary letters which he sent to Stella and Mrs. Dingley, ending with April, 1713, compose one of the most interesting documents that ever threw light on the history of a man of genius. In London he lodged close to Mrs. Vanhomrigh, whose daughter Hester (called Vanessa by him) fell in love with Swift, and hugged the chains to which Stella merely submitted. In 1714 the Tory ministry fell. Queen Anne died, and Swift's power was gone. In spite of the Queen's distrust of him, he had been appointed to the deanery of St. Patrick's in Dublin, in 1713, and to there he now retired, no doubt hoping that the move would settle his private complications for him. But, as luck would have it, Vanessa's mother died and she followed him to Celbridge, in the near neighborhood. It is possible that in 1716 Swift may have married Stella. Leslie Stephen, after a careful examination of the evidence, allows it weight, but declares it inconclusive. He undoubtedly loved her and shows a tenderness never displayed in any other case. From 1717 to 1720 he and Vanessa remained apart, but in the latter year he began to pay her regular visits. In 1723 Vanessa took the desperate step of writing to Stella. Swift rode down to Marley Abbey, where she was staying, with a terrible countenance, petrified her with a frown, and departed, flinging on the table a packet containing her letter to Stella. Vanessa died within a few weeks, leaving behind her the poem he had written for her, Cadenus and Vanessa, and their correspondence.
Five years afterward Stella followed Vanessa, and the wretched lover sat down the same night to record her virtues in language of unsurpassed simplicity. A lock of her hair is preserved with the inscription in Swift's handwriting, most affecting in its apparent cynicism, "Only a woman's hair." Between the death of Vanessa and that of Stella, as though withheld by an evil fate until he could no longer enjoy it, came the greatest political and literary triumph of Swift's life. He had fled to Dublin a broken man, politically extinct; a few years raised him to the summit of popularity, though power was denied him. In 1724 he took Ireland by storm with the Drapier Letters, a series of wonderfully effective pamphlets, directed against the patent granted to one Wood, a hanger-on of the court, for coining copper halfpence in Ireland.
The noise of this success had hardly died away when Swift acquired more lasting glory by the publication of Gulliver's Travels. Few books have added so much to the innocent mirth of mankind as the first two parts of Gulliver. With the omission of certain passages, it is one of the most delightful children's books ever written. Yet it has been equally valued, as Swift meant it to be, for an unrivaled satire on mankind. He seems to have solaced himself with its composition in the early years of what he called his exile; and if the later books show his most savage temper, it is well to remember that they were written during the years when he was attacking political corruption and when his private happiness was being destroyed. The completed manuscript was published anonymously in the winter of 1726, meeting with instantaneous success.
His last years, however, were clouded by constantly increasing torture from disease. He governed his cathedral with great strictness and conscientiousness, and for years after Stella's death held a sort of miniature court at the deanery. But death was becoming more and more real and welcome to him. His regular farewell to a friend in these latter years was, "Good night—I hope I shall never see you again." A period of absolute mental decay closed with his death on October 19, 1745. He was buried in his cathedral in the same coffin with Stella, with the epitaph written by himself, "Here lies the body of Jonathan Swift, D.D., dean of this cathedral, where burning indignation can no longer tear at his heart. Go, traveler, and imitate if you can a man who was an undaunted champion of liberty."
Swift's character, as a whole, forms a fascinating psychological study. From some passages of his life he would appear a heartless egotist; and yet he was capable of the sincerest friendship, and could never dispense with human sympathy. He is the most tragic figure in the literature of the eighteenth century. "To think of him," says Thackeray, "is like thinking of the ruins of a great empire." Nothing finer or truer could be said.
Father: Jonathan Swift (d 1667. before Jonathan's birth)
Mother: Abigaile Erick Swift
Wife: Stella Johnson (m. 1716, though a marriage is in dispute, d. 1728)

High School: Kilkenny Grammar School (1674-82)
University: Trinity College Dublin (1686)
University: MA, Oxford University (1692)

Risk Factors: Ménière's Disease

Is the subject of books:
Jonathan Swift, 1954, BY: John Middleton Murry
Swift: The Man, His Works, and the Age, 1962–83, BY: Irvin Ehrenpreis, DETAILS: (3 vols.)
Jonathan Swift: Preacher and Jester, 1978, BY: Peter Steele

Author of books:
A Tale of a Tub (1704)
Gulliver's Travels (1726, novel)
A Modest Proposal (1729, essay)

Do you know something we don't?
Submit a correction or make a comment about this profile

Copyright ©2019 Soylent Communications