Carl Karcher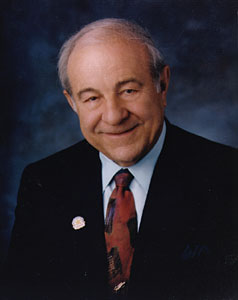 AKA Carl Nicholas Karcher
Born: 16-Jan-1917
Birthplace: Sandusky, OH
Died: 11-Jan-2008
Location of death: Fullerton, CA [1]
Cause of death: Pneumonia
Remains: Buried, Holy Sepulcher Cemetery, Orange, CA

Gender: Male
Religion: Roman Catholic
Race or Ethnicity: White
Sexual orientation: Straight
Occupation: Business
Party Affiliation: Republican
Nationality: United States
Executive summary: Founder of Carl's Jr.
Carl Karcher dropped out of school after eighth grade to work on the farm where his father was a sharecropper. At 20, an uncle offered him work at his Karcher's Feed and Seed Store in downtown Anaheim, where the young man was later offered a job by a customer who owned a bakery. Delivering baked goods, Karcher noticed that there were thriving hot dog stands everywhere, and decided there was money to be made selling "fast food". He borrowed a few hundred dollars against his Plymouth, and purchased his first hot dog stand in 1941. Parked at the corner of Florence and Central in South Central Los Angeles, business boomed, and within a few years he had several hot dog carts. He then he opened his first full-service restaurant, Carl's Drive-In Barbecue, in Anaheim in 1945. Eventually, Carl's added hamburgers at several new, smaller locations, with the new restaurants dubbed Carl's Jr. because they were scaled-down, smaller versions of Karcher's first restaurant.
The chain's hundredth restaurant opened in 1975. It is now America's fourth largest burger chain, with stores scattered across the American southwest. In 1997, the company purchased control of Hardee's, a burger chain with thousands of restaurants scattered across the American southeast and midwest. Hardee's has since adopted the Carl's Jr. "star" logo, several menu items, and its reputation for slow, indifferent service, even by fast-food standards.
Devoutly Catholic, Karcher and his wife raised a dozen children. He often told reporters that he attended morning mass every day before going to the office, and began every company board meeting with the Pledge of Allegiance. Karcher was a lifelong member of the Republican Party and a staunch financial supporter of conservative causes. He contributed heavily to anti-abortion groups, and was the largest single contributor to a 1978 ballot initiative in California that would have required public schools in California to fire any teachers known to be gay or lesbian. To gauge how far on the conservative extreme Karcher was, the initiative failed after former Governor and soon-to-be President Ronald Reagan came out against it, citing it as too intrusive.
In 1988, Karcher was fined $688,000 for insider trading, after allegedly advising members of his family of the best time to buy stock in the company. In 2002, a group of Carl's Jr. employees sued, alleging they had been fired for complaining about racial slurs from their bosses on the job. The company eventually paid $255,000 to settle the suit out of court. In 2004, the company reached a $9M settlement after improperly classifying managers and general managers as exempt from California's wage and hour laws.
Carl's Jr was accused of "hamburger porn" for its 2005 television ads featuring a bikini-clad Paris Hilton munching a Carl's Jr. burger while washing a car in an allegedly prurient manner. The chain also hired Hugh Hefner for TV ads in 2003. Karcher, by then no longer in command Carl's Jr., said he was "just heartbroken that a company he founded on Christian principles has taken such an amoral act".
---
[1] St. Jude Medical Center, Fullerton, CA

Father: Leo Karcher (farmer)
Mother: Anna Marie Kuntz (housewife)
Brother: Ralph Karcher
Brother: Frank Karcher
Brother: Donald F. Karcher (President, Carl Karcher Enterprises, d. 19-May-1992 lung cancer)
Brother: Albert Karcher
Brother: Bernard Karcher
Brother: Leo Karcher
Sister: Pauline Karcher Smalley
Wife: Margaret Magdalen Heinz Karcher (dated 1937-39, m. 30-Nov-1939, d. 6-Jun-2006, twelve children)
Daughter: Anne Marie Wiles
Daughter: Patricia LaGraffe
Daughter: Margaret Jean LeVecke
Son: Carl Leo Karcher
Daughter: Catherine Karcher
Daughter: Janelle Karcher
Son: Jerome T. Karcher
Daughter: Rosemary Miller
Daughter: Barbara Wall
Son: Joseph Karcher
Daughter: Mary Miller
Daughter: Carlene Karcher (d. 1993)


High School: (dropped out in 8th grade)
Administrator: Board of Governors, Thomas Aquinas College


Carl's Jr. Founder
Boy Scouts of America Orange County Council
Braille Institute
Bush-Cheney '04
Campaign America Inc.
Knights of Malta
United Way Orange County, CA
Insider Trading per SEC civil complaint Apr-1988, fined $664,000
German Ancestry
Risk Factors: Parkinson's





Requires Flash 7+ and Javascript.



Do you know something we don't?
Submit a correction or make a comment about this profile






Copyright ©2019 Soylent Communications