Deborah Sampson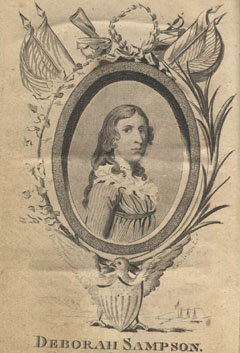 AKA Deborah Sampson Gannett
Born: 17-Dec-1760
Birthplace: Plympton, MA
Died: 29-Apr-1827
Location of death: Sharon, MA
Cause of death: unspecified
Remains: Buried, Rock Ridge Cemetery, Sharon, MA

Gender: Female
Religion: Baptist
Race or Ethnicity: White
Sexual orientation: Straight
Occupation: Military
Nationality: United States
Executive summary: Woman who fought in US Revolutionary War
Military service: US Continental Army (1782-83)
Deborah Sampson (sometimes spelled Samson) is believed to have been the first woman to serve as a uniformed member of the United States military, in an era when the idea of a female soldier was almost unimaginable. She was the eldest of seven children in a colonial American family, but her father abandoned their home and her mother was sickly and unable to provide support, so in early childhood she was raised by family friends. She worked as an indentured servant from the age of 10, and she was 15 but still in servitude when America declared its independence. At her master's home she learned to cook, spin, weave, work farm equipment, and shoot a musket. At 18 she was freed from servitude and worked as a school teacher until 1782.
As the Revolutionary War continued she made her first attempt to enlist, binding her breasts to approximate a male physique, wearing a man's clothing and signing up as "Timothy Thayer," but she feared that she had given herself away by holding her quill like a woman. Before her second attempt she studied how men hold pens, then conversed in disguise with her mother, gaining confidence when she was not recognized.
She joined the Fourth Massachusetts Regiment of the Continental Army on 20 May 1782, under the name "Robert Shurtleff." She was issued a standard uniform — a blue coat and cap, white waistcoat, heavy pants and stockings, and boots — and carried with her, as all soldiers did, a bayonet, firearm, and hatchet, flint and powder, and a backpack weighted heavy with blanket, canteen, and ammunition including buckshot and leaden balls. During her time in the army she was teased for her lack of facial hair, but fellow soldiers assumed that this was because she was a boy in her early teens.
On 3 July 1782 she was wounded in battle against the British at Tappan Bay, between Sing Sing and Tarrytown, New York, shot twice by musket balls and receiving a sword gash to her head. Medics tended her head wound, but her musket wounds were in her leg and she feared that her gender would be discovered once her pants were removed, so she refused further treatment and limped away from the field clinic. She removed one of the musket balls herself, using a small knife and sewing her own stitches, but the other ball was too deeply embedded for her to treat.
Her deception was discovered the following summer when she came down with a "malignant fever", perhaps caused by the musket ball still lodged in her leg. She was near death when a military surgeon checked her heartbeat by placing his hand on her chest and discovered the binding that held her breasts. After overseeing her recovery, the doctor revealed Sampson's gender in a letter to his superiors, while praising her moral and mental qualities and recounting her military service. She was honorably discharged at West Point on 23 October 1783, but denied her accumulated pay, due at discharge, until she successfully petitioned Governor John Hancock in 1792. She was also excommunicated by the Baptist Church for her "un-Christian" behavior.
After leaving the military she married and raised a family, and worked as a farmer and teacher. She occasionally augmented her family's meager means by lecturing on her wartime experience, wearing her soldier's uniform and concluding her speeches by performing the manual of arms with expert precision.
Of pioneer ancestry, her great-great-grandmother was Priscilla Mullins Alden, a teenaged passenger on the Mayflower for whom Miles Standish was said to have felt an unrequited love, as recounted in Henry Wadsworth Longfellow's famous poem "The Courtship of Miles Standish". Another ancestor on her mother's side was William Bradford, Governor of the Plymouth Colony. Paul Revere was a family friend, and vouched for Sampson's character in successfully arguing that she deserved a military pension of $4 per month.
Father: Jonathan Sampson, Jr. (b. 3-Apr-1729)
Mother: Deborah Bradford Sampson (m. 27-Oct-1751)
Sister: Sylvia
Brother: Ephraim
Sister: Hannah
Brother: Jonathan III
Brother: Elisha
Brother: Nehemiah
Husband: Benjamin Gannett, Jr. (farmer, b. 29-Jun-1757, m. 7-Apr-1784, d. 9-Jan-1837)
Son: Earl Bradford Gannett (b. 8-Nov-1785, d. 9-Jun-1845)
Daughter: Mary Gannett Gilbert ("Polly", b. 19-Dec-1787, d. 8-Aug-1854)
Daughter: Patience Gannett Gay (b. 25-Nov-1790, d. 11-Jul-1865)
Daughter: Susanna Baker Shepard (b. 25-Sep-1796, adopted)

Teacher: Middleborough School

Shot: Battle Tappan Bay, NY (3-Jul-1782), thigh
Excommunicated
French Ancestry
Risk Factors: Malaria

Do you know something we don't?
Submit a correction or make a comment about this profile

Copyright ©2019 Soylent Communications