James Marshall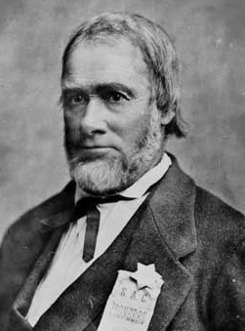 AKA James Wilson Marshall
Born: 8-Oct-1810
Birthplace: Hopewell, NJ
Died: 10-Aug-1885
Location of death: Kelsey, CA
Cause of death: unspecified
Remains: Buried, James Marshall Monument, Coloma, CA

Gender: Male
Religion: Baptist
Race or Ethnicity: White
Sexual orientation: Straight
Occupation: Explorer
Nationality: United States
Executive summary: Discovered gold at Sutter's Mill
James Marshall was a carpenter and millwright, born in New Jersey, who left home after a furious argument with his father. He went west and spent a few years farming in Leavenworth, Kansas before coming to the wild frontier of Oregon. Eventually wandering south to California, he was hired by John Augustus Sutter to build and manage a mill in the Sierra Nevada foothills near the present-day town of Coloma, at the south fork of the American River. On 24 January 1848[1], Marshall noticed something glittering in the mill's water trough, and scooped up a handful of gravel with four tiny specks of gold. Marshall and Sutter managed to keep their discovery secret for several months, but once word leaked out the California gold rush was underway.
Marshall and Sutter tried to assert ownership of the gold, but land title was not yet a clear concept in the West, and courts and lawyers were of less value in the anarchy of the gold rush than a gun and pick-axe. After being driven away by hundreds of prospectors, Marshall briefly claimed a mystic ability to find gold, but instead of paying him for this dubious talent prospectors threatened to lynch him when his powers did not pan out. He then spent several years wandering in the hills near the town, prospecting and subsisting on little more than rice, but never struck it rich.
Of course, the discovery of gold electrified California's economy, and in gratitude the state legislature awarded Marshall a small monthly stipend in 1872, which was halved in 1874 and discontinued in 1876. He never married, and spent the last dozen years of his life working as a blacksmith and handyman in the nearby town of Kelsey, where he occasionally sold his autograph and developed a well-earned reputation as a drunkard.
---
[1] This date is actually defined by statute, because the original monument was incorrect: California Assembly Concurrent Resolution No. 25, Filed with the Secretary of State May 6, 1919. "Whereas, Philip Baldwin Bekeart, Fred H. Jung and Grace S. Stoermer, constituting the committee appointed by the governor for said investigation, have reported to the board of trustees of Sutter's Fort, which board of trustees has charge of the maintenance and upkeep of said monument, and has recommended that the inscription on the monument setting forth that gold was discovered in California "January 19, 1848" be changed to read "January 24, 1848" ...now, therefore, be it Resolved by the assembly, the senate concurring, That the legislature of the State of California hereby approves the report of said committee which report is made a part of this resolution and finds, declares and recognizes January 24, 1848, as the date upon which gold was discovered in California by James W. Marshall."

Father: Phillip Marshall (carpenter, d. 1834)
Mother: Sarah Wilson Marshall
Sister: Abigail Marshall Ely (b. 1813, d. 1838)


Ran Away From Home
Risk Factors: Alcoholism






Do you know something we don't?
Submit a correction or make a comment about this profile






Copyright ©2019 Soylent Communications